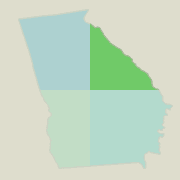 Locate fishing boat dealers and other boat sales locations throughout Georgia by region, within or nearby cities in northern and western Georgia.
Northwest GA Fishing Boats
Northeast GA Fishing Boats
Southwest GA Fishing Boats
Southeast GA Fishing Boats
Other Boating in Northeast Georgia
Click here to locate resources for boating equipment and fishing accessories for your boat in Northeast Georgia.
Click here to acquire a fishing license in Georgia.
A variety of new and used fishing boats are offered for sale throughout Georgia. Whether you want to go deep sea fishing in coastal waters or catch bass and crappie at a local lake, there is nothing quite like the thrill of having your own boat to get there.
Banks and other lending institutions offering options for boat loans in your area can help you with financing. They can quote rates and terms for your boat loan in Georgia. By acquiring quotes from several loan providers, you can compare rates, payment schedules and benefits. Boat dealer will often assist you with financing options as well.
To compare a variety of fishing boats all in one location, be sure to attend a boat show near you. These annual events provide an excellent way to view many boats at one location for comparison of features and pricing.
If you are purchasing a new or used fishing boat it is highly recommended you acquire boat insurance to protect your investment, fishing gear and members of your boating party.
Fishing Boat Storage
If you are looking for a place to store your fishing boat in Northeast Georgia, you may want to contact marinas on your favorite fishing waters. Marinas including Lanier Harbor Marina, Fieldstone Marina and Laprades Marina either offer boat storage or can refer you to a resource for storing your boat. Be certain to keep your fishing gear and electronics in a dry and secure boat storage area.
Augusta
Starline Trailers Inc
4067 Belair Road
Augusta, GA 30909
706 860-4651
Bishop
Elberton
Marine Sales
3336 Calhoun Falls Hwy
Elberton, GA 30635
706 213-8233
Evans
The Boat Center
4751 Washington Rd
Evans, GA 30809
706 855-8698
Greensboro
Blue Ridge Lake
Clarks Hill Lake
Hartwell Lake
Oconee Lake
Richard B Russell Lake
Broad River
Oconee River
Elijah Clark State Park
Mistletoe State Park
Tugaloo State Park

New & Used Fishing Boats
Even when the fish aren't biting you can enjoy boating in Northeast Georgia with the fishing boat of your dreams. Find the right fishing boat with all the conveniences that allow you to enjoy your fishing time on the water.