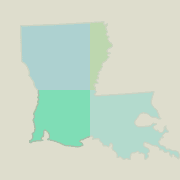 Locate boat dealers and other boat repair resources throughout Louisiana by region within or nearby cities in Louisiana.
Northwest LA Boat Repair
Northeast LA Boat Repair
Southwest LA Boat Repair
Southeast LA Boat Repair
Boat Repair in Southwest Louisiana
Click here to locate boats for sale in Southwest Louisiana. If your interest is fishing, click here to find fishing boats in Southwest Louisiana.
Quality boat repair services are offered throughout Louisiana. Whether you need hull repair, mechanical services, motor repair, a tune up, electrical repairs or recommended maintenance, there are options nearby.
Service Your Boat Before & After Storage
Look here for Southwest LA boat storage locations.
Crowley
Lafayette
Fiberglass Fabricators Inc
104 Sunshine St
Lafayette, LA 70506
337 984-2091
Gulf Coast Boats
120 Banks Ave
Lafayette, LA 70506
337 235-3216
Acadiana Outboard Boat Repair
139 E Broussard Rd
Lafayette, LA 70503
337 504-2178
Cayacraft Fiberglass Products
1010 8th Street
Lafayette, LA 70501
337 232-9800
Lake Charles
Genes Marine Service
2650 Highway 14 E
Lake Charles, LA 70607
337 474-2125
Custom Boats Unlimited
4401 Louisiana Ave
Lake Charles, LA 70607
337 478-9372
Lake Charles Launch Service
5430 Eastern Drive
Lake Charles, LA 70607
337 562-8500
Barrow's Coatings & Upholstery
104 Widgeon Street # D
Lake Charles, LA 70615
337 433-8158
Meche's Auto Upholstery
617 12th Street
Lake Charles, LA 70601
337 433-0170
Advanced Marine Repair
6746 Highway 90 East
Lake Charles, LA 70615
337 433-7877
Leesville
Opelousas
Anacoco Lake
Cocodrie Lake
Grand Lake
Lake Henderson
Vernon Lake
Calcasieu River
Mermentau River
Chicot State Park
Sam Houston Jones State Park
South Toledo Bend State Park

Boat Service & Repair
Enjoy boating in Southwest LA with the boat of your dreams by keeping it in shape using qualified boat repair specialists for safe and reliable boating. You can also enjoy the boating experience by choosing to rent a boat in Southwest Louisiana from boat rental centers and marinas in the area.