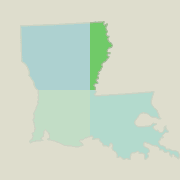 Locate fishing boat dealers and other boat sales locations throughout Louisiana by region, within or nearby cities in northern and western Louisiana.
Northwest LA Fishing Boats
Northeast LA Fishing Boats
Southwest LA Fishing Boats
Southeast LA Fishing Boats
Other Boating in Northeast Louisiana
Click here to locate resources for boating equipment and fishing accessories for your boat in Northeast Louisiana.
Click here to acquire a fishing license in Louisiana.
A variety of new and used fishing boats are offered for sale throughout Louisiana. Whether you want to go deep sea fishing in coastal waters or catch bass and crappie at a local lake, there is nothing quite like the thrill of having your own boat to get there.
Banks and other lending institutions offering options for boat loans in your area can help you with financing. They can quote rates and terms for your boat loan in Louisiana. By acquiring quotes from several loan providers, you can compare rates, payment schedules and benefits. Boat dealer will often assist you with financing options as well.
If you are purchasing a new or used fishing boat it is highly recommended you acquire boat insurance to protect your investment, fishing gear and members of your boating party.
Fishing Boat Storage
If you are looking for a place to store your fishing boat in Northeast Louisiana, you may want to contact marinas on your favorite fishing waters. Marinas including Lake Bruin Marina, Midway Marina & RV Park and Oxbow Marina either offer boat storage or can refer you to a resource for storing your boat. Be certain to keep your fishing gear and electronics in a dry and secure boat storage area.
Delhi
Ferriday
Jonesville
Oak Grove
Winnsboro
Catahoula Lake
Lake Bruin
Lake Saint John
Lovelace Lake
Turkey Creek Lake
Boeuf River
Tensas River
Lake Bruin State Park
Lake D'Arbonne State Park
Poverty Point Reservoir State Park

New & Used Fishing Boats
Even when the fish aren't biting you can enjoy boating in Northeast Louisiana with the fishing boat of your dreams. Find the right fishing boat with all the conveniences that allow you to enjoy your fishing time on the water.