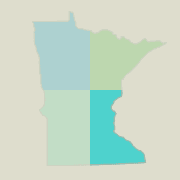 Locate boat dealers and other boat sales locations throughout Minnesota by region, within or nearby cities in northern and eastern Minnesota.
Northwest MN Boats
Northeast MN Boats
Southwest MN Boats
Southeast MN Boats
Boating in Southeast Minnesota
Click here to locate resources for boating equipment in Southeast Minnesota. If your interest is fishing, click here to find fishing boats in Southeast Minnesota.
Click here to acquire a Boat License in Minnesota.
Quality new and used boats are offered for sale throughout Minnesota. Whether you want to go deep sea fishing, want to catch bass and crappie, want to speed down the river water skiing, or prefer a family outing on a pontoon boat, there is nothing quite like the feeling of freedom that boats delivers.
Lending institutions offering boat loans in your area can help you handle financing issues. They can quote rates and terms for boat loans in Minnesota. You might find ways to save by requesting quotes from several loan providers. Often the boat dealer, where you purchase your boat, will offer financing options.
If you are buying a new or used boat it is highly recommended you acquire boat insurance to protect your investment and members of your boating party.
Storing Your Boat
Boat storage in Southeast Minnesota is available at most marinas. Contact a marina on the lake where you prefer to go boating for details. Marinas including Bayport Marina, Hub's Landing and Marina and Mississippi Parkside Marina either offer boat storage or can refer you to a resource for secure boat storage.
Mankato
Classic Boat Connection
75 Navaho Ave, Ste 5
Mankato, MN 56001
507 344-8030
Minneapolis
Heath Sailmakers
3805 France Avenue South
Minneapolis, MN 55416
612 285-1991
Harris Warehouse & Canvas Sales
501 30th Avenue Southeast
Minneapolis, MN 55414
612 331-1321
Rochester
Schoenmann Boat Works
5708 Highway 63 N
Rochester, MN 55906
507 281-0110
St Cloud
St Paul
Lake Minnetonka
Lake Pepin
Lake Waconia
Mille Lacs Lake
Spring Lake
Cannon River
Root River
Interstate State Park
Lake Louise State Park
Sakatah Lake State Park

New & Used Boats For Sale
Enjoy boating in Southeast Minnesota with the boat of your dreams. Find the right boat with all the features that allow you to enjoy your time on the water. You can always add a variety of boating accessories to further enhance the boating experience.