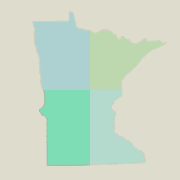 Locate boat dealers and other boat sales locations throughout Minnesota by region, within or nearby cities in southern and western Minnesota.
Northwest MN Boats
Northeast MN Boats
Southwest MN Boats
Southeast MN Boats
Boating in Southwest Minnesota
Click here to locate resources for boating equipment in Southwest Minnesota. If your interest is fishing, click here to find fishing boats in Southwest Minnesota.
Click here to acquire a Boat License in Minnesota.
Quality new and used boats are offered for sale throughout Minnesota. Whether you want to go deep sea fishing, want to catch bass and crappie, want to speed down the river water skiing, or prefer a family outing on a pontoon boat, there is nothing quite like the feeling of freedom that a boat delivers.
Lending institutions offering boat loans in your area can help you handle financing issues. They can quote rates and terms for boat loans in Minnesota. You might find ways to save by requesting quotes from several loan providers. Often the boat dealer where you purchase your boat will offer financing options.
If you are buying a new or used boat it is highly recommended you acquire boat insurance to protect your investment and members of your boating party.
Boat Storage
If you are looking for boat storage in Southwest Minnesota, you may want to contact marinas on the lake where you prefer to go boating. Marinas including J & K Marina, Starbuck Marina and Watergate Marina either offer boat storage or can refer you to a resource for storing your boat.
Fairmont
Boat House Sports & Tackle
445 Lake Avenue
Fairmont, MN 56031
507 235-6931
Fergus Falls
Boatcovers Com
1605 N 1st Ave
Fergus Falls, MN 56537
218 998-3045
Glenwood
St Cloud
Worthington
Big Stone Lake
Lac Qui Parle Lake
Lake Minnewaska
Lake Traverse
Otter Tail Lake
Cottonwood River
Redwood River
Big Stone Lake State Park
Glacial Lakes State Park
Split Rock Creek State Park

New & Used Boats For Sale
Enjoy boating in Southwest Minnesota with the boat of your dreams. Find the right boat with all the features that allow you to enjoy your time on the water. You can always add boating accessories to further enhance the boating experience.