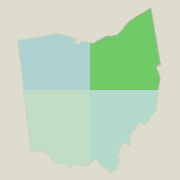 Locate boat rental dealers and other boat rental locations within or nearby cities and attractions in Northern and Eastern Ohio.
OH Boat Rentals
Northwest OH Boat Rentals
Northeast OH Boat Rentals
Southwest OH Boat Rentals
Southeast OH Boat Rentals
Northeast OH Boating
To enhance your boat renting experience, click here to locate resources for safety equipment, water toys and boating gear in Northeast Ohio.
Find the ideal boat rental to fit your specific boating needs. Having the right boat can greatly enhance your experience on the water as well as impact safety issues.
Some marinas may offer boat rentals for use on the lake where the marina is located. Check with Charles Mill Marina, Harbor North Marina or Holiday Harbor Marina for information on local boat rental options and recommendations.
Check with your insurance agent to be certain you are covered while boating in a rental boat.
Akron
A B Tent Rental Inc
910 S Arlington St
Akron, OH 44306
330 724-7324
Boat Masters Marine Inc
5290 Manchester Rd
Akron, OH 44319
330 882-4568
Chucks Mobile Boat Cover Services
169 Polonia Ave
Akron, OH 44319
330 644-3229
Bridges Boats
382 E Cuyahoga Falls Ave
Akron, OH 44310
330 929-2311
Leighton Boat House Inc
252 Portage Lakes Drive
Akron, OH 44319
330 644-2417
Patsboats
3445 East Waterloo Road
Akron, OH 44312
330 628-2288
Canton
Cleveland
Boat US Marine Center
1577 Saint Clair Avenue Northeast
Cleveland, OH 44114
216 781-6110
Mansfield
Parma
Alum Creek Lake
Berlin Lake
Clendening Reservoir
Mosquito Lake
Pymatuning Lake
Killbuck Creek
Tuscarawas River
Geneva State Park
Mosquito Lake State Park
Portage Lakes State Park

Boat Rental Safety
Enjoy boating in Northeast Ohio with a rental boat that is designed for the members of your party. Boating safety classes are available in most areas to get you familiar with safe boating procedures.