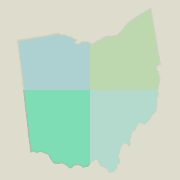 Locate boat dealers and other boat rental locations throughout Ohio by region, within or nearby cities and attractions in Southern and Western Ohio.
OH Boat Rentals
Northwest OH Boat Rental
Northeast OH Boat Rental
Southwest OH Boat Rental
Southeast OH Boat Rental
Southwest OH Boating
To enhance your boat renting experience, click here to locate resources for water toys and boating accessories in Northwest Ohio.
Some marinas offer boat rentals for use on the lake where the marina resides. Check with Buck Creek State Park Marina, East Shore Marina or Shawnee State Park Marina for information on local boat rental options.
Find the ideal boat rental to fit your boating needs. Having the right boat can greatly enhance your experience on the water as well as impact safety issues.
Pontoon boat rentals are ideal for large groups or when taking small children boating. Most often they have a safety railing and a canvas top to reduce the amount of sun absorbed by passengers.
Runabout boat rentals are great for families and small groups to go sight seeing and cruising the lakes.
Ski boats and speed boats are well suited for groups of three to five who enjoy water sports such as water skiing and wave boarding.
Aluminum boats for rent are best suited for parties of one to four, planning to travel short to mid-range distances.
Bass boat rentals are designed for two passengers and are ideal for most fresh water fishing.
Lake Boat Rentals
Find a boat to rent and take the family out on the water for a day of making memories. Before boating, become familiar with boating laws and regulations on local waters.
Cincinnati
Dry Dock Boat Services
5189 Duff Dr
Cincinnati, OH 45246
513 860-9111
Boatsmith Parts Mercruiser
6900 Kellogg Rd
Cincinnati, OH 45230
513 231-3211
Boaters Professionals
4220 Forsythia Dr
Cincinnati, OH 45245
513 753-1119
Jeff's Boat Tops
7699 Harisn Avenue
Cincinnati, OH 45251
513 353-4411
Reindl Power Boats
4298 East Galbraith Road
Cincinnati, OH 45236
513 794-1999
Antique Boat Connection
5521 Vine Street
Cincinnati, OH 45217
513 242-0808
Columbus
Boat Top Shop
1010 E Starr Ave
Columbus, OH 43201
614 294-4443
S & H Boat City Marina
1225 Frank Road
Columbus, OH 43223
614 351-2058
Dayton
Hamilton
Springfield
The Boat House
1919 Croft Rd
Springfield, OH 45503
937 325-1755
Forever Sports Canoe Livery
2237 West 1st Street
Springfield, OH 45504
937 325-0115
Buck Creek State Park Lake
Caesar Creek State Park Lake
East Fork Lake
Hoover Reservoir
Rocky Fork State Park Lake
Mad River
Paint Creek
Caesar Creek State Park
East Fork State Park
Paint Creek State Park

Boat Rental Safety
Enjoy boating in Southwest Ohio with a rental boat that is designed for the members of your party. Boating safety classes are available in most areas to get you familiar with safe boating procedures.