Boat Storage In Southwest Ohio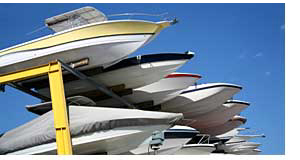 Locate a secure area for storing your boat to protect it from extreme weather and vandals. Covered storage offers additional protection from the sun's harmful UV rays and severe weather which can cause deterioration or damage to fabrics, wood and hull materials. Review the options listed in your area for boat storage in northern and western Ohio.
Indoor and outdoor boat storage in southwest OH
Many marinas in Southwest Ohio offer wet, dry and indoor boat storage options. Contact Buck Creek State Park Marina, East Shore Marina or Shawnee State Park Marina for boat storage options nearby. Marinas which do not offer boat storage can direct you to storage in Ohio cities including Columbus, Hamilton, Cincinnati, Dayton and Springfield.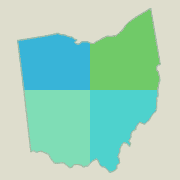 Southwest Resources
Locate a variety of boat storage options located by region, within or nearby cities in western and southern Ohio.
Cincinnati
Dry Dock Boat Services
5189 Duff Dr
Cincinnati, OH 45246
513 860-9111
Oakley Self Storage
2950 Robertson Avenue
Cincinnati, OH 45209
513 631-6300
Queen City Self Storage
4775 Red Bank Road
Cincinnati, OH 45202
513 271-5599
Shelter Cove Marina
5001 Kellogg Avenue
Cincinnati, OH 45228
513 231-5001
Columbus
Buckeye Self Storage
57 East Chestnut Street
Columbus, OH 43215
614 460-8700
Rome Hilliard Self Storage & Parking
466 Hilliard Rome Road
Columbus, OH 43228
614 853-3722
Buckeye Self Storage
707 Enterprise Drive
Columbus, OH 43240
614 786-1995
Security Self Storage
841 Taylor Station Road
Columbus, OH 43230
614 751-1100
Security Self Storage
7304 Tussing Road
Columbus, OH 43201
614 866-1000
S & H Boat City Marina
1225 Frank Road
Columbus, OH 43223
614 351-2058
Dayton
Car-Go Self Storage
2389 South Dixie Drive
Dayton, OH 45409
937 643-8000
Storage Inns of America - Springboro
10500 Springboro Park
Dayton, OH 45458
937 885-7665
Maxx Self Storage
1183 Airport Road
Dayton, OH 45458
765 939-0426
Hamilton
Bethany Stor-N-Lock
6674 Liberty Court
Hamilton, OH 45011
513 777-6904
Hamilton Self Storage
5617 Liberty Fairfield Road
Hamilton, OH 45011
513 868-1616
Advantage Self Storage Limited
4617 Hamilton Middletown
Hamilton, OH 45011
513 893-1600
Springfield
The Boat House
1919 Croft Rd
Springfield, OH 45503
937 325-1755
Space Makers Self Storage Center
329 Mount Vernon Avenue
Springfield, OH 45503
937 324-8304
Midwest Storage Complex
3550 South Yellow Springs Street
Springfield, OH 45506
937 325-0411
Buck Creek State Park Lake
Caesar Creek State Park Lake
East Fork Lake
Hoover Reservoir
Rocky Fork State Park Lake
Mad River
Paint Creek
Caesar Creek State Park
East Fork State Park
Paint Creek State Park
Find boat storage in Southwest OH
Boat storage offered in southwest OH includes safe areas for pontoon boats, fishing boats, sailboats, family boats, yachts, pleasure boats, cruisers, jon boats, ski and deck boats, electric boats, cuddy cabins, canoes, car toppers, inflatables, jet skis, luxury boats and others. Choose indoor or outdoor boat storage to fit your requirements and budget.
What's the best storage option?
Boat-yard storage is traditionally a fenced area which may offer some security. However, your boat is subjected to local weather conditions. Boat covers can help protect your investment from these elements.
Covered boat storage facilities are typically fenced for security with a covered roof or awning to protect boats from some weather elements. Again, boat covers are recommended.
Indoor boat storage offers additional security plus protection from the weather. Those facilities offering individual, lockable stalls offer the ultimate protection for your boat and boating accessories.
While storing your boat it is highly recommended you keep compartments locked and maintain a boat insurance policy to protect your investment.
Find boat storage options in other states.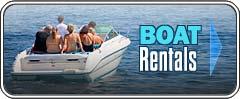 Find OH boat storage costs
Northwest OH Boat Storage
Northeast OH Boat Storage
Southwest OH Boat Storage
Southeast OH Boat Storage