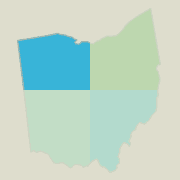 Locate boat dealers and other boat sales locations throughout Ohio by region, within or nearby cities in northern and western Ohio.
Northwest OH Boats
Northeast OH Boats
Southwest OH Boats
Southeast OH Boats
Boating in Northwest Ohio
Click here to locate resources for boating equipment in Northwest Ohio. If your interest is fishing, click here to find fishing boats in Northwest Ohio.
Click here to acquire a Boat License in Ohio.
Quality new and used boats are offered for sale throughout Ohio. Whether you want to go deep sea fishing, want to catch bass and crappie, want to speed down the river water skiing, or prefer a family outing on a pontoon boat, there is nothing quite like the feeling of freedom that a boat delivers.
Lending institutions offering boat loans in your area can help you handle financing issues. They can quote rates and terms for boat loans in Ohio. You might find ways to save by requesting quotes from several loan providers. Often the boat dealer where you purchase your boat will offer financing options.
If you are buying a new or used boat it is highly recommended you acquire boat insurance to protect your investment and members of your boating party.
Boat Storage
If you are looking for boat storage in Northwest Ohio, you may want to contact marinas on the lake where you prefer to go boating. Marinas including Anchors Away Marina, Brand's Marina and Marina Del Isle either offer boat storage or can refer you to a resource for storing your boat.
Defiance
Findlay
American Powersports
1311 Trenton Avenue
Findlay, OH 45840
419 422-9253
Lima
Garrison's Custom Craft
1925 West Breese Road
Lima, OH 45806
419 224-8555
Toledo
Sew Your Boat
5226 N Summit St
Toledo, OH 43611
419 726-8626
All-Auto-Boat Repair
4629 N Summit St
Toledo, OH 43611
419 726-1970
North Sails Toledo
5556 Edgewater Drive
Toledo, OH 43611
419 726-2933
Counterman Marine Sales & Service
6161 North Summit Street
Toledo, OH 43611
419 726-4600
Action Canvas & Boat Cover
2206 Lagrange Street
Toledo, OH 43608
419 241-1181
Van Wert
Browns Recreation Lake
Grand Lake St Marys
Indian Lake
Lake Seneca
Nettle Lake
Blanchard River
Sandusky River
Independence Dam State Park
Mary Jane Thurston State Park
Maumee Bay State Park

New & Used Boats For Sale
Enjoy boating in Northwest Ohio with the boat of your dreams. Find the right boat with all the features that allow you to enjoy your time on the water. You can always add boating accessories to further enhance the boating experience.