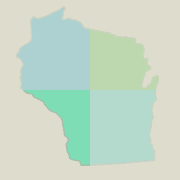 Locate boating equipment, gear and accessories at boat dealers, sporting good stores and outdoor centers throughout Wisconsin by location within or nearby cities in southern and western Wisconsin.
Northwest WI Boating
Northeast WI Boating
Southwest WI Boating
Southeast WI Boating
Boats for sale in Northwest Wisconsin
Click here to locate boats for sale in Southwest Wisconsin. If your interest is fishing, click here for fishing boats for sale in Southwest Wisconsin.
Wisconsin is a boating paradise, get out and enjoy it every opportunity you get. Any time you are on the water in Wisconsin, make safety a first priority. Additionally, every boater should carry boating insurance for the protection of individuals in your boat as well as others on the water.
You can acquire a licence for your boat by contacting the Wisconsin Boat Licensing office.
Lake, weather and boating conditions
Local marinas can be a good source of information about lake levels, launch ramp facilities and weather conditions. Contact Shipyard Island Marina, Skipper Bud's Quarter Deck Marina or Yacht Works Marina & Boat Yard before visiting the lakes where they reside.
Black River Falls
La Crosse
Powerhouse Marine
518 Logan St
La Crosse, WI 54603
608 784-9580
Skipperliner Service Center
922 Bainbridge St
La Crosse, WI 54603
608 791-3506
American Marine Yacht Sales
2100 Dawson Ave
La Crosse, WI 54603
608 783-2628
Holiday Marine LLC
108 Clinton Street
La Crosse, WI 54603
608 784-2877
Team Marine Services Inc
126 Causeway Boulevard
La Crosse, WI 54603
608 784-4162
Skipperliner Service Center
127 Marina Drive
La Crosse, WI 54603
608 791-3506
Madison
Fontana Sports Specialties
251 State St
Madison, WI 53703
608 257-5043
Tofte Marine Inc
4601 Femrite Dr
Madison, WI 53716
608 222-1204
Redline Watersports
4805 Voges Rd
Madison, WI 53718
608 838-0838
Fontana Sports Specialties Inc
231 Junction Rd
Madison, WI 53717
608 833-0376
Lunenschloss Marine & Sporting Goods
3300 Commercial Avenue
Madison, WI 53714
608 244-4758
Skipper Bud's of Madison
5442 County Road M
Madison, WI 53704
608 246-2628
Platteville
Sparta
Castle Rock Lake
Lake Monona
Lake Mendota
Lake Wisconsin
Petenwell Lake
Baraboo River
Kickapoo River
Buckhorn State Park
Merrick State Park
Perrot State Park

Boating Equipment & Accessories
Enjoy the waterways in Southwest Wisconsin with a boat fully equipped for convenience, safety, comfort and enjoyment with boating supplies, accessories and equipment from these Wisconsin boating outlets.