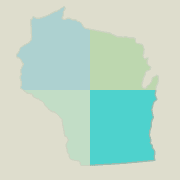 Locate boat dealers and other boat sales locations throughout Wisconsin by region, within or nearby cities in northern and eastern Wisconsin.
Northwest WI Boats
Northeast WI Boats
Southwest WI Boats
Southeast WI Boats
Boating in Southeast Wisconsin
Click here to locate resources for boating equipment in Southeast Wisconsin. If your interest is fishing, click here to find fishing boats in Southeast Wisconsin.
Click here to acquire a Boat License in Wisconsin.
Quality new and used boats are offered for sale throughout Wisconsin. Whether you want to go deep sea fishing, want to catch bass and crappie, want to speed down the river water skiing, or prefer a family outing on a pontoon boat, there is nothing quite like the feeling of freedom that boats delivers.
Lending institutions offering boat loans in your area can help you handle financing issues. They can quote rates and terms for boat loans in Wisconsin. You might find ways to save by requesting quotes from several loan providers. Often the boat dealer, where you purchase your boat, will offer financing options.
If you are buying a new or used boat it is highly recommended you acquire boat insurance to protect your investment and members of your boating party.
Storing Your Boat
Boat storage in Southeast Wisconsin is available at most marinas. Contact a marina on the lake where you prefer to go boating for details. Marinas including Green Lake Marina, Kewaunee Inner Harbor Marina and Manitowoc Marina either offer boat storage or can refer you to a resource for secure boat storage.
Appleton
Muddywater Boats Dba Sasi
1236 W Wisconsin Ave
Appleton, WI 54914
920 731-4841
Appleton Boat Repair A T V Cabs LLC
3130 West Wisconsin Avenue # B
Appleton, WI 54914
920 731-2555
Brookfield
Madison
Rich Marine Sales
411 N Fair Oaks Ave
Madison, WI 53714
608 244-6838
Mendota Boat Works
5320 Blue Bill Park Dr
Madison, WI 53704
608 245-9041
Brightwork Boat Works
5380 Farmco Dr
Madison, WI 53704
608 244-8200
Storm Hawk Boats
5380 Farmco Dr
Madison, WI 53704
608 310-8118
Boat Doctor LLC
4702 Ellestad Dr
Madison, WI 53716
608 222-3600
Addiction Sailmakers
210 Merrill Crest Drive
Madison, WI 53705
608 233-3223
Milwaukee
Infinity Sails & Canvas LLC
1933 South 1st Street
Milwaukee, WI 53204
414 384-5638
Honda-Kawasaki-Bmw-Southeast Sales
6930 North 76th Street
Milwaukee, WI 53223
414 463-2540
Harborside Marine Boat Sales
700 South Water Street
Milwaukee, WI 53204
414 273-2628
Oshkosh
Sailtec Inc
2930 Conger Ct
Oshkosh, WI 54904
920 233-4242
Sailtech
1135 Maricopa Dr
Oshkosh, WI 54904
920 426-0450
Scott's Boat Rental
501 South Main Street
Oshkosh, WI 54902
920 235-7474
Lake Butte des Morts
Lake Koshkonong
Lake Pepin
Lake Poygan
Lake Winnebago
Fox River
Rock River
Big Foot Beach State Park
Lakeshore State Park
Mirror Lake State Park

New & Used Boats For Sale
Enjoy boating in Southeast Wisconsin with the boat of your dreams. Find the right boat with all the features that allow you to enjoy your time on the water. You can always add a variety of boating accessories to further enhance the boating experience.