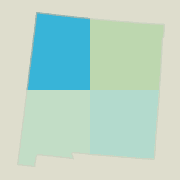 Locate boat dealers and other boat rental locations throughout New Mexico by region, within or nearby cities and attractions in Northern and Western New Mexico.
NM Boat Rentals
Northwest NM Boat Rental
Northeast NM Boat Rental
Southwest NM Boat Rental
Southeast NM Boat Rental
Northwest NM Boating
To enhance your boat renting experience, click here to locate resources for water toys and boating accessories in Northwest New Mexico.
Some marinas offer boat rentals for use on the lake where the marina resides. Check with Benson Marina, Navajo Lake Marina or Sims Marina for information on local boat rental options.
Find the ideal boat rental to fit your boating needs. Having the right boat can greatly enhance your experience on the water as well as impact safety issues.
Pontoon boat rentals are ideal for large groups or when taking small children boating. Most often they have a safety railing and a canvas top to reduce the amount of sun absorbed by passengers.
Runabout boat rentals are great for families and small groups to go sight seeing and cruising the lakes.
Ski boats and speed boats are well suited for groups of three to five who enjoy water sports such as water skiing and wave boarding.
Aluminum boats for rent are best suited for parties of one to four planning to travel short to mid-range distances.
Bass boat rentals are designed for two passengers and are ideal for most fresh water fishing.
Lake Boat Rentals
Find a boat to rent and take the family out on the water for a day of making memories. Before boating, become familiar with boating laws and regulations on local waters.
Albuquerque
Western Boat Store
6650 2nd St Nw
Albuquerque, NM 87107
505 345-6920
The Baja Boat Co Mercruiser
214 California St Ne
Albuquerque, NM 87108
505 255-5479
Albuquerque Boat Works
5026 Broadway Blvd Se
Albuquerque, NM 87105
505 343-0899
Sportaboats
Post Office Box 30802
Albuquerque, NM 87190
505 341-2690
Farmington
Dm Boat Repair
917 Brown Ave
Farmington, NM 87401
505 326-5079
Dads Boat Parts
210 E Pinon St
Farmington, NM 87401
505 326-1870
Gallup
Grants
Los Lunas
Abiquiu Reservoir
Bluewater Lake
Cutter Reservoir
Morgan Lake
Navajo Lake
Rio San Jose
San Juan River
Bluewater Lake State Park
El Vado Lake State Park
Navajo Lake State Park

Boat Rental Safety
Enjoy boating in Northwest New Mexico with a rental boat that is designed for the members of your party. Boating safety classes are available in most areas to get you familiar with safe boating procedures.