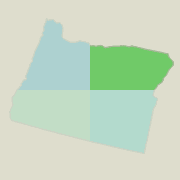 Locate boat rental dealers and other boat rental locations within or nearby cities and attractions in Northern and Eastern Oregon.
OR Boat Rentals
Northwest OR Boat Rentals
Northeast OR Boat Rentals
Southwest OR Boat Rentals
Southeast OR Boat Rentals
Northeast OR Boating
To enhance your boat renting experience, click here to locate resources for safety equipment, water toys and boating gear in Northeast Oregon.
Find the ideal boat rental to fit your specific boating needs. Having the right boat can greatly enhance your experience on the water as well as impact safety issues.
Some marinas may offer boat rentals for use on the lake where the marina is located. Check with Snake River Boat Rentals, Suttle Lake Resort and Marina or Wallowa Lake Marina for information on local boat rental options and recommendations.
Check with your insurance agent to be certain you are covered while boating in a rental boat.
Baker City
Powder River Boat Works
50 David Eccles Rd
Baker City, OR 97814
541 523-1523
Hermiston
La Grande
Pendleton
Prarie City
Brownlee Reservoir
Phillips Lake
Malheur Reservoir
Unity Reservoir
Wallowa Lake
Butter Creek
Powder River
Cove Palisades State Park
Minam State Recreation Area
Prineville Reservoir State Park Campground

Boat Rental Safety
Enjoy boating in Northeast Oregon with a rental boat that is designed for the members of your party. Boating safety classes are available in most areas to get you familiar with safe boating procedures.