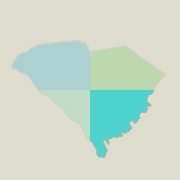 Locate boat rental dealers and other boat rental locations within or nearby cities and attractions in Southern and Eastern South Carolina.
SC Boat Rentals
Northwest SC Boat Rentals
Northeast SC Boat Rentals
Southwest SC Boat Rentals
Southeast SC Boat Rentals
Southeast SC Boating
To enhance your boat renting experience, click here to locate resources for safety equipment, water toys and boating gear in Southeast South Carolina.
Find the ideal boat rental to fit your specific boating needs. Having the right watercraft can greatly enhance your experience on the water as well as impact safety issues.
Some marinas may offer boat rentals for use on the lake where the marina is located. Check with Isle Of Palms Marina, Rocks Pond Campground and Marina or Shelter Cove Harbour for information on local boat rental options and recommendations.
Check with your insurance agent to be certain you are covered while boating in a rental boat.
Charleston
Charleston Boat Repair Services
130 Wando Creek Ln
Charleston, SC 29492
843 884-7463
Halsey And Cannon Boat Yard Inc
130 Wando Creek Ln
Charleston, SC 29492
843 884-3000
Renken Boat Center Inc
2476 Savannah Hwy
Charleston, SC 29414
843 767-0515
Boat US
2049 Savannah Highway
Charleston, SC 29407
843 763-6360
Charleston Boat Emporium Inc
2686 Highway 41
Charleston, SC 29492
843 856-5222
J Boats South
3 Lockwood Drive
Charleston, SC 29401
843 577-2475
Myrtle Beach
Lens Boat Ship Propellers
1550B Highway 17 N
North Myrtle Beach, SC 29582
843 280-2908
Wilkins Boat & Yacht CO Inc
2120 Sea Mountain Highway
North Myrtle Beach, SC 29582
843 249-6032
North Charleston
Vector Boats
3074 Ashley Phosphate Rd
North Charleston, SC 29418
843 207-9100
Stinger Boats Of Charleston
4747 Franchise St
North Charleston, SC 29418
843 225-7731
Adventures In Boating
2079 Austin Ave
North Charleston, SC 29405
843 744-2561
Charleston Boat Center
5133 Rivers Ave
North Charleston, SC 29406
843 747-1344
Duncan's Boat Harbour
4354 Bridge View Drive
North Charleston, SC 29405
843 744-2628
Atlantic Boat ACR
1300 Pierside Street
North Charleston, SC 29405
843 529-0122
Sumter
Walterboro
Ashwood Lake
Forest Lake
Lake Marion
Lake Moultrie
Westons Pond
Black River
Santee River
Edisto Beach State Park
Givhans Ferry State Park
Hunting Island State Park

Boat Rental Safety
Enjoy boating in Southeast South Carolina with a rental boat that is designed for the members of your party. Boating safety classes are available in most areas to get you familiar with safe boating procedures.