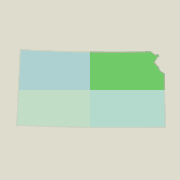 Locate boat rental dealers and other boat rental locations within or nearby cities and attractions in Northern and Eastern Kansas.
KS Boat Rentals
Northwest KS Boat Rentals
Northeast KS Boat Rentals
Southwest KS Boat Rentals
Southeast KS Boat Rentals
Northeast KS Boating
To enhance your boat renting experience, click here to locate resources for safety equipment, water toys and boating gear in Northeast Kansas.
Find the ideal boat rental to fit your specific boating needs. Having the right boat can greatly enhance your experience on the water as well as impact safety issues.
Some marinas may offer boat rentals for use on the lake where the marina is located. Check with Lake Perry Yacht & Marina, Rock Creek Marina & Sail Harbor or Thunderbird Marina for information on local boat rental options and recommendations.
Check with your insurance agent to be certain you are covered while boating in a rental boat.
Lawrence
Manhattan
Olathe
Overland Park
Topeka
Starlite Houseboats Inc
3706 Southwest Topeka Boulevard Suite 302
Topeka, KS 66609
785 267-1800
Atchison Lake
Milford Lake
Perry Lake
Tuttle Creek Lake
Wyandotte County Lake
Big Blue River
Republican River
Milford State Park
Tuttle Creek State Park
Warnock Lake Campground

Boat Rental Safety
Enjoy boating in Northeast Kansas with a rental boat that is designed for the members of your party. Boating safety classes are available in most areas to get you familiar with safe boating procedures.