Kansas Boating
Plenty of fun places to go boating in Kansas. Whether it's a family outing or just the guys going fishing or skiing, boating is fun for all. And there is boating in all corners of of the state. Whether you live in the northwest, northeast, southwest or southeast part of the state, chances there are plenty of opportunities to go boating nearby.
This website focuses on all aspects of boating including new and used boats for sale, boat rentals, insurance, financing, repairs, accessories, storage and more.
For convenience, resources are listed first by area of the Kansas, then by proximity to cities, waterways, parks, campgrounds and other relative attractions in KS. Cities listed in this section include Downs, Hays, Russell, Sharon Springs, WaKeeney, Lawrence, Manhattan, Olathe, Overland Park, Topeka, Dodge City, Elkhart, Garden City, Great Bend, Syracuse, Burlington, El Dorado, Emporia, Hutchinson and Wichita.
Make your boating experience a hit with that special person in ypur life. Coming up with the perfect romantic getaway idea in Kansas isn't hard to do when you set up your tent in beautiful places like Cross Timbers or Pomona State Parks. Camping in any of Kansas' State and National parks is a wonderful and inexpensive way to find romance and together time. KS may not have soaring mountains or sandy beaches, but the view of the stars from this great state can't be beat.
Resources are also identified nearby campgrounds including Cedar Bluff State Park, Prairie Dog State Park, Webster State Park, Milford State Park, Tuttle Creek State Park, Warnock Lake Campground, Fossil Creek Campground, Meade State Park, Scott State Park, Crawford State Park, El Dorado State Park and Fall River State Park.
Rivers & Lakes For Boating in KS
Kansas lakes with boating opportunities are listed within quadrants of Kansas include Kirwin Reservoir, Lovewell Reservoir, Sportsman Lake, Waconda Lake, Wilson Lake, Atchison Lake, Milford Lake, Perry Lake, Tuttle Creek Lake, Wyandotte County Lake, Cedar Bluff Reservoir, Clark County State Lake, Hillsdale Lake, Lake Scott, Wolf Creek Reservoir, Clinton Lake, Council Grove Lake, Marion Reservoir, Melvern Lake and Pomona Lake. Many of these lakes offer multiple boat launching facilities at various locations around the lake.
Kansas also affords some boating or canoeing on rivers like Beaver Creek, Bow Creek, Big Blue River, Republican River, Cimarron River, Crooked Creek, Cottonwood River and Walnut River.
Boating opportunities in Kansas
Northwest KS Boating
Northeast KS Boating
Southwest KS Boating
Southeast KS Boating
KS boating equipment and gear.
Throughout Kansas you can find boat dealers, outdoor centers, sporting good stores, bait and tackle stores, RV centers and discount stores offering a wide variety of boating equipment, accessories and supplies.
Go boating in Kansas
Gather up the family along with some snacks and refreshing beverages and go enjoy the thrill of fresh air in your face and the sun on your back. When boating you can see parts of Kansas accessible only by water. Often you'll see birds and wildlife not normally seen in city areas. Plus, sunrises and sunsets always seem more majestic when you are in the great outdoors.
Boating opportunities in other states.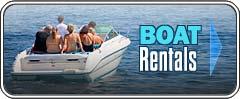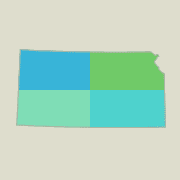 Boating in KS
Kansas is a boating paradise, get out in the great outdoors and enjoy it every chance you get.
For further information about boating in Kansas, contact the Kansas Department of Wildlife and Parks - Boating Licenses located at 512 SE 25th Ave, Pratt, KS 67124. The phone number is 620 672-5911.