Missouri Boating
Plenty of fun places to go boating in Missouri. Whether it's a family outing or just the guys going fishing or skiing, boating is fun for all. And there is boating in all corners of of the state. Whether you live in the northwest, northeast, southwest or southeast part of the state, chances there are plenty of opportunities to go boating nearby.
This website focuses on all aspects of boating including new and used boats for sale, boat rentals, insurance, financing, repairs, accessories, storage and more.
For convenience, resources are listed first by area of the Missouri, then by proximity to cities, waterways, parks, campgrounds and other relative attractions in MO. Cities listed in this section include Independence, Kansas City, Lees Summit, Marshall, St Joseph, Bowling Green, Chesterfield, Columbia, Paris, St Louis, Bolivar, Branson, Clinton, Joplin, Springfield, Farmington, Kennett, Piedmont, Poplar Bluff and Rolla.
Resources are also identified nearby campgrounds including Big Lake State Park, Lewis and Clark State Park, Wallace State Park, Long Branch State Park, Thousand Hills State Park, Wakonda State Park, Bennett Spring State Park, Lake of the Ozarks State Park, Table Rock State Park, Finger Lakes State Park, Lake Wappapello State Park and Meramec State Park.
Rivers & Lakes For Boating in MO
Missouri lakes with boating opportunities are listed within quadrants of Missouri include Blue Springs Lake, Lake Jacomo, Lake Lotawana, Lake Viking, Smithville Reservoir, Canyon Lake, Lake St Louis, Long Branch Lake, Mark Twain Lake, Thomas Hill Reservoir, Harry S. Truman Reservoir, Lake of The Ozarks, Pomme de Terre Lake, Stockton Lake, Table Rock Lake, Lake Tishomingo, Leadwood Tailings Pond, Swan Pond, St Joe Lake and Wappapello Lake. Many of these lakes offer multiple boat launching facilities at various locations around the lake.
Missouri also affords some boating or canoeing on rivers like Grand River, Platte River, Cuivre River, Salt River, James River, Sac River, Current River and Francis River.
Boating opportunities in Missouri
Northwest MO Boating
Northeast MO Boating
Southwest MO Boating
Southeast MO Boating
MO boating equipment and gear.
Throughout Missouri you can find boat dealers, outdoor centers, sporting good stores, bait and tackle stores, RV centers and discount stores offering a wide variety of boating equipment, accessories and supplies.
Go boating in Missouri
Gather up the family along with some snacks and refreshing beverages and go enjoy the thrill of fresh air in your face and the sun on your back. When boating you can see parts of Missouri accessible only by water. Often you'll see birds and wildlife not normally seen in city areas. Plus, sunrises and sunsets always seem more majestic when you are in the great outdoors.
Boating opportunities in other states.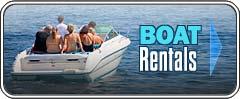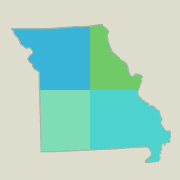 Boating in MO
Missouri is a boating paradise, get out in the great outdoors and enjoy it every chance you get.
Looking for a romantic getaway idea in Missouri? The perfect answer may be a boating and camping trip for two in Big Lake State Park or Graham Cave State Park. Pitch your two-person tent in any of Missouri's state and national parks and romance is sure to follow. Explore all these wonderful places together on your MO romantic getaway camping trip.
For further information about boating in Missouri, contact the Motor Vehicle Bureau - Boating Licenses located at 301 West High Street - Room 370, Jefferson City, MO 65101. The phone number is 573 526-3669.