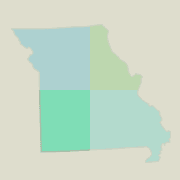 Locate boat dealers and other boat sales locations throughout Missouri by region, within or nearby cities in southern and western Missouri.
Northwest MO Boats
Northeast MO Boats
Southwest MO Boats
Southeast MO Boats
Boating in Southwest Missouri
Click here to locate resources for boating equipment in Southwest Missouri. If your interest is fishing, click here to find fishing boats in Southwest Missouri.
Click here to acquire a Boat License in Missouri.
Quality new and used boats are offered for sale throughout Missouri. Whether you want to go deep sea fishing, want to catch bass and crappie, want to speed down the river water skiing, or prefer a family outing on a pontoon boat, there is nothing quite like the feeling of freedom that a boat delivers.
Lending institutions offering boat loans in your area can help you handle financing issues. They can quote rates and terms for boat loans in Missouri. You might find ways to save by requesting quotes from several loan providers. Often the boat dealer where you purchase your boat will offer financing options.
If you are buying a new or used boat it is highly recommended you acquire boat insurance to protect your investment and members of your boating party.
Boat Storage
If you are looking for boat storage in Southwest Missouri, you may want to contact marinas on the lake where you prefer to go boating. Marinas including Pontiac Cove Marina, State Park Marina and Table Rock State Park Marina either offer boat storage or can refer you to a resource for storing your boat.
Bolivar
Branson
Marina Vu Boat Rv Storage
5403 State Highway 165
Branson, MO 65616
417 336-2811
Elite Automotive Boat Repair & Service
575 Beaumont Lane
Branson, MO 65616
417 332-0170
Clinton
Sport Boats USA Limited
250 NW Highway 7
Clinton, MO 64735
660 885-2628
Joplin
Springfield
Center City Marine Sales And Service Inc
1527 W College St
Springfield, MO 65806
417 831-2564
Bass Pro Shops Tracker Boat Center Sales
1935 S Campbell Ave
Springfield, MO 65807
417 887-7334
Travis Boating Center
2500 E Kearney St
Springfield, MO 65898
337 364-7141
Bass Pro Shops Boat Services Center
2703 S Campbell Ave
Springfield, MO 65807
417 887-3832
Bass Professional Shops - Tracker Boat Center- Sales
1935 South Campbell Avenue
Springfield, MO 65807
417 891-5281
Harry S. Truman Reservoir
Lake of The Ozarks
Pomme de Terre Lake
Stockton Lake
Table Rock Lake
James River
Sac River
Bennett Spring State Park
Lake of the Ozarks State Park
Table Rock State Park

New & Used Boats For Sale
Enjoy boating in Southwest Missouri with the boat of your dreams. Find the right boat with all the features that allow you to enjoy your time on the water. You can always add boating accessories to further enhance the boating experience.