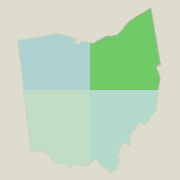 Locate boat dealers and other boat sales locations throughout Ohio by region, within or nearby cities in northern and eastern Ohio.
Northwest OH Boats
Northeast OH Boats
Southwest OH Boats
Southeast OH Boats
Boating in Northeast Ohio
Click here to locate resources for boating equipment in Northeast Ohio. If your interest is fishing, click here to find fishing boats in Northeast Ohio.
Click here to acquire a Boat License in Ohio.
Quality new and used boats are offered for sale throughout Ohio. Whether you want to go deep sea fishing, want to catch bass and crappie, want to speed down the river water skiing, or prefer a family outing on a pontoon boat, there is nothing quite like the feeling of freedom that boats delivers.
Lending institutions offering loans in your area can help you handle boat financing issues. They can quote rates and terms for boat loans in Ohio. You might find ways to save by requesting quotes from several loan providers. Often the boat dealer, where you purchase your boat, will offer financing options.
If you are buying a new or used boat it is highly recommended you acquire boat insurance to protect your investment and members of your boating party.
Storing Your Boat
Boat storage in Northeast Ohio is available at most marinas. Contact a marina on the lake where you prefer to go boating for details. Marinas including Anchors Away Marina, Brand's Marina and Marina Del Isle either offer boat storage or can refer you to a resource for secure boat storage.
Akron
Boat Masters Marine Inc
5290 Manchester Rd
Akron, OH 44319
330 882-4568
Chucks Mobile Boat Cover Services
169 Polonia Ave
Akron, OH 44319
330 644-3229
Bridges Boats
382 E Cuyahoga Falls Ave
Akron, OH 44310
330 929-2311
Leighton Boat House Inc
252 Portage Lakes Drive
Akron, OH 44319
330 644-2417
Patsboats
3445 East Waterloo Road
Akron, OH 44312
330 628-2288
Canton
Industrial Tarpaulin Sales & Service
2509 Krisko Cr Southwest
Canton, OH 44706
330 453-3711
Cleveland
Doyle Sailmaker
805 E 185th St
Cleveland, OH 44119
216 486-5732
Sailing Inc
5401 N Marginal Rd
Cleveland, OH 44114
216 361-7245
Grever Mower Marine Sales Service Inc
2030 Broadview Rd
Cleveland, OH 44109
216 741-5141
National Liquidators & National Yacht Sales
5401 North Marginal Road
Cleveland, OH 44114
216 391-1900
Boat US Marine Center
1577 Saint Clair Avenue Northeast
Cleveland, OH 44114
216 781-6110
Mansfield
Parma
Alum Creek Lake
Berlin Lake
Clendening Reservoir
Mosquito Lake
Pymatuning Lake
Killbuck Creek
Tuscarawas River
Geneva State Park
Mosquito Lake State Park
Portage Lakes State Park

New & Used Boats For Sale
Enjoy boating in Northeast Ohio with the boat of your dreams. Find the right boat with all the features that allow you to enjoy your time on the water. You can always add a variety of boating accessories to further enhance the boating experience.