Northeast Florida Boat Rentals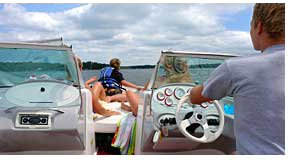 Choice boats for rent in northeast Florida at boat dealers, rental centers, outdoor stores, and boat rental agent locations offering a variety of watercraft for rent. Find pontoon boats, fishing boats, family boats, canoes and kayaks, plus deck, ski and speed boats for rent in northern and eastern Florida.
Boat rentals in northeast FL
Listed below find boat rental dealers and other resources offering boats for rent for use on Crescent Lake, Lake Apopka, Lake George, Lake Griffin, Lake Harris, Santa Fe River, St Johns River and other waterways in Florida. Rental locations are listed nearby cities and attractions. Cities listed include Gainesville, Jacksonville, Orlando, Alachua and Deltona. Contact these boat rental services to see if they have the ideal boat for you to rent.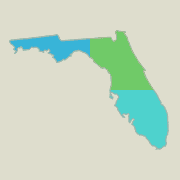 Northeast Resources
Alachua
Deltona
Gainesville
Boy's Auto & Boat Upholstery
2808 Northeast 21st Way
Gainesville, FL 32609
352 375-6700
Brian's Boats
5104 Northwest 109th Lane
Gainesville, FL 32653
386 462-3118
Jacksonville
Amelia Kayak
13030 Heckscher Dr
Jacksonville, FL 32226
904 251-0016
First Coast Boat Mart
8200 Beach Blvd
Jacksonville, FL 32216
904 805-9993
Boathouse Discount Marine
8587 Beach Blvd
Jacksonville, FL 32216
904 564-9669
Fish Magnet Charters
6233 Heckscher Drive
Jacksonville, FL 32226
904 757-1423
Canoe and Kayak Sales
4619 Roosevelt Boulevard
Jacksonville, FL 32210
904 387-4669
Orlando
Mai Boat Service
6128 Hoffner Ave
Orlando, FL 32822
407 382-8565
B And B Boats Inc
3568 Old Winter Garden Rd
Orlando, FL 32805
407 299-2190
Boatwrench Inc Lake Fairview M
4503 N Orange Blossom Trl
Orlando, FL 32804
407 295-0117
Central Florida Boating Center
5500 East Colonial Drive
Orlando, FL 32807
407 281-9279
Boat Tree Inc
2202 33rd Street
Orlando, FL 32839
407 422-8141
Parker Boat Co
455 South Lake Destiny Road
Orlando, FL 32810
407 660-2628
Crescent Lake
Lake Apopka
Lake George
Lake Griffin
Lake Harris
Santa Fe River
St Johns River
Amelia Island State Park
Big Shoals State Park
Rainbow Springs State Park
Northeast FL Boat Rental
Locate boat rental dealers and other boat rental locations within or nearby cities and attractions in Northern and Eastern Florida.
If you are looking for a specific type boat for rent, chances are one of these dealers can assist you. Boats offered for rent typically include canoes, family boats, pontoon boats, fishing boats, inflatables, jon boats, ski boats, aluminum boats, electric boats, jet skis and others. Some boats offered are confined to specific lakes while others are available for travel to other bodies of water.
Northeast FL Boating
To enhance your boat renting experience, click here to locate resources for safety equipment, water toys and boating gear in Northeast Florida.
Find the ideal rental boat to fit your specific boating needs. Having the right boat can greatly enhance your experience on the water as well as impact safety issues.
Boat rentals at marinas.
Some marinas may offer boat rentals for use on the lake where the marina is located. Check with Bahia Beach Marina, Big Toho Marina or Tropical Resort & Marina for information on local boat rental options and recommendations.
Pontoon boats are ideal for large groups or when taking small children boating. Most often they have a safety railing and a canvas or metal top to reduce the amount of sun rays absorbed by passengers.
Runabouts are great for families and small groups to go sight seeing and cruising the lakes.
Ski boats and speed boats are well suited for of three to five who enjoy water sports such as water skiing and wave boarding.
Aluminum boat rentals are best suited for parties of one to four planning to travel short to mid-range distances.
Bass boats are designed for two passengers and are ideal for most fresh-water fishing, and some inshore fishing.
Lake boat rental...find a boat to rent and take the family and friends out on the water for a day of making memories. Before boating, become familiar with local boating laws and regulations.
Check with your insurance agent to be certain you are covered while boating in a rental boat.
Find boat rentals in other states.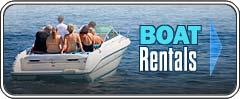 FL Boat Rentals
Northwest FL Boat Rentals
Northeast FL Boat Rentals
Southeast FL Boat Rentals
FL Boats & Boating