Boat Loans & Financing Options
Securing a Loan to Finance Your Boat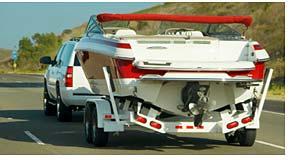 You may be surprised at the options you have available for getting a loan to purchase a boat. Between credit unions, banking institutions, finance companies, and boat dealers, provided your credit is good enough, you should have no problem securing a boat loan. Many banks offer boat loans directly to their customers, however, you should shop around with competing resources for the best interest rate and loan term.
Many boating magazines also advertise financial lenders who are happy to provide loans for boats. Finance companies can verify your credit with a few phone calls and will provide you with a loan calculator to determine the best interest rate based on your credit score and down payment.
Quick Links
Fishing Boats For Sale
Bass Boats
Ski Boats For Sale
New & Used Jon Boats
New & Used Jet Skis
Canoes
Speed Boats
Inflatable Boats
Sailboats & Sailing
Electric Boats
Map For Lakes & Boating
Boat Shows
Kayaks For Sale
Boat Loans & Rates
Luxury Yachts For Sale
Inboard-Outboard Motors
Deck Boats
Boat Accessories
Boat & Boating Safety
Boat Trailers For Sale
Credit unions are another source for funding your boat loan; however, you must be a member of the credit union to receive a loan. Credit unions typically have competitive rates and can offer attractive boat loans. If you have a motorhome or RV, chances are the lender which provided your motorhome loan can also assist with a boat loan.
Numerous benefits come with financing your boat through a boat dealer such as the option for multiple financing sources or special manufacturer programs, the option to purchase an extended warranty, and access to year round service departments should something happen to the boat. Sometimes when using a dealer to secure your boat loan, you will have a 90 day same as cash option, incentive rates on certain models, and low or no interest introductory rates.
In addition, if you finance through your dealer and use the services of a marine lending specialist with the National Marine Bankers Association, you may qualify for some additional benefits, including faster credit decisions, lower down payments, longer financing terms, lower monthly payments, and the option to finance additional equipment, electronics, and various types of insurance including extended warranty, life, and disability insurances.

Boats & Boating
Boat loans and financing resources.