Sailboats & Sailing
Hoist Those Sails: The Joys of Owning a Sailboat.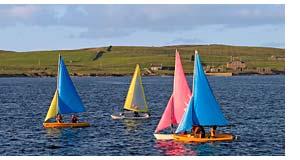 A sailboat by definition is a boat propelled in part or entirely by sails. Although some sailboats have motors, most people who choose to buy a sailboat prefer wind power verses gas-powered motors. The motor is usually an emergency feature, in case the wind dies down and leaves you stranded. Sailing is a tranquil experience favored as a hobby among individuals, families, and cruisers alike.
Green sailing and sailboat information.
For an environmentally friendly water sport that uses the renewable energy resource of wind power, you just can't beat sailing. You can sail around the world, or just down a river, across a small bay, or across an ocean. Wherever you go, you will love the sensation of sailing across the water.
There are many different types of sailboats; however, the sloop is the most popular. The sloop has one mast, which supports two sails, the main and jib. The main sail is larger and located on the back of the mast, while the jib is the smaller sail located on the front of the mast.
Sailboat models are available with one, two, or three hulls, the mono hull, catamaran, or trimaran, with catamarans quickly becoming the favorite among sailing enthusiasts due to increased stability and less likelihood of capsizing.
Many sailboat models offer onboard living accommodation with comfort and elegance giving you a home away from home for hours, days, or weeks of comfort and enjoyment. You can cook and sleep on board and enjoy the feeling of sailing wherever you want to, when you want to, and anchoring overnight.
Sailboats vary in length with the average sailboat measuring between 20' to 46' feet overall and are usually constructed from fiberglass, although some sailing boats include wood, metal, steel, and aluminum.
Quick Links
Fishing Boats For Sale
Bass Boats
Ski Boats For Sale
New & Used Jon Boats
New & Used Jet Skis
Canoes
Speed Boats
Inflatable Boats
Sailboats & Sailing
Electric Boats
Map For Lakes & Boating
Boat Shows
Kayaks For Sale
Boat Loans & Rates
Luxury Yachts For Sale
Inboard-Outboard Motors
Deck Boats
Boat Accessories
Boat & Boating Safety
Boat Trailers For Sale
Sailboats range in price also depending on overall length and hull type with the average sailboat of 20' to 46' costing anywhere between $10,000 and millions of dollars.
There are numerous sailboat manufacturers across the US, including:
• Jeanneau America – Annapolis, MD;
• Pacific Seacraft – Fullerton, CA;
• Hunter Marine – Alachua, FL;
• Cabo Rico Custom Yachts – Fort Lauderdale, FL;
• Hobie Sailing – Oceanside, CA; and
• Hinckley Company – Southwest Harbor, ME.
Sailboats for sale and boat dealers by state.

Boats & Boating
Sailing and sailboat information.