Minnesota Boats
Boat dealers and boats for sale in MN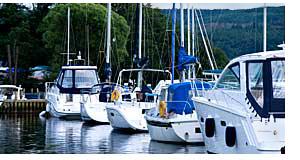 Minnesota, with its vast network of lakes, offers a thriving boating community. Boats for sale in Minnesota come in a wide range of options to suit various preferences and needs. Whether one is looking for a fishing boat to explore the abundant fishing opportunities or a family boat for leisurely cruises, there are plenty of choices available.
Among the major lakes in Minnesota, some of the most popular ones for boating include Lake Minnetonka, Lake Vermilion, and Lake Superior. These lakes provide ample space for boating enthusiasts to enjoy their watercraft and take in the stunning natural beauty of the state.
In terms of boat types, fishing boats are a common sight in Minnesota, given the state's reputation as a prime fishing destination. These boats are specially designed for anglers, equipped with features like fishing rod holders, live wells, and fish finders to enhance the fishing experience.
Family boats are also highly sought after in Minnesota, offering comfortable and spacious seating for the whole family to enjoy a day out on the water. These boats often have amenities like sun decks, swim platforms, and storage space for various recreational activities.
One of the most iconic boat types in Minnesota is the pontoon boat. Known for their stability and versatility, pontoon boats are perfect for leisurely cruises, fishing trips, and social gatherings on the water. They are a popular choice for families and groups looking to relax and unwind on the lake.
For those seeking a more thrilling experience, powerboats are available in various sizes and styles. These boats offer speed and agility, making them ideal for watersports like water skiing, wakeboarding, and tubing.
Aluminum boats are also prevalent in Minnesota due to their durability and affordability. These lightweight boats are suitable for navigating shallow waters and can be easily transported from one lake to another.
For those who prefer to experience boating without the commitment of owning a boat, boat rental services are widespread in Minnesota. These rental options provide access to a variety of boat types, allowing individuals to choose the perfect vessel for their day on the water.
Minnesota's boating scene caters to a diverse range of interests and preferences, ensuring that both residents and visitors can enjoy the state's beautiful lakes and waterways to the fullest.
With all the boating opportunities in Minnesota, it's no wonder there is so many boat dealers throughout the state offering a wide variety of boats for sale. If you like to sightsee, cruise, fish or water ski, there are dealers with your dream boat for sale. To locate a dealer near you, first select a quadrant of the state. Then find a boat dealer listed by proximity to cities, waterways, campgrounds and attractions in MN.
Locate boats for sale throughout MN
For further information about boat registration in Minnesota, contact the Department of Natural Resources License Center - Boat Licenses located at 500 Lafayette Road, St. Paul, MN 55155. The phone number is 651 296-6157.
New & Used Boats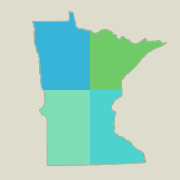 Some of the major cities we have listed for your convenience include Virginia, St Paul, Glenwood, Thief River Falls, Worthington, Cloquet, Minneapolis, Grand Marais, Hibbing, Buena Vista, Fairmont, Fergus Falls, Roseau, St Cloud, Walker, Mankato, Duluth, Rochester, St Cloud and Park Rapids.
Minnesota boat dealers are familiar with boating requirements in MN. They can easily assist you in selecting the right boat for your intended use, as well as make suggestions for boating safety and ways to keep operating costs to a minimum.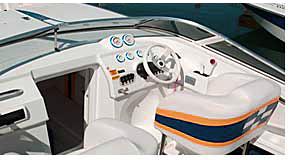 Most of these boat dealers offer new and used boats in many styles and configurations. You can find fishing boats, deck boats, pontoon boats, bow riders and party boats. Some boat dealers may also offer bay and offshore boats for larger bodies of water and coastal use.
Places to boat in Minnesota
Once you acquire the ideal boat, we'll help you find places to boat in Minnesota. Lakes are listed by quadrant within the state for convenience. The list of major lakes includes Lake Mille Lacs, Lake of the Woods, Cass Lake, Lake Winnibigoshish, Rainy Lake, Big Stone Lake, Leech Lake, Lower Red Lake, Lake Pepin, Lake Waconia, Upper Red Lake, Kabetogama Lake, Lake Vermilion, Lac Qui Parle Lake, Lake Minnewaska, Spring Lake, Otter Tail Lake, Lake Minnetonka, Mille Lacs Lake and Lake Traverse.
Rivers too can be a fun place to go boating and are listed by quadrant also. Some of the major rivers we've identified include Cottonwood River, Redwood River, Buffalo River, Root River, Rum River, Big Fork River, Cannon River and Red River.
Find boats for sale in Minnesota
Northwest MN Boats For Sale
Northeast MN Boats For Sale
Southwest MN Boats For Sale
Southeast MN Boats For Sale
Boat companies and manufacturers in Minnesota
Throughout MN you may find manufacturers of boats, trailers or boat accessories including Glastron Boats and Lund Boats.
Boat types commonly used on MN waters.
If you are looking for a specific type boat, we may have information for you. Some of the boat types we cover include sailboats, pleasure boats, family boats, pontoon boats, cruisers, fishing boats, bass boats, speedboats, inflatables, jon boats, cuddy cabin boats, canoes, car toppers, ski & wake board boats, deck boats, aluminum boats, electric boats, jet skis, personal watercraft and fish-and-ski combos.
We'll help you find the boat, waterways and resources to make owning or renting a boat in Minnesota an absolute pleasure.
Boats in Other States