Boats for sale By Boat Dealers
Top Boat Retailers in the USA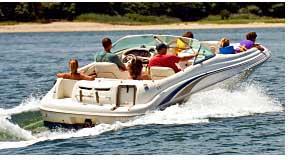 There are literally thousands of boat retailers across the US with each one carrying many different manufacturer brands and models. Each retailer typically offers new boats, used boats, and certified pre-owned boats. Usually, a top boat retailer can organize the finance and the insurance for your new boat. You may like to compare options for the boat loan and the insurance, as often the boat retailers will make a commission from the sale of these products. However, because the retailers deal exclusively with boats, the top boat retailers can organize terrific deals with insurance and boat financiers.
A boat retailer can also provide you with all the accessories and equipment you need to enjoy your new boat. Usually, essential equipment will be included as part of your package when you purchase a new boat. You should check with the retailer exactly what is included in the price, before you sign on the dotted line when you purchase a boat. Sometimes, you will need to purchase additional equipment or accessories that you assumed were included. Some retailers will sell the trailer as part of the package, and others sell the trailer separately.
Among the top boat retailers of America, you will find retailers who offer various models from up to ten different manufacturers of boats. These large-scale boat retailers will have all the accessories from the different manufacturers, so you will definitely have plenty of choice when selecting your additional purchases.
Quick Links
Fishing Boats For Sale
Bass Boats
Ski Boats For Sale
New & Used Jon Boats
New & Used Jet Skis
Canoes
The top boat retailers across the USA will also offer regular maintenance and servicing for your boat. A good warranty is an essential when you purchase your boat from the retailer. Check what is included in the warranty, as some parts of the boat will have a lesser warranty. A motor may be under warranty for five years, but the hull of the boat may be under a longer warranty.
Boat dealers and watercraft retailers by state.

Boats & Boating
Boat for sale options and information.