Virginia Boats
Boat dealers and boats for sale in VA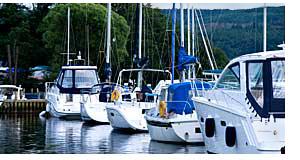 With all the boating opportunities in Virginia, it's no wonder there is so many boat dealers throughout the state offering a wide variety of boats for sale. If you like to sightsee, cruise, fish or water ski, there are dealers with your dream boat for sale. To locate a dealer near you, first select a quadrant of the state. Then find a boat dealer listed by proximity to cities, waterways, campgrounds and attractions in VA.
Locate boats for sale throughout VA
For further information about boat registration in Virginia, contact the Virginia Department of Game and Inland Fisheries - Boat Licenses located at 4010 West Broad Street, Richmond, Virginia 23230. The phone number is 804 367-1000.
New & Used Boats
Virginia Resources
Lynchburg
Practical Sailing Solutions
147 Mill Ridge Road
Lynchburg, VA 24502
434 239-7338
Abingdon
Bakers Marine Sales And Service
1099 Cummings St
Abingdon, VA 24211
276 628-8912
Chesapeake
Ski Boats Unlimited
143 Tilden Av
Chesapeake, VA 23320
757 547-2337
Newport News
Davis Boat Works Inc
34 Jefferson Ave
Newport News, VA 23607
757 247-0101
Casey Cycle City - Parts - ATV's - Motorcycles - Power Equipment - Watercraft - Service
634 J Clyde Morris Boulevard
Newport News, VA 23601
757 595-9760
Atlantic Boat Works
523 Edwards Ct.
Newport News, VA 23608
757 875-9705
Petersburg
Appomattox Small Boat Harbor
1604 Fine Street
Petersburg, VA 23803
804 733-5770
Richmond
Bruces Boat Supplies And Service
8045 Jefferson Davis Hwy
Richmond, VA 23237
804 743-8200
Virginia Beach
South Shore Yacht Sales LLC
2100 Marina Shores Dr, Ste 103
Virginia Beach, VA 23451
757 226-8103
Dare Yacht Sales
227 Mediterranean Ave
Virginia Beach, VA 23451
757 248-0267
Marine Engine Sales Inc
5898 Thurston Ave
Virginia Beach, VA 23455
757 460-0117
Fisherman's Wharft Yacht Sales
524 Winston Salem Avenue
Virginia Beach, VA 23451
757 428-9053
Cape Henry Yacht Sales Inc
2100 Marina Shores Drive
Virginia Beach, VA 23451
757 496-5220
Bay Island Yacht Sales
2100 Marina Shores Drive
Virginia Beach, VA 23451
757 412-4777
Some of the major cities we have listed for your convenience include Reston, Virginia Beach, Danville, Lynchburg, Roanoke, Charlottesville, Newport News, Front Royal, Manassas, Buena Vista, Abingdon, Blacksburg, Lexington, Martinsville, Staunton, Chesapeake, Dale City, M, Petersburg, Richmond and Covington.
Virginia boat dealers are familiar with boating requirements in VA. They can easily assist you in selecting the right boat for your intended use, as well as make suggestions for boating safety and ways to keep operating costs to a minimum.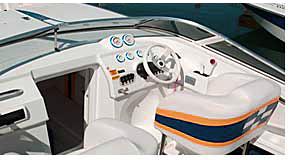 Most of these boat dealers offer new and used boats in many styles and configurations. You can find fishing boats, deck boats, pontoon boats, bow riders and party boats. Some boat dealers may also offer bay and offshore boats for larger bodies of water and coastal use.
Places to boat in Virginia
Once you acquire the ideal boat, we'll help you find places to boat in Virginia. Lakes are listed by quadrant within the state for convenience. The list of major lakes includes Lake Anna, Lake Manassas, Bedford Lake, Elkhorn Lake, Occoquan Reservoir, Claytor Lake, Lake Moomaw, Lynchburg Reservoir, Lake Chesdin, Lake Drummond, Peaks of Otter Lake, Burke Lake, Lunga Reservoir, Leesville Reservoir, Philpott Lake, Swift Creek Reservoir, South Holston Lake, Kerr Lake, Lake Gaston and Smith Mountain Lake.
Rivers too can be a fun place to go boating and are listed by quadrant also. Some of the major rivers we've identified include Clinch River, Powell River, Jackson River, Nottoway River, South Anna River, Rivanna River, Blackwater River and Maury River.
Find boats for sale in Virginia
Boat companies and manufacturers in Virginia
Throughout VA you may find manufacturers of boats, trailers or boat accessories including Lombardi Yachts and New River Canoe Manufacturing.
Boat types commonly used on VA waters.
If you are looking for a specific type boat, we may have information for you. Some of the boat types we cover include sailboats, pleasure boats, family boats, pontoon boats, cruisers, fishing boats, bass boats, speedboats, inflatables, jon boats, cuddy cabin boats, canoes, car toppers, ski & wake board boats, deck boats, aluminum boats, electric boats, jet skis, personal watercraft and fish-and-ski combos.
We'll help you find the boat, waterways and resources to make owning or renting a boat in Virginia an absolute pleasure.
Boats in Other States