North Carolina Boats
Boat dealers and boats for sale in NC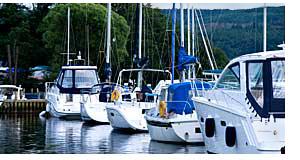 North Carolina, with its picturesque coastline and numerous lakes, offers a wealth of boating opportunities to residents and visitors alike. Boating enthusiasts can find a wide variety of boat types available for sale, catering to different interests and needs.
One popular category of boats for sale in North Carolina is fishing boats. Whether it's pursuing trophy bass in freshwater lakes or venturing into the ocean for saltwater fishing, fishing boats are designed to enhance the angler's experience. These boats often come equipped with specialized features like live wells, rod holders, and fish finders to optimize the fishing expedition.
Aluminum boats are another sought-after option in the boating market. Renowned for their durability, affordability, and versatility, aluminum boats are well-suited for both fishing and recreational activities. They are lightweight and easy to maneuver, making them ideal for exploring smaller lakes, shallow waters, and other waterways that might be difficult to access with larger vessels.
For those who don't own a boat but wish to enjoy the pleasures of boating, boat rental services are available throughout North Carolina. These rental services offer a diverse fleet of boats, including fishing boats, pontoon boats, family boats, and more. Renting a boat allows individuals and families to experience the joys of boating without the commitment and expenses associated with boat ownership.
From serene lake outings to thrilling offshore adventures, North Carolina's boating scene has something to offer every boating enthusiast. Whether seeking to purchase a fishing boat or enjoying a day on the water with a rented pontoon boat, the state's abundant waterways provide the perfect setting for unforgettable boating experiences.
With all the boating opportunities in North Carolina, it's no wonder there is so many boat dealers throughout the state offering a wide variety of boats for sale. If you like to sightsee, cruise, fish or water ski, there are dealers with your dream boat for sale. To locate a dealer near you, first select a quadrant of the state. Then find a boat dealer listed by proximity to cities, waterways, campgrounds and attractions in NC.
Locate boats for sale throughout NC
For further information about boat registration in North Carolina, contact the North Carolina Wildlife Resources Commission - Boat Licenses located at 1722 Mail Service Center, Raleigh, NC 27699. The phone number is 919 707-0050.
New & Used Boats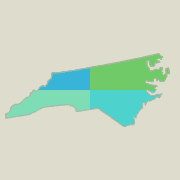 ND Resources
Boone
Footsloggers Boat Shop & Outdoor Outlet
277 Howard Street
Boone, NC 28607
828 265-0071
Winston Salem
Boatline
1480 Benbow St
Winston Salem, NC 27106
843 852-9111
Grubbs Marine Service Boat Repairing
110 Salem Creek Rd
Winston Salem, NC 27103
336 768-6684
Durham
Triumph Boats Inc
100 Golden Dr
Durham, NC 27705
800 290-9155
Boat Repairs And More
4260 Bennett Memorial Rd
Durham, NC 27705
919 382-8624
Boats Unlimited
1606 Page Road Ext
Durham, NC 27703
919 596-4100
Raleigh
Blue Runner Boats
3100 Stony Brook Dr, Ste S1
Raleigh, NC 27604
919 877-9004
Powerboat Service
4200 Atlantic Ave, Ste 148
Raleigh, NC 27604
919 790-7760
Boats Unlimited
9009 Glenwood Ave
Raleigh, NC 27617
919 782-7700
Boatpro Inc
2125 Glascock St
Raleigh, NC 27610
919 835-2628
Charlotte
Mastercraft Of Charlotte
3529 S Tryon St
Charlotte, NC 28217
704 525-6660
Lake Wylie Boat & Yacht Sales
16310 York Rd
Charlotte, NC 28205
704 588-8828
Fayetteville
Waynes Boat And Motor Repair
3513 Tart St
Fayetteville, NC 28306
910 425-0178
Goldsboro
Inland Boatworks
1471 Nc 111 Hwy S
Goldsboro, NC 27534
919 778-2003
Rockingham
Starick Boat And Marine
1332 W Us Highway 74
Rockingham, NC 28379
910 997-5188
Wilmington
Pete Horst Yacht Sales Inc
1418 Airlie Rd
Wilmington, NC 28403
910 256-0049
Pages Creek Marine Services Inc Sales
7000 Market St
Wilmington, NC 28411
910 799-7179
Boat Recyclers Of Wilmington
6824 Market St
Wilmington, NC 28405
910 793-8890
Powers Boatworks
2725 Old Wrightsboro Rd, Unit 8A
Wilmington, NC 28405
910 762-3636
Greenes' Marine Sales & Service
6826 Market Street
Wilmington, NC 28405
910 395-2074
Coral Bay Marina Yacht Sales & Service Inc
7235 Market Street
Wilmington, NC 28411
910 686-1403
Some of the major cities we have listed for your convenience include Rocky Mt, Wilmington, Hendersonville, Lenoir, Waynesville, Durham, Goldsboro, Greenville, Raleigh, Boone, Ashville, Charlotte, High Point, Murphy, Winston Salem, Fayetteville, Elizabeth City, Jacksonville, Rockingham and Greensboro.
North Carolina boat dealers are familiar with boating requirements in NC. They can easily assist you in selecting the right boat for your intended use, as well as make suggestions for boating safety and ways to keep operating costs to a minimum.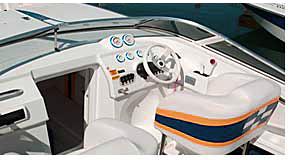 Most of these boat dealers offer new and used boats in many styles and configurations. You can find fishing boats, deck boats, pontoon boats, bow riders and party boats. Some boat dealers may also offer bay and offshore boats for larger bodies of water and coastal use.
Places to boat in North Carolina
Once you acquire the ideal boat, we'll help you find places to boat in North Carolina. Lakes are listed by quadrant within the state for convenience. The list of major lakes includes Kerr Lake, Lake Gaston, Belews Lake, High Rock Lake, Phelps Lake, Apalachia Lake, Lake Hickory, Lake James, Bay Tree Lake, Blewett Falls Lake, Lake Tillery, B Everett Jordan Lake, Lake Mattamuskeet, Chatuge Lake, Fontana Lake, Lake Waccamaw, Lake Wylie, Badin Lake, Lake Norman and Hiwassee Lake.
Rivers too can be a fun place to go boating and are listed by quadrant also. Some of the major rivers we've identified include Broad River, Rocky River, Don River, South River, Tar River, Roanoke River, Cape Fear River and Yadkin River.
Find boats for sale in North Carolina
Boat companies and manufacturers in North Carolina
Throughout NC you may find manufacturers of boats, trailers or boat accessories including Fountain Powerboats and Mann Custom Boats.
Boat types commonly used on NC waters.
If you are looking for a specific type boat, we may have information for you. Some of the boat types we cover include sailboats, pleasure boats, family boats, pontoon boats, cruisers, fishing boats, bass boats, speedboats, inflatables, jon boats, cuddy cabin boats, canoes, car toppers, ski & wake board boats, deck boats, aluminum boats, electric boats, jet skis, personal watercraft and fish-and-ski combos.
We'll help you find the boat, waterways and resources to make owning or renting a boat in North Carolina an absolute pleasure.
Boats in Other States