California Boats
Boat dealers and boats for sale in CA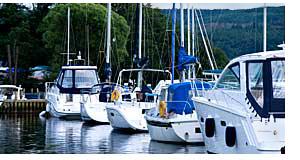 California, with its extensive coastline and numerous lakes, provides a thriving market for boats of all types. Boats for sale in California cater to various interests and preferences, making it a haven for boat enthusiasts and water sports lovers alike. Whether one is looking for a fishing vessel, a family-friendly boat, a luxurious pontoon boat, a high-speed powerboat, or a durable aluminum boat, there is a wide selection available to suit every need and budget.
The major lakes in California offer an ideal setting for boating enthusiasts to explore and enjoy the state's natural beauty. Among the prominent ones is Lake Tahoe, famous for its crystal-clear waters surrounded by stunning mountain scenery. This picturesque lake is a favorite destination for boaters seeking a serene and scenic experience. Another notable lake is Clear Lake, known for its excellent bass fishing opportunities and beautiful landscapes.
When it comes to boat types, fishing boats are a prevalent choice in California, reflecting the state's strong fishing culture. These boats are specifically designed with features to enhance the fishing experience, such as fishing platforms, rod holders, and ample storage for fishing gear. Families looking for leisurely boating experiences can opt for family boats, which offer comfort, space, and safety for everyone on board.
Pontoon boats have also gained popularity in California for their versatility and relaxation-oriented design. These spacious and stable boats are perfect for leisurely cruises and entertaining friends and family on the water. Powerboats, with their high-speed capabilities, are favored by adrenaline junkies and thrill-seekers who enjoy water sports like water skiing and wakeboarding.
Aluminum boats are well-liked for their durability and affordability, making them a practical choice for exploring lakes and rivers. Their lightweight construction allows for easy towing and handling, making them popular among solo boaters and those looking for a hassle-free boating experience.
Boat rental services abound in California. Boat rental companies offer a wide selection of vessels for individuals and families to rent by the hour, day, or longer. This convenient option allows everyone to experience the joys of boating without the responsibilities of ownership.
California's diverse waterways offer a plethora of boats for sale, catering to various interests and preferences. The major lakes provide stunning backdrops for boating adventures, attracting both seasoned boaters and newcomers to the water sports scene. With an array of boat types, from fishing boats to pontoon boats and powerboats, there is a perfect vessel for everyone to enjoy California's beautiful waters. Boat rental services add convenience and accessibility to the boating experience, ensuring that all can partake in the enjoyment of being out on the water.
With all the boating opportunities in California, it's no wonder there is so many boat dealers throughout the state offering a wide variety of boats for sale. If you like to sightsee, cruise, fish or water ski, there are dealers with your dream boat for sale. To locate a dealer near you, first select a quadrant of the state. Then find a boat dealer listed by proximity to cities, waterways, campgrounds and attractions in CA.
Locate boats for sale throughout CA
For further information about boat registration in California, contact the Vehicle Registration Operations, Department of Motor Vehicles - Boat Licenses located at 4700 Broadway, Sacramento, CA 95820. The phone number is 800 777-0133.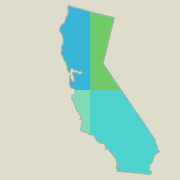 California Resources
Redding
Redding Sea-Doo
1936 Twin View Blvd
Redding, CA 96003
530 275-7300
Boat Doctor
7069 Danyeur Road
Redding, CA 96001
530 246-4467
Pacific Boats
4311 Caterpillar Road
Redding, CA 96003
530 241-1846
Sacramento
Classic Craft
8509 Folsom Blvd
Sacramento, CA 95826
916 383-2150
A Small Fishing Boat
8158 Belvedere Ave
Sacramento, CA 95826
916 737-2628
Gonzalez Aircraft And Interiors
5963 Freeport Blvd Ste101
Sacramento, CA 95822
916 399-5746
Hart Sail Design
8006 Clifton Road
Sacramento, CA 95826
916 736-1620
Sacramento Yacht Sales Inc
2710 Ramp Way
Sacramento, CA 95818
916 441-2727
Inland Sail & Kayak
2355 Sutterville Bypass Suite D
Sacramento, CA 95822
916 454-3966
San Jose
San Jose Boat Center
2144 Otoole Ave
San Jose, CA 95131
408 432-9000
Pleasure Boat Specialties
2456 Kruse Dr
San Jose, CA 95131
408 432-0217
Action Trailer Sales Inc
1346 East Taylor Street
San Jose, CA 95133
408 288-6236
Boat People
1249 South 1st Street
San Jose, CA 95110
408 295-2628
South Lake Tahoe
Tahoe Marine Mart
2719 Lake Tahoe Blvd
South Lake Tahoe, CA 96150
530 544-5449
Tahoe Marine Mart
900 Ski Run Boulevard Suite 102
South Lake Tahoe, CA 96150
530 542-3294
Tahoe Powerboat CO
2435 Venice Drive East Suite 160
South Lake Tahoe, CA 96150
530 544-9990
Stockton
Western California Yacht Sales
4330 Buckley Cove Way
Stockton, CA 95219
209 473-3144
Paradise Point Engine And Boat
8090 Rio Blanco Rd
Stockton, CA 95219
209 952-1000
Trail-Rite Boat Trailers
1551 North Broadway Avenue
Stockton, CA 95205
209 467-7123
Fantasea Boats & RV Sales & Service
6649 Embarcadero Drive Ofc
Stockton, CA 95219
209 473-4646
H & H Boat Sales
Venice Island Fry
Stockton, CA 95202
209 477-0879
Susanville
J L Boat Repair
688-125 Spruce Way
Susanville, CA 96130
530 825-2129
Truckee
Allstar Boat Care
10551 Snowberry Rd
Truckee, CA 96161
530 582-8393
Merced
Hondo Boats
819 W 16th St
Merced, CA 95340
209 384-9284
Malibu Boats West Inc
1 Malibu Ct
Merced, CA 95341
209 383-0499
Malibu Boats West Inc
1 Malibu Court
Merced, CA 95340
209 383-7469
Salinas
AL Martins Enterprises
601 El Camino Real North
Salinas, CA 93907
831 449-2178
Fresno
Gregor Boat Co
3565 N Hazel Ave
Fresno, CA 93722
559 441-7703
Fresno Boat Works
6926 N Weber Ave
Fresno, CA 93722
559 271-4953
Executive Rv And Boat Storage
4315 N Valentine Ave
Fresno, CA 93722
559 225-2980
Boatacious Fi Optics
4959 E Dakota Ave
Fresno, CA 93727
559 291-2979
Sanger Boats
3316 E Annadale Ave
Fresno, CA 93725
559 485-2842
V M Custom Boat Trailers
5200 S Peach Ave
Fresno, CA 93725
559 486-0410
Los Angeles
Quicken Water Mart
1386 West Sunset Boulevard
Los Angeles, CA 90026
213 481-3872
Robertson Bill & Sons Inc - Used Car Sales
6550 Santa Monica Boulevard
Los Angeles, CA 90038
323 461-7772
BMW Motorcycles Authorized Sales & Service
6525 Santa Monica Boulevard
Los Angeles, CA 90038
323 466-7191
Rosario Boat Covers
3304 Motor Avenue
Los Angeles, CA 90034
310 821-4207
Oceanside
Yearley Sailboats
1850 Harbor Dr N, Ste B
Oceanside, CA 92054
760 722-4940
San Diego
Waypoint Yacht Sales
1067 Shafter St
San Diego, CA 92106
619 224-4800
Captains Yacht Sales
1050 Rosecrans St, Ste G
San Diego, CA 92106
619 222-4500
American Yacht Ship Sales
889 Armada Ter
San Diego, CA 92106
619 226-2540
Cabrillo Yacht Sales
5060 N Harbor Dr
San Diego, CA 92106
619 523-1745
Crows Nest Yacht Sales
2515 Shelter Island Dr
San Diego, CA 92106
619 222-1122
H S Yacht Sales Service Dept
1880 Harbor Island Dr, Ste B
San Diego, CA 92101
619 291-4852
Santa Barbara
Sailboats International
748 Casiano Dr, Apt B
Santa Barbara, CA 93105
805 569-6460
AKA Sunset Kidd's Sailing
125 Harbor Way Suite 13
Santa Barbara, CA 93109
805 962-8222
Paxson WM Sailmaker & Marine Canvas
22 Anacapa Street
Santa Barbara, CA 93101
805 962-0706
Some of the major cities we have listed for your convenience include Truckee, Santa Barbara, Morrow Bay, Coronado, Sacramento, Salinas, Modesto, Los Angeles, Stockton, Susanville, Eureka, Grover Beach, Merced, Redding, Prismo Beach, San Jose, Fresno, South Lake Tahoe, Oceanside, San Diego and Napa.
New & Used Boats
California boat dealers are familiar with boating requirements in CA. They can easily assist you in selecting the right boat for your intended use, as well as make suggestions for boating safety and ways to keep operating costs to a minimum.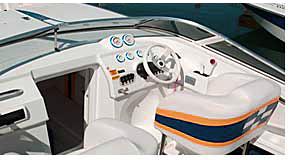 Most of these boat dealers offer new and used boats in many styles and configurations. You can find fishing boats, deck boats, pontoon boats, bow riders and party boats. Some boat dealers may also offer bay and offshore boats for larger bodies of water and coastal use.
Places to boat in California
Once you acquire the ideal boat, we'll help you find places to boat in California. Lakes are listed by quadrant within the state for convenience. The list of major lakes includes Folsom Lake, Goose Lake, Clearlake, Lake Berryessa, Lake Tahoe, Lake Cachuma, Lake Oroville, Lake Shasta, Lake Castaic, Lake Elsinore, Trinity Lake, Bullards Bar Reservoir, Lake Almanor, McPhee Reservoir, Nacimiento Lake, San Vicente Reservoir, San Luis Reservoir, Lake Cahuilla, Salton Sea and San Antonio Lake.
Rivers too can be a fun place to go boating and are listed by quadrant also. Some of the major rivers we've identified include Salinas River, San Joaquin River, Eel River, Owens River, Pit River, Mokelumne River, Kerr River and Sacramento River.
Boat companies and manufacturers in California
Throughout CA you may find manufacturers of boats, trailers or boat accessories including CABO Yachts and Hallett Boats.
Boat types commonly used on CA waters.
If you are looking for a specific type boat, we may have information for you. Some of the boat types we cover include sailboats, pleasure boats, family boats, pontoon boats, cruisers, fishing boats, bass boats, speedboats, inflatables, jon boats, cuddy cabin boats, canoes, car toppers, ski & wake board boats, deck boats, aluminum boats, electric boats, jet skis, personal watercraft and fish-and-ski combos.
We'll help you find the boat, waterways and resources to make owning or renting a boat in California an absolute pleasure.
Boats in Other States