Iowa Boats
Boat dealers and boats for sale in IA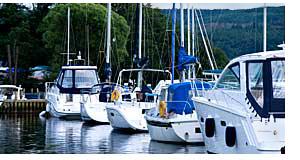 With all the boating opportunities in Iowa, it's no wonder there is so many boat dealers throughout the state offering a wide variety of boats for sale. If you like to sightsee, cruise, fish or water ski, there are dealers with your dream boat for sale. To locate a dealer near you, first select a quadrant of the state. Then find a boat dealer listed by proximity to cities, waterways, campgrounds and attractions in IA.
Locate boats for sale throughout IA
For further information about boat registration in Iowa, contact the Iowa Department of Natural Resources - Boat Licenses located at 502 E 9th Street, Des Moines, IA 50319. The phone number is 515 281-5918.
New & Used Boats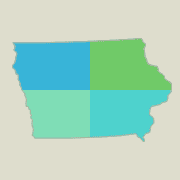 Iowa Resources
Dubuque
Hawkeye Boat Sales
1108 Iowa St
Dubuque, IA 52001
563 557-0313
C R Boats Inc
2711 Rhomberg Avenue
Dubuque, IA 52001
563 583-1183
Waterloo
Waterloo Boats
403 Franklin St
Waterloo, IA 50703
319 235-6158
Countryside Boat Shop
1328 S Elk Run Rd
Waterloo, IA 50703
319 233-0708
Cedar Valley Metal Detector Sales
918 Reed Street
Waterloo, IA 50703
319 833-0018
Custom Boat Covers by Wersinger-Dunkerton
516 Martin Road
Waterloo, IA 50701
319 234-5416
Des Moines
Sailing Center Hobie
5454 NE 14th St
Des Moines, IA 50313
515 224-9033
D D Propeller Sales Repair
5940 NW 2nd St
Des Moines, IA 50313
515 289-1100
Cedar Rapids
R And L Marine Sales
1857 16th Ave Sw
Cedar Rapids, IA 52404
319 365-0138
Midwest Marine Sales Limited
3211 F Avenue Northwest
Cedar Rapids, IA 52405
319 396-5213
Davenport
Davenport Boat And Marine Ltd
1414 S Stark St
Davenport, IA 52802
563 326-2431
Iowa City
Toyota of Iowa City - Sales Department
1445 Highway 1 West
Iowa City, IA 52246
319 351-1501
Some of the major cities listed for your convenience include Waterloo, Oskaloosa, Hamburg, Sioux City, West Des Moines, Cedar Falls, Davenport, Dubuque, Mason City, Boone, Bedford, Des Moines, Lamar, Indianola, Spencer, Cedar Rapids, Deborah, Iowa City, Mt Pleasant and Fort Dodge.
Iowa boat dealers are familiar with boating requirements in IA. They can easily assist you in selecting the right boat for your intended use, as well as make suggestions for boating safety and ways to keep operating costs to a minimum.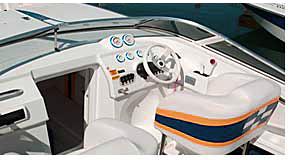 Most of these boat dealers offer new and used boats in many styles and configurations. You can find fishing boats, deck boats, pontoon boats, bow riders and party boats. Some boat dealers may also offer bay and offshore boats for larger bodies of water and coastal use.
Places to boat in Iowa
Once you acquire the ideal boat, we'll help you find places to boat in Iowa. Lakes are listed by quadrant within the state for convenience. The list of major lakes includes Cedar Lake, Lake Mills, Big Spirit Lake, Clear Lake, Volga Lake, Brushy Creek Lake, Spirit Lake, Tuttle Lake, Lake MacBride, Rathbun Lake, West Okoboji Lake, Backbone Lake, Snyder Access Recreation Area, Lake Icaria, Lake Manawa, Saylorville Lake, Three Mile Lake, Coralville Lake, Red Rock Lake and Little River Lake.
Rivers too can be a fun place to go boating and are listed by quadrant also. Some of the major rivers we've identified include Racoon River, Thompson River, Floyd River, Skunk River, Shellrock River, Cedar River, Des Moines River and Little Sioux River.
Boat companies and manufacturers in Iowa
Throughout IA you may find manufacturers of boats, trailers or boat accessories including Clark Boat Company and Connect A Dock.
Boat types commonly used on IA waters.
If you are looking for a specific type boat, we may have information for you. Some of the boat types we cover include sailboats, pleasure boats, family boats, pontoon boats, cruisers, fishing boats, bass boats, speedboats, inflatables, jon boats, cuddy cabin boats, canoes, car toppers, ski & wake board boats, deck boats, aluminum boats, electric boats, jet skis, personal watercraft and fish-and-ski combos.
We'll help you find the boat, waterways and resources to make owning or renting a boat in Iowa an absolute pleasure.
Boats in Other States