New Jersey Boats
Boat dealers and boats for sale in NJ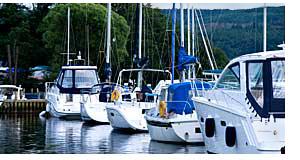 With all the boating opportunities in New Jersey, it's no wonder there is so many boat dealers throughout the state offering a wide variety of boats for sale. If you like to sightsee, cruise, fish or water ski, there are dealers with your dream boat for sale. To locate a dealer near you, first select a quadrant of the state. Then find a boat dealer listed by proximity to cities, waterways, campgrounds and attractions in NJ.
Locate boats for sale throughout NJ
For further information about boat registration in New Jersey, contact the New Jersey Motor Vehicle Commission - Boat Licenses located at PO Box 160, Trenton, NJ 08666. The phone number is 609 292-6500.
New & Used Boats
Some of the major cities we have listed for your convenience include Paterson, Toms River, Vineland, Newton, Woodbury, Bloomfield, Mays Landing, Jersey City, Newark, Clinton, Camden, Cherry Hill, Hopatcong, Wilmington, Trenton, Lakewood, East orange, Mystic Island, Ocean City and Franklin.
New Jersey boat dealers are familiar with boating requirements in NJ. They can easily assist you in selecting the right boat for your intended use, as well as make suggestions for boating safety and ways to keep operating costs to a minimum.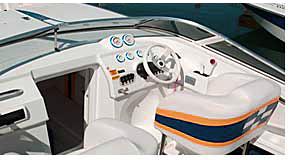 Most of these boat dealers offer new and used boats in many styles and configurations. You can find fishing boats, deck boats, pontoon boats, bow riders and party boats. Some boat dealers may also offer bay and offshore boats for larger bodies of water and coastal use.
Places to boat in New Jersey
Once you acquire the ideal boat, we'll help you find places to boat in New Jersey. Lakes are listed by quadrant within the state for convenience. The list of major lakes includes Lake Tappan, Manasquan Reservoir, Culvers Lake, Lake Hopatcong, Oak Ridge Reservoir, Clarks Pond, Round Valley Reservoir, Spruce Run Reservoir, Mirror Lake, Pine Lake, Swartswood Lake, Greenwood Lake, Monksville Reservoir, Laytons Lake, Merrill Creek Reservoir, Wanaque Reservoir, Union Lake, Manahawkin Lake, Pohatcong Lake and Sunset Lake.
Rivers too can be a fun place to go boating and are listed by quadrant also. Some of the major rivers we've identified include Cohansey River, Maurice River, Paulins Kill River, Wading River, Passaic River, Hackensack River, Mullica River and Wallkill River.
Find boats for sale in New Jersey
Northwest NJ Boats For Sale
Northeast NJ Boats For Sale
Southwest NJ Boats For Sale
Southeast NJ Boats For Sale
Boat companies and manufacturers in New Jersey
Throughout NJ you may find manufacturers of boats, trailers or boat accessories including Integrity Marine Corporation and Jersey Cape Yachts.
Boat types commonly used on NJ waters.
If you are looking for a specific type boat, we may have information for you. Some of the boat types we cover include sailboats, pleasure boats, family boats, pontoon boats, cruisers, fishing boats, bass boats, speedboats, inflatables, jon boats, cuddy cabin boats, canoes, car toppers, ski & wake board boats, deck boats, aluminum boats, electric boats, jet skis, personal watercraft and fish-and-ski combos.
We'll help you find the boat, waterways and resources to make owning or renting a boat in New Jersey an absolute pleasure.
Boats in Other States

Boats & Boating