New Jersey Boating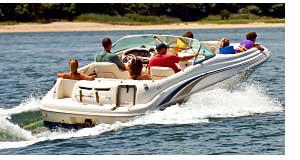 Plenty of fun places to go boating in New Jersey. Whether it's a family outing or just the guys going fishing or skiing, boating is fun for all. And there is boating in all corners of of the state. Whether you live in the northwest, northeast, southwest or southeast part of the state, chances there are plenty of opportunities to go boating nearby.
Boating in NJ
For further information about boating in New Jersey, contact the New Jersey Motor Vehicle Commission - Boating Licenses located at PO Box 160, Trenton, NJ 08666. The phone number is 609 292-6500.
This website focuses on all aspects of boating including new and used boats for sale, boat rentals, repairs, accessories, storage and more.
For convenience, resources are listed first by area of the New Jersey, then by proximity to cities, waterways, parks, campgrounds and other relative attractions in NJ. Cities listed in this section include Clinton, Franklin, Hopatcong, Newton, Trenton, Bloomfield, East orange, Jersey City, Newark, Paterson, Camden, Cherry Hill, Vineland, Wilmington, Woodbury, Lakewood, Mays Landing, Mystic Island, Ocean City and Toms River.
Resources are also identified nearby campgrounds including Round Valley Recreation Area, Spruce Run Recreation Area, Swartswood State Park, Liberty State Park, Norvin Green State Forest, Wawayanda State Park, Bass River State Forest, Belleplain State Forest, Parvin State Park, Belleplain State Forest, Island Beach State Park and Wharton State Forest Campground.
Rivers & Lakes For Boating in NJ
New Jersey lakes with boating opportunities are listed within quadrants of New Jersey include Culvers Lake, Lake Hopatcong, Round Valley Reservoir, Spruce Run Reservoir, Swartswood Lake, Greenwood Lake, Lake Tappan, Manasquan Reservoir, Monksville Reservoir, Oak Ridge Reservoir, Clarks Pond, Laytons Lake, Merrill Creek Reservoir, Sunset Lake, Union Lake, Manahawkin Lake, Mirror Lake, Pine Lake, Pohatcong Lake and Wanaque Reservoir. Many of these lakes offer multiple boat launching facilities at various locations around the lake.
Camping & Boating
Many state and national parks in New Jersey have well-maintained RV parks and campgrounds near boating waters. To make a family vacation of your next boating excursion, enjoy the benefits of traveling and camping in a motorhome. These motorized RVs can tow the boat and bring along the comforts of home.
New Jersey also affords some boating or canoeing on rivers like Paulins Kill River, Wallkill River, Hackensack River, Passaic River, Cohansey River, Maurice River, Mullica River and Wading River.
Boating opportunities in New Jersey
Northwest NJ Boating
Northeast NJ Boating
Southwest NJ Boating
Southeast NJ Boating
NJ boating equipment and gear.
Throughout New Jersey you can find boat dealers, outdoor centers, sporting good stores, bait and tackle stores, RV centers and discount stores offering a wide variety of boating equipment, accessories and supplies.
Go boating in New Jersey
Gather up the family along with some snacks and refreshing beverages and go enjoy the thrill of fresh air in your face and the sun on your back. When boating you can see parts of New Jersey accessible only by water. Often you'll see birds and wildlife not normally seen in city areas. Plus, sunrises and sunsets always seem more majestic when you are in the great outdoors.
Boating opportunities in other states.

Boats & Boating