Georgia Boating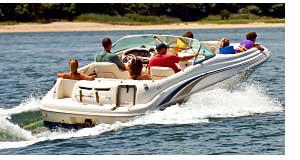 Plenty of fun places to go boating in Georgia. Whether it's a family outing or just the guys going fishing or skiing, boating is fun for all. And there is boating in all corners of of the state. Whether you live in the northwest, northeast, southwest or southeast part of the state, chances there are plenty of opportunities to go boating nearby.
Boating in GA
Georgia is a boating paradise, get out in the great outdoors and enjoy it every chance you get.
For further information about boating in Georgia, contact the Wildlife Resources Division - License & Boat Registration Unit - Boating Licenses located at 2065 US Hwy 278, SE, Social Circle, GA 30025. The phone number is 800 366-2661.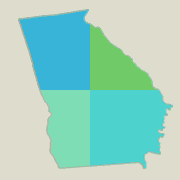 GA Resources
Atlanta
West Marine
4305 Northeast Expressway
Atlanta, GA 30340
770 939-2828
Jet Tech Sports
210 Rope Mill Parkway
Atlanta, GA 30303
770 924-0756
White Water Learning Center of GA Inc Kayaking CP
3437 Rockhaven Circle Northeast
Atlanta, GA 30324
404 231-1199
Boat US Marine Center
6245 Peachtree Industrial
Atlanta, GA 30360
770 936-8611
Cartersville
Ahoy Marine LLC
24 Allatoona Landing Rd Se
Cartersville, GA 30121
770 975-7979
Marinemax
24 Allatoona Landing Road
Cartersville, GA 30121
770 966-8266
Park Marina Boat Sales & Rentals
651 Marina Road Southeast
Cartersville, GA 30121
770 974-2628
Macon
Central Georgia Power Sports
4490 Knight Rd
Macon, GA 31220
478 757-4320
Bibb Marine And Fiberglass Repair
7318 Hawkinsville Rd
Macon, GA 31216
478 784-1533
Boatworks
4280 Interstate Dr
Macon, GA 31210
478 471-6321
Central Georgia Power Sports
5559 Thomaston Road
Macon, GA 31220
478 757-4320
Augusta
Augusta Marine
1547 Gordon Hwy
Augusta, GA 30906
706 481-9336
West Marine Inc
592 Bobby Jones Expy, Ste 10
Augusta, GA 30907
706 650-1939
Elberton
Beaver Dam Marine Svc
1155 Marina Rd
Elberton, GA 30635
706 283-5823
Marine Sales
3336 Calhoun Falls Hwy
Elberton, GA 30635
706 213-8233
Elberton Motorsports Inc
101 Elbert Street
Elberton, GA 30635
706 283-7433
Evans
The Boat Center
4751 Washington Rd
Evans, GA 30809
706 855-8698
Albany
Flint River Marine Boats Boats
1605 E Broad Ave
Albany, GA 31705
229 435-2813
Lennys Boats
811 21st Ave
Albany, GA 31701
229 435-1159
Bainbridge
Bainbridge Marine
1907 Dothan Road
Bainbridge, GA 39817
229 246-9547
Airboats Unlimited / Seminole Airboats
778 Woodhull Road
Bainbridge, GA 31717
912 246-5760
Columbus
Extreme Marine
7000 N Lake Connector
Columbus, GA 31909
706 987-8080
Extreme Power Sports Inc
2990 N Lake Pkwy
Columbus, GA 31909
706 324-0132
Marine Discount
1510 Morris Road
Columbus, GA 31907
706 563-3474
Action Marine
1330 Victory Drive
Columbus, GA 31901
706 322-3047
Thomasville
Bellamys Boat Shop
1224 E Jackson St
Thomasville, GA 31792
229 226-3267
Valdosta
Regal Marine Inc
601 Gil Harbin Industrial Blvd
Valdosta, GA 31601
229 247-2045
Black Eagle Marine
1613 James P Rodgers Dr
Valdosta, GA 31601
229 244-1702
Martin Marine Repair
2685 Old Clyattville Rd
Valdosta, GA 31601
229 247-4497
Chaparral Boats
601 Gil Harbin Industrial Blvd
Valdosta, GA 31601
229 241-8116
Diamond Eagle Marine
2330 USHighway 41 South
Valdosta, GA 31601
229 244-6500
Cotton Marine Inc
3776 White Water Road
Valdosta, GA 31601
229 244-4440
Brunswick
Coastal Marine Center
4718 New Jesup Hwy
Brunswick, GA 31520
912 267-6767
Camden Motorsports Inc
5581 Habersham St
Brunswick, GA 31520
912 673-6410
Shoreline Marine
3517 Darien Hwy, Ste A
Brunswick, GA 31525
912 261-0444
Atlantic Marine
4579 New Jesup Hwy
Brunswick, GA 31520
912 264-0150
Stitches by Ruth Custom Marine
2717 Glynn Avenue
Brunswick, GA 31520
912 262-9438
Atlantic Marine
3663 Community Road
Brunswick, GA 31520
912 264-0150
Kingsland
Petes Marine
101 Scrubby Bluff Rd, Ste G
Kingsland, GA 31548
912 729-7989
Savannah
Savannah Marine Terminal
380 Magazine Ave
Savannah, GA 31415
912 234-5000
B B Mobile Marine Inc
810 Penn Waller Rd
Savannah, GA 31410
912 898-4848
Savannah Canoe Kayak
2169 Tennessee Ave
Savannah, GA 31404
912 341-9502
Savannah Motorsports
7210 Skidaway Road
Savannah, GA 31406
912 352-7710
Palmer Johnson Sport Yachts L L C
301 North Lathrop Avenue
Savannah, GA 31415
912 234-6579
Tybee Island
Sea Kayak Georgia
1102 Us Highway 80
Tybee Island, GA 31328
912 786-8732
This website focuses on all aspects of boating including new and used boats for sale, boat rentals, repairs, accessories, storage and more.
For convenience, resources are listed first by area of the Georgia, then by proximity to cities, waterways, parks, campgrounds and other relative attractions in GA. Cities listed in this section include Atlanta, Cartersville, Chatsworth, Palmetto, Macon, Augusta, Bishop, Elberton, Evans, Greensboro, Albany, Bainbridge, Columbus, Thomasville, Valdosta, Brunswick, Darien, Kingsland, Savannah and Tybee Island.
Resources are also identified nearby campgrounds including Indian Springs State Park, James H Floyd State Park, Red Top Mountain State Park, Elijah Clark State Park, Mistletoe State Park, Tugaloo State Park, Florence Marina State Park, George T. Bagby State Park, Seminole State Park, Fort McAllister Historic Park, Laura S. Walker State Park and Magnolia Springs State Park.
Rivers & Lakes For Boating in GA
Georgia lakes with boating opportunities are listed within quadrants of Georgia include Chatuge Lake, Hartwell Lake, Lake Allatoona, Lake Jackson, Lake Sidney Lanier, Blue Ridge Lake, Clarks Hill Lake, Hartwell Lake, Oconee Lake, Richard B Russell Lake, Giddons Pond, Lake Blackshear, Lake Seminole, Walter F. George Reservoir, West Point Lake, Banks Lake, Big Pond, Lake Harding, Lake Martin and Lake Tholocco. Many of these lakes offer multiple boat launching facilities at various locations around the lake.
Georgia also affords some boating or canoeing on rivers like Chatahoochee River, Etowah River, Broad River, Oconee River, Flint River, Ochlockonee River, Altamaha River and Choppee River.
GA boating equipment and gear.
Throughout Georgia you can find boat dealers, outdoor centers, sporting good stores, bait and tackle stores, RV centers and discount stores offering a wide variety of boating equipment, accessories and supplies.
Go boating in Georgia
Gather up the family along with some snacks and refreshing beverages and go enjoy the thrill of fresh air in your face and the sun on your back. When boating you can see parts of Georgia accessible only by water. Often you'll see birds and wildlife not normally seen in city areas. Plus, sunrises and sunsets always seem more majestic when you are in the great outdoors.
Boating opportunities in other states.