Illinois Boating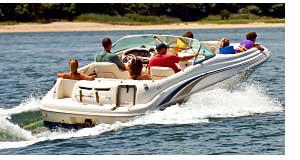 Illinois offers a vibrant boating scene, with numerous lakes and waterways scattered throughout the state, providing ample opportunities for boaters to enjoy the water. From the sprawling shores of Lake Michigan to the serene inland lakes and rivers, there is a diverse range of boating destinations to explore in Illinois. Each lake offers its unique charm and recreational opportunities, attracting boaters of all kinds.
Boating enthusiasts in Illinois can find a wide variety of boat types to suit their preferences and activities. From small and versatile fishing boats for anglers seeking the perfect catch to spacious pontoon boats for leisurely cruises with family and friends, there is a boat for every kind of boater. Sailboats grace the waters of some lakes, inviting sailors to embrace the wind and waves. Additionally, speedboats and personal watercraft cater to thrill-seekers looking for high-speed water adventures.
For those who don't own a boat but still want to enjoy the pleasure of boating, boat rental services are readily available across many of Illinois' lakes and waterways. Boat rental companies offer a wide selection of boats, from pontoons for peaceful excursions to jet skis for adrenaline-pumping fun. Renting a boat is an excellent option for tourists and occasional boaters who want to experience the joys of boating without the commitment and expenses of boat ownership.
Boat rental services typically provide all the necessary safety equipment, ensuring renters can enjoy their boating experience with peace of mind. Whether it's a day of fishing on a serene lake or a leisurely cruise on a river, boat rentals allow individuals and families to savor the beauty of Illinois' waterways and create lasting memories on the water. Boating in Illinois offers a fantastic opportunity to connect with nature, bond with loved ones, and embrace the joys of being out on the water.
There are plenty of fun places to go boating in Illinois. Whether it's a family outing or just the guys going fishing or skiing, boating is fun for all. And there is boating in all corners of of the state. Whether you live in the northwest, northeast, southwest or southeast part of the state, chances there are plenty of opportunities to go boating nearby.
Boating in IL
Illinois is a boating paradise, get out in the great outdoors and enjoy it every chance you get. For further information about boating in Illinois, contact the Illinois Department of Natural Resources - Boating Licenses located at One Natural Resources Way, Springfield, IL 62702. The phone number is 217 557-0180.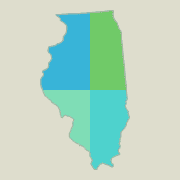 This website focuses on all aspects of boating including new and used boats for sale, boat rentals, repairs, accessories, storage and more.
For convenience, resources are listed first by area of the Illinois, then by proximity to cities, waterways, parks, campgrounds and other relative attractions in IL. Cities listed in this section include Cambridge, Peoria, Rock Island, Rockford, Springfield, Arlington Heights, Aurora, Bloomington, Chicago, Joilet, Alton, Belleville, Carbondale, Granite City, Quincy, Champaign, Charleston, Decatur, Effingham and Marion.
Resources are also identified nearby campgrounds including Argyle Lake State Park, Illini State Park , Powerton Lake State Fish & Wildlife Area, Chain O'Lakes State Park, Des Plaines Fish & Wildlife Area, Gebhard Woods State Park, Eldon Hazlet State Recreation Area, Lake Murphysboro State Park, Washington County State Recreational Area, Cave-In-Rock State Park, Fort Massac State Park and Saline County State Fish & Wildlife Area.
Rivers & Lakes For Boating in IL
Illinois lakes with boating opportunities are listed within quadrants of Illinois include Apple Canyon Lake, Lake Carroll, Lake Summerset, Secachwine Lake, Spring Lake, Channel Lake, Fox Lake, Heidecke Lake, Lake Clinton, Lake Michigan, Carlyle Lake, Crab Orchard Lake, Kinkaid Lake, Lake Springfield, Sangchris Lake, Lake Of Egypt, Lake Shelbyville, Lake Taylorville, Newton Lake and Rend Lake. Many of these lakes offer multiple boat launching facilities at various locations around the lake.
Illinois also affords some boating or canoeing on rivers like Green River, Rock River, Fox River, Mackinaw River, Big Muddy River, Kaskaskia River, Embarras River and Wabash River.
IL boating equipment and gear.
Throughout Illinois you can find boat dealers, outdoor centers, sporting good stores, bait and tackle stores, RV centers and discount stores offering a wide variety of boating equipment, accessories and supplies.
Northwest Resources
Peoria
Grayboy Motor Sports
4426 N Prospect Rd
Peoria Heights, IL 61616
309 685-6284
Jims Marine Service
1200 NE Bond St
Peoria, IL 61603
309 673-1433
National Marine Sales Inc
5406 N Galena Rd
Peoria Heights, IL 61616
309 688-5513
Illinois Marine Technologies
4707 North Galena Road Rear
Peoria Heights, IL 61616
309 679-9731
River City Marine Works
3303 Northeast Adams Street
Peoria, IL 61603
309 685-3297
Sunset Marine
701 Mariners Way
East Peoria, IL 61611
309 694-1211
Rock Island
Teds Boatarama Inc
102 31st Ave
Rock Island, IL 61201
309 788-1175
Mississippi River Boat Works
101 6th Ave
Rock Island, IL 61201
309 794-0477
Norris Marine Repair & Restoration
1925 1st Street
Rock Island, IL 61201
309 786-5899
Rockford
B 3 Marine And Water Sports
716 N Madison St
Rockford, IL 61107
815 965-2223
Innovative Marine
6089 Montague Road
Rockford, IL 61102
815 964-2628
Rockford Marina & Watersports
201 Hill Street
Rockford, IL 61107
815 962-2930
Springfield
Overturf Powersports
1633 N Dirksen Pkwy
Springfield, IL 62702
217 544-0126
Boat Dock Ltd Inc
4600 Rising Moon Rd
Springfield, IL 62711
217 793-7300
RTD Motor Sports
2430 North Dirksen Parkway
Springfield, IL 62702
217 528-5226
Adventure Sports
1275 Wabash Avenue
Springfield, IL 62704
217 698-0211
The Boat Dock
3111 Cockrell Lane
Springfield, IL 62711
217 793-7300
Northeast Resources
Arlington Heights
West Marine Inc
63 W Rand Rd
Arlington Heights, IL 60004
847 398-0606
Boat US Marine Center
63 West Rand Road
Arlington Heights, IL 60004
847 398-0606
Aurora
Carlstine Marine
640 N Broadway
Aurora, IL 60505
630 896-0089
Chicago
Kindra Marine Terminal Inc
9864 S Avenue N
Chicago, IL 60617
773 221-8167
Chicago River Canoe & Kayak
1726 W Leland Ave
Chicago, IL 60640
773 769-3198
Chicagoland Canoe Base Inc
4019 N Narragansett Ave
Chicago, IL 60634
773 777-1489
Skipper Buds
3600 North Recreation Drive
Chicago, IL 60607
773 244-0523
Skippers Marina
13421 South Vernon Avenue
Chicago, IL 60827
708 841-1300
Southeast Resources
Champaign
Bob Rundus Sailboats
36 E Green St
Champaign, IL 61820
217 359-3000
Decatur
Marine Service Center
2886 South Mount Zion Road
Decatur, IL 62521
217 864-9236
Marion
Apc Sales Marine Service
300 E Union St
Marion, IL 62959
618 997-2211
Southwest Resources
Alton
American Boat Co
701 West Broadway
Alton, IL 62002
618 462-6622
Belleville
Taylor Marine Performance Center
305 S Belt W
Belleville, IL 62220
618 277-0233
Mariah Transportation Services Limited
1 Rebel Parkway
Belleville, IL 62226
618 234-8789
Belleville Sport Sales
1404 West Boulevard
Belleville, IL 62221
618 234-2063
Weissborn Boat And Lawn Equipment
18 Mascoutah Ave
Belleville, IL 62220
618 233-7447
Granite City
Nameoki Village Auto Marine
4300 Nameoki Rd
Granite City, IL 62040
618 931-3200
Gruninger's PERF Marine Inc
3944 State Route 111
Granite City, IL 62040
618 797-2628
B & L Boat Covers
657 Ashland Avenue
Granite City, IL 62040
618 797-0585
Quincy
Aquatech Marine
247 Broadway St
Quincy, IL 62301
217 222-6006
J And J Marine
1640 N 12Th St
Quincy, IL 62301
217 223-1716
Go boating in Illinois
Gather up the family along with some snacks and refreshing beverages and go enjoy the thrill of fresh air in your face and the sun on your back. When boating you can see parts of Illinois accessible only by water. Often you'll see birds and wildlife not normally seen in city areas. Plus, sunrises and sunsets always seem more majestic when you are in the great outdoors.
Boating opportunities in other states.