New York Boating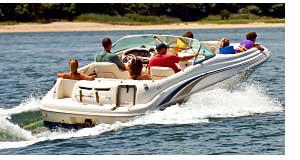 New York is a boating paradise, with a vast array of popular boating lakes scattered across the state. One of the most well-known boating destinations is the Finger Lakes region, which includes lakes such as Seneca Lake, Cayuga Lake, and Keuka Lake. These beautiful lakes offer clear waters and stunning scenery, making them ideal for boating and water sports.
Pontoon boats have become a favorite choice among boaters in New York, especially for those looking for a relaxing and comfortable experience on the water. Pontoon boats are spacious, stable, and perfect for hosting gatherings or spending quality time with family and friends.
Family boats are also highly popular in New York, catering to those seeking a boat suitable for all ages. These boats are designed with amenities like comfortable seating, sunshades, and easy-to-navigate layouts, making them perfect for leisurely cruises and creating lasting memories with loved ones.
Boat types in New York vary widely, providing options to suit every boater's needs and preferences. Fishing enthusiasts can find specialized fishing boats like bass boats and walleye boats, equipped with features tailored for a successful fishing experience. On the other hand, speed enthusiasts can enjoy the thrill of powerboats, known for their powerful engines and exciting water sports capabilities.
For those without a boat but still want to experience the joy of boating, New York offers a range of rental boats. Many marinas and boat rental services provide an extensive fleet of boats available for rent, allowing people to explore the state's waterways without the commitment of ownership. Whether it's a fishing boat for a relaxing day of angling or a pontoon boat for a family outing, rental boats make boating accessible to all and add to the allure of New York's boating culture.
Find plenty of fun places to go boating in New York. Whether it's a family outing or just the guys going fishing or skiing, boating is fun for all. And there is boating in all corners of of the state. New York is a boating paradise, get out in the great outdoors and enjoy it every chance you get.
Boating in NY
For further information about boating in New York, contact the New York State Department of Motor Vehicles - Boating Licenses located at 6 Empire State Plaza, Albany, NY 12228. The phone number is 212 645-5550.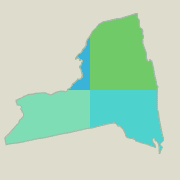 New York Resources
Glens Falls
Fall Line Ski Shop Inc
Quaker Road
Glens Falls, NY 12804
518 793-3203
Malone
Roberts Sport Center Of Malone- Inc.
689 E Main St
Malone, NY 12953
518 483-5400
Massena
Saint Lawrence Recreation
13445 State Highway 37
Massena, NY 13662
315 764-9646
Binghamton
Eyerock Performance Marine
717 Conklin Rd
Binghamton, NY 13903
607 723-8882
Buffalo
Niagara Marine
1257 Tonawanda St
Buffalo, NY 14207
716 447-9606
Brobeil Marine Inc
1812 Niagara St
Buffalo, NY 14207
716 873-1560
West Marine Inc
1445 Niagara Falls Blvd
Buffalo, NY 14228
716 803-1357
Harbour Place Marine
2192 Niagara St
Buffalo, NY 14207
716 871-1070
Lower Lakes Marine Historical
66 Erie St
Buffalo, NY 14202
716 849-0914
West Marine Inc
2192 Niagara St
Buffalo, NY 14207
716 875-0500
Rochester
Bryce Marine
1682 Manitou Rd
Rochester, NY 14626
585 352-9485
Allens Canalside Marine Inc
416 Elmgrove Rd
Rochester, NY 14606
585 426-5400
Navy Point Marine
1 Joy Ln N
Rochester, NY 14617
585 266-3980
Shumway Marine
40 Marina Dr, Ste 2
Rochester, NY 14617
585 342-3030
Canoes Kayaks
1350 Empire Boulevard
Rochester, NY 14609
585 288-5550
Syracuse
Brinson Marine Inc
4553 W Seneca Tpke
Syracuse, NY 13215
315 469-4867
Sport-Mann Suzuki Honda
6225 East Taft Road
Syracuse, NY 13212
315 458-8974
Albany
Phibbs' Power Sports
456 Albany Shaker Road
Albany, NY 12211
518 459-7231
Beckley's Boats
2022 Central Avenue
Albany, NY 12205
518 456-7170
New York
Rs Sport
116 W 125th St
New York, NY 10027
212 678-8653
West Marine Inc
12 W 37th St, Frnt 1
New York, NY 10018
212 594-6065
Anchor Marine Claims Services
805 3rd Ave, Fl 21
New York, NY 10022
212 758-9200
Neva Marine Trading
51 East 42nd Street Suite 424
New York, NY 10017
212 370-5481
New York Kayak CO Inc
40 River Road
New York, NY 10044
212 924-1327
Boats Direct Com
14 Wall Street
New York, NY 10005
212 587-0160
Saratoga Springs
Point Breeze Marina & Boat Sales
1459 Route 9P
Saratoga Springs, NY 12866
518 587-3397
Boat Mart
549 Union Avenue
Saratoga Springs, NY 12866
518 584-2628
Schenectady
Keith De Luke Marine
305 Craigie Ave
Schenectady, NY 12302
518 374-7097
C R S Marine Service
2103 Chrisler Ave
Schenectady, NY 12303
518 370-3596
Schenectady Canoe Sales
502 Summit Ave
Schenectady, NY 12307
518 370-0367
Boat House Canoes And Kayaks
2855 Aqueduct Rd
Schenectady, NY 12309
518 393-5711
Holly Marine
4 Sarnowski Drive
Schenectady, NY 12302
518 344-7474
Utica
Kawasaki DDS Motor Sports
2100 Oriskany Street West
Utica, NY 13502
315 792-4660
Sports Unlimited
5654 Horatio Street
Utica, NY 13502
315 733-3823
Utica Boat
Sea Ray Boulevard & Comme
Utica, NY 13501
315 736-5520
This website focuses on all aspects of boating including new and used boats for sale, boat rentals, repairs, accessories, storage and more.
For convenience, resources are listed first by area of the New York, then by proximity to cities, waterways, parks, campgrounds and other relative attractions in NY. Cities listed in this section include Fort Drum, Fultom, Ogdensburg, Oswego, Watertown, Glens Falls, Malone, Massena, Plattsburg, Potsdam, Auburn, Binghamton, Buffalo, Rochester, Syracuse, Albany, New York, Saratoga Springs, Schenectady and Utica.
Resources are also identified nearby campgrounds including Cedar Point State Park, Coles Creek State Park, Wellesley Island State Park, Higley Flow State Park, Macomb Reservation State Park, Point Au Roche State Park, Allegany State Park, Beaver Island State Park, Long Point State Park on Lake Chautauqua, Gilbert Lake State Park, Lake Tiorati Beach and Rockland Lake State Park.
Rivers & Lakes For Boating in NY
New York lakes with boating opportunities are listed within quadrants of New York include Black Lake, Crystal Lake, Lake Ontario, Oneida Lake, Salmon River Reservoir, Cranberry Lake, Great Sacandaga Lake, Indian Lake, Lake Champlain, Lake George, Canandaigua Lake, Cayuga Lake, Chautauqua Lake, Keuka Lake, Owasco Lake, Allegheny Reservoir, Ashokan Reservoir, Cannonsville Reservoir, Pepacton Reservoir and Seneca Lake. Many of these lakes offer multiple boat launching facilities at various locations around the lake.
New York also affords some boating or canoeing on rivers like Black River, St Lawrence River, Hudson River, St Regis River, Chemung River, Tonowanda Creek, Chenango River and Schoharie Creek.
NY boating equipment and gear.
Throughout New York you can find boat dealers, outdoor centers, sporting good stores, bait and tackle stores, RV centers and discount stores offering a wide variety of boating equipment, accessories and supplies.
Go boating in New York
Gather up the family along with some snacks and refreshing beverages and go enjoy the thrill of fresh air in your face and the sun on your back. When boating you can see parts of New York accessible only by water. Often you'll see birds and wildlife not normally seen in city areas. Plus, sunrises and sunsets always seem more majestic when you are in the great outdoors.
Boating opportunities in other states.