New Hampshire Boating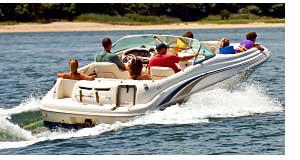 Plenty of fun places to go boating in New Hampshire. Whether it's a family outing or just the guys going fishing or skiing, boating is fun for all. And there is boating in all corners of of the state. Whether you live in the northwest, northeast, southwest or southeast part of the state, chances there are plenty of opportunities to go boating nearby.
Boating in NH
For further information about boating in New Hampshire, contact the New Hampshire Bureau of Registration - Boating Licenses located at 23 Hazen Drive, Concord NH 03305. The phone number is 603 271-2251.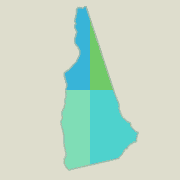 NH Resources
Gorham
Profile Motorsports Plus
489 Main St
Gorham, NH 03570
603 752-5000
Enfield
Pakboats
Po Box 700
Enfield, NH 03748
603 632-9500
Concord
Eastern Mountain Sports Inc
42 Fort Eddy Rd
Concord, NH 03301
603 224-8781
Haggetts Marine Inc
112 Airport Rd
Concord, NH 03301
603 224-0171
Capital Canoes
30 Snow Pond Rd
Concord, NH 03301
603 228-6214
Laconia
Irwin Marine
958 Union Ave
Laconia, NH 03246
603 524-6661
Channel Marine Weirs Beach
96 Channel Lane
Laconia, NH 03246
603 366-4801
Mcleans Mobil Marine
85 Winnisquam Av
Laconia, NH 03246
603 528-0750
New Hampshire Mobile Marine Services
34 Production Place
Laconia, NH 03249
603 293-2500
Manchester
Proton Marine Electronics
51 Skyview Rd
Manchester, NH 03104
603 867-0970
Sail Boats
234 S. Main Street
Manchester, NH 03104
603 669-8833
Portsmouth
West Marine
775 Lafayette Rd
Portsmouth, NH 03801
603 436-8300
This website focuses on all aspects of boating including new and used boats for sale, boat rentals, repairs, accessories, storage and more.
For convenience, resources are listed first by area of the New Hampshire, then by proximity to cities, waterways, parks, campgrounds and other relative attractions in NH. Cities listed in this section include Bethlehem, Haverhill, Lancaster, Littleton, Pittsburg, Bartlett, Berlin, Gorham, Milan, North Conway, Battleboro, Claremont, Enfield, Lyme, Plymouth, Concord, Laconia, Manchester, Nashua and Portsmouth.
Resources are also identified nearby campgrounds including Lake Francis State Park Campground, Twin River RV Park, Umbagog Lake State Park, Cannon Mountain RV Park, North Conway Beach Camping Area, Timberland Camping Area, Ashuelot River Campground, Greenfield State Park Campground, Mt Sunapee State Park Campground, Bear Brook State Park Campground, Ellacoya State Park and White Lake State Park Campground.
Rivers & Lakes For Boating in NH
New Hampshire lakes with boating opportunities are listed within quadrants of New Hampshire include Comerford Lake, First Connecticut Lake, Lake Francis, Moore Reservoir, Second Connecticut Lake, Conway Lake, Lake Wentworth, Ossipee Lake, Squam Lake, Umbagog Lake, Lake Monomonac, Mascoma Lake, Newfound Lake, Spofford Lake, Sunapee Lake, Bow Lake, Great East Lake, Lake Winnipesaukee, Massabesic Lake and Winnisquam Lake. Many of these lakes offer multiple boat launching facilities at various locations around the lake.
New Hampshire also affords some boating or canoeing on rivers like Ammoonosuc River, Connecticut River, Androscoggin River, Saco River, Ashuelot River, Contoocook River, Souhegan River and Suncook River.
NH boating equipment and gear.
Throughout New Hampshire you can find boat dealers, outdoor centers, sporting good stores, bait and tackle stores, RV centers and discount stores offering a wide variety of boating equipment, accessories and supplies.
Go boating in New Hampshire
Gather up the family along with some snacks and refreshing beverages and go enjoy the thrill of fresh air in your face and the sun on your back. When boating you can see parts of New Hampshire accessible only by water. Often you'll see birds and wildlife not normally seen in city areas. Plus, sunrises and sunsets always seem more majestic when you are in the great outdoors.
Boating opportunities in other states.