Alaska Boating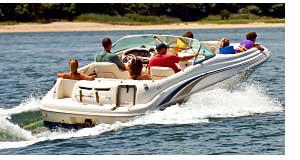 Plenty of fun places to go boating in Alaska. Whether it's a family outing or just the guys going fishing or skiing, boating is fun for all. And there is boating in all corners of Alaska. Whether you live in the northwest, northeast, southwest or southeast part of the state, chances there are plenty of opportunities to go boating nearby.
Boating in AK
For further information about boating in Alaska, contact the Alaska Division of Motor Vehicles - Boating Licenses located at 1300 W Benson Boulevard, STE 900, Anchorage AK 99503. The phone number is 907 269-5559.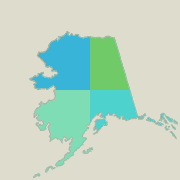 This website focuses on all aspects of boating including new and used boats for sale, boat rentals, insurance, financing, repairs, accessories, storage and more.
For convenience, resources are listed first by area of the Alaska, then by proximity to cities, waterways, parks, campgrounds and other relative attractions in AK. Cities listed in this section include Barrow, Juneau, Ninilchik, Petersburg, Soldotna, Chicken, Delta Junction, Fairbanks, Kaktovik, North Pole, Bethel, Hooper Bay, Naknek, Togiak, Quinhagak, Anchorage, Butte, Glennallen, Haines and Juneau.
Resources are also identified nearby campgrounds including Alaskan Angler RV Resort, Twin Creek RV Park, Twin Creek RV Park, Bergstad's Travel Camp, McKinley RV & Campground, Santaland RV Park, Anchorage Ship Creek RV Park, Homer Spit Campground, Kenai Riverside Campground, Auke Bay RV Park, Juneau RV Camp and Oceanside RV Park. If you like to camp while on boating trips, a motorhome provides a comfortable way to travel and pull a boat. Motorhomes are a cost-effective way to see AK and go boating on some of the most scenic waters on earth. Motorhomes are self contained which allows you to get away from the crowds and enjoy the great outdoors.
Rivers & Lakes For Boating in AK
Alaska lakes with boating opportunities are listed within quadrants of Alaska include Crow Lake, Devil Mountain Lakes, Iniakuk Lake, Teshekpuk Lake, Tulugak Lake, Bear Lake, Chandalar Lake, Tangle Lakes, Teshekpuk Lake, Walker Lake, Aleknagik lake, Becharof Lake, Crescent Lake, Lake Clark, Twin Lakes, Abyss Lake, Camp Lake, Iliamna Lake, Lake Alexander and Swan Lake. Many of these lakes offer multiple boat launching facilities at various locations around the lake.
Alaska also affords some boating or canoeing on rivers like Colville River, Kobur River, Koyukuk River, Porcupine River, Kuskokwim River, Yukon River, Copper River and Susitna River.
Boating opportunities in Alaska
Northwest AK Boating
Northeast AK Boating
Southwest AK Boating
Southeast AK Boating
AK boating equipment and gear.
Throughout Alaska you can find boat dealers, outdoor centers, sporting good stores, bait and tackle stores, RV centers and discount stores offering a wide variety of boating equipment, accessories and supplies.
Go boating in Alaska
Gather up the family along with some snacks and refreshing beverages and go enjoy the thrill of fresh air in your face and the sun on your back. When boating you can see parts of Alaska accessible only by water. Often you'll see birds and wildlife not normally seen in city areas. Plus, sunrises and sunsets always seem more majestic when you are in the great outdoors.
Boating opportunities in other states.