Nebraska Boating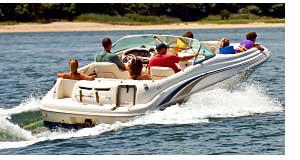 Nebraska offers a wealth of boating opportunities, thanks to its abundant lakes and water bodies. Boating enthusiasts can explore a diverse range of lakes, each with its unique charm and recreational offerings. From the massive Lake McConaughy, known for its sandy beaches and water sports, to the serene Branched Oak Lake, ideal for fishing and picnicking, there's a lake for every boater's preference.
Boaters in Nebraska have access to a wide variety of boat types to suit their needs and interests. Pontoon boats are a popular choice for those seeking leisurely cruises and family outings, providing spacious decks, comfortable seating, and stability for a relaxed boating experience. Speed enthusiasts often opt for ski boats, designed to pull water skiers and wakeboarders with their powerful engines and specialized tow towers.
For anglers, fishing boats are a must-have, ranging from bass boats optimized for maneuvering in shallow waters to aluminum fishing boats perfect for casting lines in smaller lakes and rivers. Sailboats also grace the larger lakes, offering a more tranquil and eco-friendly way to explore the waters of Nebraska.
Boat rentals are readily available throughout the state, catering to both locals and visitors who want to experience the joy of boating without owning a boat. Renting a boat allows individuals and families to try out different boat types and enjoy a day of fun on the water without the commitment of ownership. Whether it's for a fishing trip, water skiing adventure, or simply a relaxing cruise, boat rental services in Nebraska make it accessible for everyone to enjoy the beauty and serenity of the state's lakes and waterways. With an array of boating options and picturesque settings, Nebraska offers an unforgettable boating experience for all who venture onto its lakes.
Plenty of fun places to go boating in Nebraska. Whether it's a family outing or just the guys going fishing or skiing, boating is fun for all. And there is boating in all corners of of the state. Whether you live in the northwest, northeast, southwest or southeast part of the state, chances there are plenty of opportunities to go boating nearby.
Boating in NE
For further information about boating in Nebraska, contact the Nebraska Game & Parks Division - Boating Licenses located at 2200 N. 33rd St, Lincoln, NE 68503. The phone number is 402 471-0641.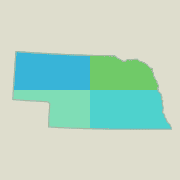 This website focuses on all aspects of boating including new and used boats for sale, boat rentals, repairs, accessories, storage and more.
For convenience, resources are listed first by area of the Nebraska, then by proximity to cities, waterways, parks, campgrounds and other relative attractions in NE. Cities listed in this section include Alliance, Crawford, Gering, Gordon, Scotts Bluff, Burwell, Butte, Dakota City, Norfolk, Oneill, Big Springs, Lewellen, McCook, North Platte, Paxton, Alma, Bellevue, Grand Island, Lincoln and Omaha.
Resources are also identified nearby campgrounds including Box Butte Reservoir State Recreation Area, Bridgeport State Recreation Area, Fort Robinson State Park, Atkinson Lake State Recreation Area, Niobrara State Park, Willow Creek State Recreation Area, Enders Reservoir State Recreation Area, Red Willow Reservoir State Recreation Area , Rock Creek Lake State Recreation Area, Brownville State Recreation Area, Johnson Lake State Recreation Area and Rockford State Recreation Area .
Rivers & Lakes For Boating in NE
Nebraska lakes with boating opportunities are listed within quadrants of Nebraska include Box Butte Reservoir, Crescent Lake, Lake Alice, Lake Minatare, Twin Lakes , Calamus Reservoir, Lewis And Clark Lake, Rush Lake, Sherman Reservoir, Willow Creek Lake, Harry Strunk Lake, Lake McConaughy, Red Willow Reservoir, Sutherland Reservoir, Swanson Reservoir, Branched Oak Lake, Harlan County Lake, Pawnee Lake, Sherman Reservoir and Wagon Train Lake. Many of these lakes offer multiple boat launching facilities at various locations around the lake.
Nebraska also affords some boating or canoeing on rivers like Niobrara River, White River, Elkhorn River, Logan Creek, Frenchman Creek, Lodgepole Creek, Little Blue River and Platte River.
Boating in Nebraska
Northeast Resources
Burwell
Calamus Marine
46074 S Lake Rd
Burwell, NE 68823
308 346-5555
Dakota City
Cimmarina Boats
1909 Broadway St
Dakota City, NE 68731
402 987-3327
Norfolk
Boat Shop
2606 S 13Th St
Norfolk, NE 68701
402 371-0963
Southwest Resources
North Platte
Youngs Marine
121 W 10Th St
North Platte, NE 69101
308 532-3237
Southeast Resources
Bellevue
Midwest Performance Boat Sales
812 Fort Crook Rd S
Bellevue, NE 68005
402 293-1131
Grand Island
Boat House
3515 N Us Highway 281
Grand Island, NE 68803
308 382-5074
Boat Dock The
3620 W Old Highway 30
Grand Island, NE 68803
308 398-3300
Motorsports Sales & Service
721 Claude Road
Grand Island, NE 68801
308 395-8000
Lincoln
Star City Motor Sports
6600 N 27th St
Lincoln, NE 68521
402 476-7768
Drydock Marine
1808 Yolande Ave
Lincoln, NE 68521
402 474-2244
Steves Boat Repair
4029 Progressive Ave, Ste 4
Lincoln, NE 68504
402 466-7722
Premier Boating Center
3600 Cornhusker Hwy
Lincoln, NE 68504
402 464-4791
Omaha
Omaha Marine Center
9610 L St
Omaha, NE 68127
402 339-9600
Lincoln Marine Omaha
10702 S 144th St
Omaha, NE 68138
402 334-8232
Select Sail And Sports
4351 S 89th St
Omaha, NE 68127
402 339-4618
Bahnsen's Ski & Sport
7407 L Street
Omaha, NE 68127
402 339-4774
Hats Off Marine & Sport
14563 Grover Street
Omaha, NE 68061
402 333-4272
NE boating equipment and gear.
Throughout Nebraska you can find boat dealers, outdoor centers, sporting good stores, bait and tackle stores, RV centers and discount stores offering a wide variety of boating equipment, accessories and supplies.
Go boating in Nebraska
Gather up the family along with some snacks and refreshing beverages and go enjoy the thrill of fresh air in your face and the sun on your back. When boating you can see parts of Nebraska accessible only by water. Often you'll see birds and wildlife not normally seen in city areas. Plus, sunrises and sunsets always seem more majestic when you are in the great outdoors.
Boating opportunities in other states.