Wyoming Boating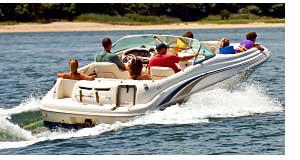 Wyoming offers an abundance of opportunities for boating enthusiasts to immerse themselves in the state's natural beauty and serene waters. Several popular boating lakes dot the landscape, providing breathtaking settings for leisurely cruises and aquatic adventures. Among them, Flaming Gorge Reservoir is a gem, attracting boaters with its crystal-clear waters and striking red cliffs, making it a favorite destination for boating and fishing.
For those seeking a relaxing and social boating experience, pontoon boats are a popular choice in Wyoming. With their spacious decks and comfortable seating, pontoon boats are perfect for families and groups to gather, unwind, and enjoy each other's company while taking in the stunning scenery of the surrounding landscapes.
Family boats, designed with comfort and safety in mind, are another favored option for boating in Wyoming. These boats provide ample space for family outings, picnics, and water-based activities, making them an ideal choice for creating cherished memories on the water with loved ones.
Boaters in Wyoming have access to a diverse range of boat types to suit different activities and water conditions. From fishing boats designed for anglers to powerboats for thrilling water sports, there is a boat to match every enthusiast's interests and preferences.
For visitors and locals alike, boat rentals provide a convenient and accessible way to enjoy boating without the need for boat ownership. Rental boats are available at various lakes and water bodies throughout the state, offering options such as fishing boats, pontoon boats, and other watercraft. This allows everyone to experience the joy of boating in Wyoming, exploring its scenic lakes and rivers and indulging in the tranquility of nature's splendor.
Find plenty of fun places to go boating in Wyoming. Whether it's a family outing or just the guys going fishing or skiing, boating is fun for all. And there is boating in all corners of of the state.
Boating in WY
For further information about boating in Wyoming, contact the Wyoming Game & Fish Department - Boating Licenses located at 5400 Bishop Boulevard, Cheyenne, WY 82006. The phone number is 307-777-4600.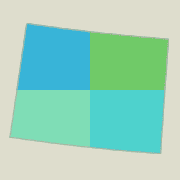 This website focuses on all aspects of boating including new and used boats for sale, boat rentals, repairs, accessories, storage and more.
For convenience, resources are listed first by area of the Wyoming, then by proximity to cities, waterways, parks, campgrounds and other relative attractions in WY. Cities listed in this section include Cody, Jackson, Lovell, Powell, Shoshoni, Buffalo, Gillette, Kaycee, Newcastle, Upton, Alton, Landon, Pinedale, Riverton, Rock Springs, Casper, Cheyene, Hanna, Laramie and Lusk.
Resources are also identified nearby campgrounds including Boysen State Park, Buffalo Bill State Park, Yellowstone National Park, Deer Park Campground, Keyhole State Park, Worland Campground, Twin Pines RV Park & Campground, Grand Teton National Park, Rock Springs RV Park, Glendo State Park, Hawk Springs Recreational Area and Seminoe State Park.
Rivers & Lakes For Boating in WY
Wyoming lakes with boating opportunities are listed within quadrants of Wyoming include Bighorn Lake, Boysen Reservoir, Buffalo Bill Reservoir, Jackson Lake, Ocean Lake, Battle Creek Reservoir, Bull Creek Reservoir, Keyhole Reservoir, Klodt Reservoir, Lake DeSmet, Big Sandy Reservoir, Flaming Gorge Reservoir, Fontenelle Reservoir, Fremont Lake, Woodruff Narrows Reservoir, Alcova Reservoir, Glendo Reservoir, Lake Hattie Reservoir, Pathfinder Reservoir and Seminoe Reservoir. Many of these lakes offer multiple boat launching facilities at various locations around the lake.
Wyoming also affords some boating or canoeing on rivers like Greybull River, Shoshone River, Clear River, Powder River, Muddy Creek, Popo Agie River, Laramie River and Medicine River.
Boating in Wyoming
Northwest Resources
Jackson
Mad River Boat Trips Inc
1255 South Highway 89 & S USHw
Jackson, WY 83001
307 733-6203
Northeast Resources
Gillette
Wyoming Marine
3100 Conestoga Dr
Gillette, WY 82718
307 682-7092
Southwest Resources
Rock Springs
J J Boat Rv Center
210 B St
Rock Springs, WY 82901
307 362-1374
Southeast Resources
Casper
Whites Marine Center
3010 Energy Ln
Casper, WY 82604
307 235-3900
WY boating equipment and gear.
Throughout Wyoming you can find boat dealers, outdoor centers, sporting good stores, bait and tackle stores, RV centers and discount stores offering a wide variety of boating equipment, accessories and supplies.
Go boating in Wyoming
Gather up the family along with some snacks and refreshing beverages and go enjoy the thrill of fresh air in your face and the sun on your back. When boating you can see parts of Wyoming accessible only by water. Often you'll see birds and wildlife not normally seen in city areas. Plus, sunrises and sunsets always seem more majestic when you are in the great outdoors.
Boating opportunities in other states.