Colorado Boating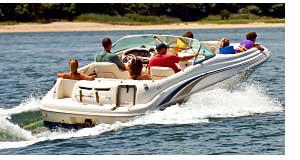 Plenty of fun places to go boating in Colorado. Whether it's a family outing or just the guys going fishing or skiing, boating is fun for all. And there is boating in all corners of of the state. Whether you live in the northwest, northeast, southwest or southeast part of the state, chances there are plenty of opportunities to go boating nearby.
Boating in CO
Colorado is a boating paradise, get out in the great outdoors and enjoy it every chance you get. For further information about boating in Colorado, contact the Colorado State Parks-Registration Unit - Boating Licenses located at 13787 S Highway 85, Littleton, CO 80125. The phone number is 303 791-1920.
CO Resources
Grand Junction
Mattas Motors And Marine
2308 Highway 6 And 50
Grand Junction, CO 81505
970 241-8517
Marine Max Of Colorado
2490 Highway 6 And 50
Grand Junction, CO 81505
970 243-4333
Sundance Marine Inc
2490 Highway 6 And 50
Grand Junction, CO 81505
970 243-3885
All Terrain Motor Sports Inc
3080 I-70 Business Loop
Grand Junction, CO 81504
970 434-4874
Adventure Sports
2863 North Avenue
Grand Junction, CO 81501
970 245-3684
Grand Valley Powersports Inc
2865 North Avenue
Grand Junction, CO 81501
970 263-4600
Denver
Aurora Marine Inc
2133 S Wabash St
Denver, CO 80231
303 671-6200
S And W Performance Marine
2450 W 63rd Ct
Denver, CO 80221
303 429-1895
Colorado Powersports Inc
2050 W 104th Ave
Denver, CO 80234
303 427-9000
Canoe Colorado Wenonah Canoe
9990 E Kentucky Dr
Denver, CO 80247
303 344-2813
Rpm Motorsports LLC
1251 Wadsworth Boulevard
Denver, CO 80214
303 232-7576
Wakeboard & Waterski Specialty
6851 Pecos Street
Denver, CO 80221
303 430-0202
Littleton
Centennial Canoe Outfiters
Po Box 3365
Littleton, CO 80161
720 283-0553
Great Lakes Marine-Denver
12294 North Mead Way
Littleton, CO 80125
303 791-6100
Cool Toys Marine Inc
8056 South Platte Canyon Road
Littleton, CO 80128
303 973-4500
Sterling
T T B Marine Repair
245 E Chestnut St
Sterling, CO 80751
970 522-8164
Cortez
Reliable Marine Service
13088 Road 23
Cortez, CO 81321
970 564-9958
Durango
Folding Kayak Adventures
33 Tanglewood Dr
Durango, CO 81301
970 375-1479
4 Corners Riversports
360 South Camino Del Rio
Durango, CO 81301
970 259-3893
Montrose
Mountain Marine Services
78 Snowy Peak
Montrose, CO 81401
970 240-5914
Colorado Springs
Woodmen View Rv Boat Storage
8725 Vollmer Rd
Colorado Springs, CO 80908
719 660-3102
Trim Master Auto & Marine Upholstery
3103 Karen Place
Colorado Springs, CO 80907
719 260-1219
AL West Boat Shop
5190 North Nevada Avenue
Colorado Springs, CO 80918
719 599-8977
Pueblo
Outboard Marine And Ski Service Inc
36 N Dynamics Dr
Pueblo, CO 81007
719 547-4600
Hymark Motorsports Inc
175 East Spaulding Avenue
Pueblo, CO 81007
719 547-3478
Paradise Motorsports
2801 West USHighway 50
Pueblo, CO 81008
719 543-0808
Outboard Marine & Ski Service Inc - Sales & Service
36 North Dynamics Drive
Pueblo, CO 81007
719 547-4600
Salida
Canyon Marine Whitewater
5620 E Us Highway 50
Salida, CO 81201
719 539-4444
Riverboat Works
10217 County Road 163
Salida, CO 81201
719 539-9323
This website focuses on all aspects of boating including new and used boats for sale, boat rentals, repairs, accessories, storage and more.
For convenience, resources are listed first by area of the Colorado, then by proximity to cities, waterways, parks, campgrounds and other relative attractions in CO. Cities listed in this section include Boulder, Breckenridge, Grand Junction, Kremmling, Leadville, Brighton, Denver, Hudson, Littleton, Sterling, Cortez, Durango, Montrose, Pagosa Springs, Silverton, Colorado City, Colorado Springs, La Junta, Pueblo and Salida.
Resources are also identified nearby campgrounds including Pearl Lake State Park, Steamboat Lake State Park, Yampa River State Park, Barr Lake State Park, Cherry Creek State Park, Jackson Lake State Park, James M. Robb-Colorado River State Park, Mancos State Park, Sweitzer Lake State Park, John Martin Reservoir State Park, Lathrop State Park and Lake Pueblo State Park.
Rivers & Lakes For Boating in CO
Colorado lakes with boating opportunities are listed within quadrants of Colorado include Carter Lake, Grand Lake, Lake Granby, Shadow Mountain Reservoir, Williams Fork Reservoir, Bonny Reservoir, Chatfield Reservoir, Horsetooth Lake, Jackson Lake, Riverside Reservoir, Antero Reservoir, Blue Mesa Reservoir, Eleven Mile Reservoir, Navajo Reservoir, Spinney Mountain Reservoir, Adobe Creek Reservoir, Horse Creek Reservoir, John Martin Reservoir, Lake Meredith and Neenoshe Reservoir. Many of these lakes offer multiple boat launching facilities at various locations around the lake.
Colorado also affords some boating or canoeing on rivers like Colorado River, Yampa River, Arikaree River, Platt River, Rio Grande, San Miguel River, Arkansas River and Purgatoire River.
CO boating equipment and gear.
Throughout Colorado you can find boat dealers, outdoor centers, sporting good stores, bait and tackle stores, RV centers and discount stores offering a wide variety of boating equipment, accessories and supplies.
Go boating in Colorado
Gather up the family along with some snacks and refreshing beverages and go enjoy the thrill of fresh air in your face and the sun on your back. When boating you can see parts of Colorado accessible only by water. Often you'll see birds and wildlife not normally seen in city areas. Plus, sunrises and sunsets always seem more majestic when you are in the great outdoors.
Boating opportunities in other states.