Colorado Boat Repair
Boat service, maintenance and repair in CO.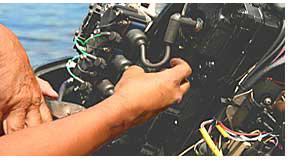 In Colorado, boat repair and maintenance services are readily available to ensure boaters can keep their vessels in top-notch condition. Numerous boat repair shops and marine service centers can be found across the state, catering to a variety of boat types and sizes.
Boat mechanics in Colorado are skilled professionals with expertise in diagnosing and fixing various boat issues. They can handle everything from routine maintenance tasks like oil changes and engine tune-ups to more complex repairs involving boat motors, electrical systems, and hull repairs.
For boat owners who prefer the convenience of on-site service, many marinas in Colorado offer boat repair and maintenance services. These marinas provide a one-stop-shop experience, allowing boaters to have their vessels serviced while docked or moored.
For boat owners who need repairs on the go or have difficulty transporting their boats to a repair shop, mobile boat repair services are available in Colorado. These services bring the expertise and tools directly to the boat, making it easier for owners to get their boats fixed without the hassle of transport.
Whether it's routine maintenance or unexpected repairs, Colorado offers a range of options to ensure boaters can keep their vessels in excellent shape. From skilled boat mechanics at repair shops and marinas to the convenience of mobile services, boat owners in Colorado have access to reliable solutions to keep their boats running smoothly and safely on the water.
Select the ideal boat repair service to care for your dream boat. Many qualified boat repair specialists are located throughout Colorado. We list CO boat repair centers by their proximity to major cities including Breckenridge, Kremmling, Brighton, Hudson, Sterling, Durango, Pagosa Springs, Colorado City, La Junta, Salida, Boulder, Grand Junction, Leadville, Denver, Littleton, Cortez, Montrose, Silverton, Colorado Springs and Pueblo.
CO boat repair map
CO Resources
Grand Junction
Chucks Marine Service
474 28 1/2 Rd
Grand Junction, CO 81501
970 243-5256
Duncan & Sons Upholstery
412 Grand Mesa Avenue Suite 3
Grand Junction, CO 81503
970 243-3741
Grimsley's Upholstery
804 Pitkin Avenue
Grand Junction, CO 81501
970 245-3316
Perdue's Custom Upholstery
554 25 Road Unit 2
Grand Junction, CO 81505
970 523-0270
Denver
Calibre Boat Repair
2600 W 62nd Ave
Denver, CO 80221
303 424-7440
Complete Upholstery Services
4990 East Evans Avenue
Denver, CO 80222
303 782-9454
Denver Mobile Upholstery & Detail
1330 South Parker Road Unit C
Denver, CO 80231
303 671-8070
Jim's Repair
1301 East 58th Avenue Suite K
Denver, CO 80216
303 297-0339
AAA Inflatables Equipment & Repair
3264 Larimer Street
Denver, CO 80205
303 296-2444
Sterling
T T B Marine Repair
245 E Chestnut St
Sterling, CO 80751
970 522-8164
Cortez
Reliable Marine Service
13088 Road 23
Cortez, CO 81321
970 564-9958
Premier Upholstery
25 North Beech Street
Cortez, CO 81321
970 565-7881
Montrose
Mountain Marine Services
78 Snowy Peak
Montrose, CO 81401
970 240-5914
Colorado Springs
Woodmen View Rv Boat Storage
8725 Vollmer Rd
Colorado Springs, CO 80908
719 660-3102
Trim Master Auto & Marine Upholstery
3103 Karen Place
Colorado Springs, CO 80907
719 260-1219
AL West Boat Shop
5190 North Nevada Avenue
Colorado Springs, CO 80918
719 599-8977
Pueblo
Outboard Marine And Ski Service Inc
36 N Dynamics Dr
Pueblo, CO 81007
719 547-4600
Rocky Mountain Boat Co
290 S Mcculloch Blvd
Pueblo, CO 81007
719 547-3100
Frank's Upholstery
1207 North Hudson Avenue
Pueblo, CO 81001
719 544-8349
Gary's Upholstery
2317 South Prairie Avenue
Pueblo, CO 81005
719 560-0906
Outboard Marine & Ski Service Inc - Sales & Service
36 North Dynamics Drive
Pueblo, CO 81007
719 547-4600
Wake To Wake Boat CO
368 South McCulloch Boulevard
Pueblo, CO 81007
719 647-9444
Salida
Inflatable Restoration & Repair
3244 East USHighway 50
Salida, CO 81201
719 539-9751
Riverboat Works
10217 County Road 163
Salida, CO 81201
719 539-9323
Cities are listed in the boat dealer and fishing boat dealer listings, by region of the state for your convenience.
Marinas in Colorado
Marinas often provide boat repair services as well as boat storage and boat launching. These services often vary with the season so it is important to contact marinas directly to define the level of boat repair services offered. Some of the major marinas in Colorado include Beacon Landing Marina, Carter Lake Marina, Bonny Marina, Inlet Bay Marina, 11 Mile Marina, Elk Creek Marina, Horse Creek Marina and Pueblo Reservoir Northshore Marina.
There are mobile boat repair services which travel to the location of your boat and provide service on the spot. Whatever service you select for repair to your boat, it is highly recommended that you select a qualified boat repair specialist.
While some repair centers specialize in specific types of boats or motors, most can offer basic services on virtually all types of boats. If you have complex repair or diagnostic requirements, you may need to locate a dealer offering those specific services. Some of these centers specialize only in the brand of boats and motors they offer for sale, while other facilities may offer maintenance and service to a wide variety of popular boat and motor brands. Repair to hulls, trailers and boat interiors are often offered by service providers which are not brand specific.
Boat repair services in Colorado are performed by a wide range of specialists. Hull and structure repairs are handled by experts in fiberglass, aluminum and other boat materials.
Boat motor repair, service and maintenance is provided by trained mechanical technicians, many of whom are certified by boat motor manufacturers. Some specialize in inboard motors and outdrives while others specialize in outboard motors. Others offer repair services for both.
Service and repair for all types of boats.
Colorado boat repair services are offered for sailboats, pleasure boats, family boats, yachts, pontoon boats, fishing boats, bass boats, speedboats, inflatables, jon boats, cruisers, cuddy cabin boats, canoes, car toppers, ski & wake board boats, deck boats, aluminum boats, electric boats, jet skis, personal watercraft and fish-and-ski combos. Contact local repair centers regarding specific repair services you may require.
Boat repair in other states.