Colorado Fishing Boats
Bass boat and aluminum fishing boat dealers in CO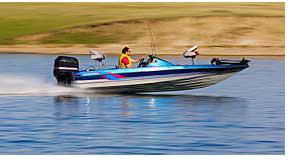 Fishing boat dealers are located throughout Colorado with many of the larger dealers nearby major metropolitan areas like Cortez, Durango, Montrose, Pagosa Springs, Silverton, Colorado City, Colorado Springs, La Junta, Pueblo, Salida, Boulder, Breckenridge, Grand Junction, Kremmling, Leadville, Brighton, Denver, Hudson, Littleton and Sterling. Other fishing boat dealers can also be found near lakes and along rivers throughout rural Colorado.
Fishing boat types for Colorado waters
Fishing boats come in a variety of configurations including family fishing boats, pontoon boats, center console boats, bay boats, skiff boats, aluminum fishing boats, bass boats, inflatables, jon boats, canoes, kayaks, car toppers, electric boats and fish-and-ski models. Find yours at a fishing boat dealer near you.
New & Used Bass & Fishing Boat Dealers
CO Resources
Grand Junction
Funshares RV Sales & Leasing
2583 Highway 6 And 50
Grand Junction, CO 81501
970 241-2702
Denver
Bass Pro Shops Outdoor World
7970 Northfield Blvd
Denver, CO 80238
720 385-3501
Calibre Boat Repair
2600 W 62nd Ave
Denver, CO 80221
303 424-7440
Colorado Springs
Woodmen View Rv Boat Storage
8725 Vollmer Rd
Colorado Springs, CO 80908
719 660-3102
AL West Boat Shop
5190 North Nevada Avenue
Colorado Springs, CO 80918
719 599-8977
Pueblo
Outboard Marine And Ski Service
36 N Dynamics Dr
Pueblo, CO 81007
719 547-4600
Rocky Mountain Boat Co
290 S Mcculloch Blvd
Pueblo, CO 81007
719 547-3100
Outboard Marine & Ski Service Sales & Service
36 North Dynamics Drive
Pueblo, CO 81007
719 547-4600
Wake To Wake Boat CO
368 South McCulloch Boulevard
Pueblo, CO 81007
719 647-9444
Colorado Boats & Yachts
2624 Ivywood Lane
Pueblo, CO 81004
719 566-3301
Salida
Riverboat Works
10217 County Road 163
Salida, CO 81201
719 539-9323
Most fishing boat dealers offer a variety of new and used boats. Look for a basic jon boat, an aluminum fishing boat, a combination fish and ski boat, a sophisticated bass boat or coastal fishing boats with help from these local dealers.
If you like to fish in CO, many of these fishing boat dealers also carry an excellent selection of fishing tackle. You are apt to find a good selection of rods, reels, line, lures, and an assortment of fishing-related boat accessories. Some also offer live bait.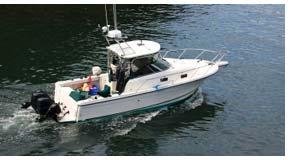 Colorado fishing boat and bass boat dealers are often a resource for information on local fishing events. They are likely to have schedules and contact information for fishing tournament organizations, as well as event results. Staff members at these fishing boat stores often have a keen interest in fishing. As a result, they are quite often aware of local fishing conditions at fisheries in the area. Some also participate in fishing tournaments. Before heading out on your next fishing trip, stop by and get valuable information about how the fish are being caught on the water you plan to fish.
Fishing boats in Colorado
Many of these fishing boat dealers also offer fishing licenses for sale. You can also acquire a fishing licence for Colorado at many of these dealers or by visiting the Colorado fishing licensing website.
Places To Go Fishing In CO
There are many places in Colorado to to go fishing. Some of the larger lakes and rivers include Bonny Reservoir, Colorado River, Yampa River, Chatfield Reservoir, Horsetooth Lake, Arikaree River, Jackson Lake, Riverside Reservoir, Carter Lake, Platt River, Rio Grande, Grand Lake, Lake Granby, Shadow Mountain Reservoir, Williams Fork Reservoir, Adobe Creek Reservoir, Horse Creek Reservoir, John Martin Reservoir, Lake Meredith, Neenoshe Reservoir, Antero Reservoir, Blue Mesa Reservoir, San Miguel River, Arkansas River, Eleven Mile Reservoir, Purgatoire River, Navajo Reservoir and Spinney Mountain Reservoir. Most of these rivers and lakes provide excellent fishing opportunities.
Fishing Boat Companies & Manufacturers in Colorado
Manufacturers of boats and boating products in Colorado include Starbuck Boats and others. Support these local manufacturers as they help improve the local economy.
Camp in Colorado Near Fishing
Fishing and camping go hand in hand. Many of the fishing waters throughout Colorado also offer camping opportunities. Here are just a few of the many camping facilities located at or nearby fishing waterways. Pearl Lake State Park, Steamboat Lake State Park, Yampa River State Park, Barr Lake State Park, Cherry Creek State Park, Jackson Lake State Park, James M. Robb-Colorado River State Park, Mancos State Park, Sweitzer Lake State Park, John Martin Reservoir State Park, Lathrop State Park and Lake Pueblo State Park are options to consider when planning your next fishing and camping excursion.
Fishing boats for sale in all states.