Maryland Fishing Boats
Bass boat and aluminum fishing boat dealers in MD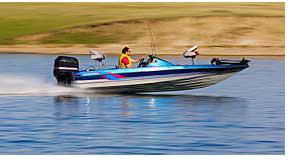 Maryland, known for its picturesque coastal landscapes and numerous water bodies, offers fantastic opportunities for fishing enthusiasts. The state's diverse geography includes the Chesapeake Bay, which is the largest estuary in the United States, along with numerous lakes and rivers. Fishing has been a longstanding tradition in Maryland, and it continues to be a popular recreational activity and a vital industry.
Fishing boats play a crucial role in Maryland's fishing culture, enabling anglers to venture into the deeper waters and explore the abundant marine life. These boats come in various types and sizes, each designed to cater to specific fishing needs and preferences. One of the most common types of fishing boats in Maryland is the aluminum boat. These boats are lightweight, durable, and well-suited for maneuvering through shallow waters, making them ideal for navigating the Chesapeake Bay and its tributaries.
Another popular fishing boat type is the bass boat, designed primarily for bass fishing, which is a favorite among anglers in Maryland. Bass boats are typically equipped with powerful outboard motors, spacious casting decks, and various angling amenities, ensuring a comfortable and productive fishing experience.
For those interested in walleye fishing, specialized walleye boats are available in Maryland. These boats are designed with features that cater to the specific needs of walleye anglers, such as a deeper hull to handle rougher waters and ample storage for fishing gear.
If you don't own a fishing boat, fret not! Maryland offers various fishing boat rental options, making it accessible for everyone to enjoy a day out on the water. Whether you want to explore the serene lakes or venture into the open waters of the Chesapeake Bay, fishing boat rentals allow you to experience the thrill of fishing without the commitment of owning a boat.
Maryland's fishing culture is deeply rooted in its rich waterways, including the Chesapeake Bay and numerous lakes. With a diverse array of fishing boat types available, anglers can choose the one that best suits their fishing preferences. From versatile aluminum boats to specialized bass and walleye boats, Maryland's fishing boats cater to all sorts of angling adventures. And for those who don't own a boat, fishing boat rentals offer a fantastic opportunity to enjoy the state's abundant fishing opportunities without the hassle of boat ownership. So, grab your fishing gear and head out to Maryland's waters for an unforgettable fishing experience.
Fishing boat dealers are located throughout Maryland with many of the larger dealers nearby major metropolitan areas like Clinton, Fort Washington, Hillcrest Heights, La Plata, Waldorf, Annapolis, Cambridge, Easton, Ocean City, Salisbury, Bowie, Columbia, Ellicott City, Frederick, Gaithersburg, Baltimore, Bel Air South, Dundalk, Glen Burnie and Towson. Other fishing boat dealers can also be found near lakes and along rivers throughout rural Maryland.
New & Used Bass & Fishing Boat Dealers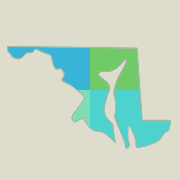 Maryland Resources
Baltimore
Jarrett Bay Yacht Sales
2736 Lighthouse Pt E
Baltimore, MD 21224
410 342-6600
Baltimore Yacht Sales
801 Lancaster Street
Baltimore, MD 21202
410 637-3500
Coastline Yachts Sales
2501 Boston Street
Baltimore, MD 21224
410 522-2800
Dundalk
Anchor Bay East Marina And Yacht
8500 Cove Rd
Dundalk, MD 21222
410 284-1044
Glen Burnie
Daves Boat Trailer Sales
434 Crain Hwy N
Glen Burnie, MD 21061
410 761-6460
Boatland Marine Discount Centers
7328 Ritchie Hwy
Glen Burnie, MD 21061
410 768-3500
Bass Professional Shops Outdoor World
7000 Arundel Mills Circle
Glen Burnie, MD 21061
410 689-2500
Jenkins Boat Sales
7328 Ritchie Hwy
Glen Burnie, MD 21061
410 768-3500
Annapolis
Annapolis Yacht Sales Inc
7350 Edgewood Rd
Annapolis, MD 21403
410 267-8181
Gilman Yacht Sales Of Md
222 Severn Ave, Ste 24
Annapolis, MD 21403
410 990-4343
Thoroughbred Yacht Sales
317 Chester Avenue # A
Annapolis, MD 21403
410 267-9419
Crusader Yacht Sales Inc
7078 Bembe Beach Road
Annapolis, MD 21403
301 858-6868
Bristol Yacht Sales Annapolis Inc
623 Sixth Street
Annapolis, MD 21403
410 280-6611
Severn Yacht Sales
726 Second Street Suite 3A
Annapolis, MD 21403
410 263-5655
Cambridge
Jones Propeller
5508 Whitehall Rd
Cambridge, MD 21613
410 228-5749
Elzey Custom Boats Inc
10 Washington St
Cambridge, MD 21613
410 901-9799
R And D Boat Supply Inc
22 Washington St
Cambridge, MD 21613
410 228-0674
Cambridge Yacht Brokers
504 Maryland Avenue
Cambridge, MD 21613
410 221-8525
Easton
Abell Marine Yacht Sales LLC
8949 Mistletoe Dr
Easton, MD 21601
410 822-7700
Quimbys Fred Marine Sales And Services
9295 Ocean Gtwy
Easton, MD 21601
410 822-8107
Bill's Outboard Service
29369 East Kennedy Street
Easton, MD 21601
410 822-3430
Chesapeake Boatworks
8727 Brooks Drive
Easton, MD 21601
410 770-3044
Ocean City
Intrinsic Yacht And Ship LLC
8705 Caribbean Dr
Ocean City, MD 21842
410 520-0299
Oceana Boatworks
12703 Sunset Ave, Ste 9
Ocean City, MD 21842
410 213-7539
Moore Boat
117 49th St
Ocean City, MD 21842
410 524-3456
Hastings Boat Repair Inc
12737 Sunset Ave
Ocean City, MD 21842
410 213-2628
Boat Doctor Marine Inc
11850 Ocean Gtwy
Ocean City, MD 21842
410 213-1391
Ocean City Boatel & Service Center
12924 Kelly Bridge Road
Ocean City, MD 21842
410 213-2505
Most fishing boat dealers offer a variety of new and used boats. Look for a basic jon boat, an aluminum fishing boat, a combination fish and ski boat, a sophisticated bass boat or coastal fishing boats with help from these local dealers.
For fishing enthusiasts in MD, many of these fishing boat dealers also carry an excellent selection of fishing tackle. You are apt to find a good selection of rods, reels, line, lures, and an assortment of fishing-related boat accessories. Some also offer live bait.
Fishing boat types for Maryland waters
Fishing boats come in a variety of configurations including family fishing boats, pontoon boats, center console boats, bay boats, skiff boats, aluminum fishing boats, bass boats, inflatables, jon boats, canoes, kayaks, car toppers, electric boats and fish-and-ski models. Find yours at a fishing boat dealer near you.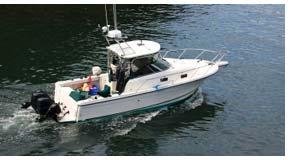 Maryland fishing boat and bass boat dealers are often a resource for information on local fishing events. They are likely to have schedules and contact information for fishing tournament organizations, as well as event results. Staff members at these fishing boat stores often have a keen interest in fishing. As a result, they are quite often aware of local fishing conditions at fisheries in the area. Some also participate in fishing tournaments. Before heading out on your next fishing trip, stop by and get valuable information about how the fish are being caught on the water you plan to fish.
Many of these fishing boat dealers also offer fishing licenses for sale. You can also acquire a fishing licence for Maryland at many of these dealers or by visiting the Maryland fishing licensing website.
Fishing boats in Maryland
Places To Go Fishing In MD
There are many places in Maryland to to go fishing. Some of the larger lakes and rivers include Liberty Lake, Potomac River, Youhiogheny River, Loch Raven Reservoir, Mason Dixon Pond, Chester River, Piney Run Lake, Prettyboy Reservoir, Deep Creek Lake, Monocasy River, Potomac River, Lake Jenkins, Rocky Gorge Reservoir, Triadelphia Reservoir, Youghiogheny River Lake, Blackwater Ponds, Lake Lariat, Potomac River Reservoir, Savanna Lake, St Mary's Lake, Back Creek, Bankhead Cove, Patuxant River, Choptank River, Gilbert Pond, Nanticoke River, Gilbert Run Lake and Trinity Lake. Most of these rivers and lakes provide excellent fishing opportunities.
Fishing Boat Companies & Manufacturers in Maryland
Manufacturers of boats and boating products in Maryland include Mathews Brothers Custom Yachts and others. Support these local manufacturers as they help improve the local economy.
Camp in Maryland Near Fishing
Fishing and camping go hand in hand. Many of the fishing waters throughout Maryland also offer camping opportunities. Here are just a few of the many camping facilities located at or nearby fishing waterways. Casselman River State Park, Savage River State Forest, Youghiogheny River State Park, Hart-Miller Island State Park, Seneca Creek State Park, Susquehanna State Park, Chapel Point State Park, Purse State Park, Smallwood State Park, Pocomoke River State Park, Sandy Point State Park and St Mary's River State Park are options to consider when planning your next fishing and camping excursion.
Fishing boats for sale in all states.