North Dakota Fishing Boats
Bass boat and aluminum fishing boat dealers in ND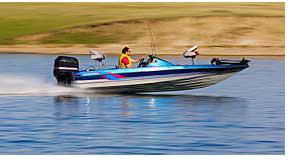 North Dakota, known for its vast prairies and rugged landscapes, offers an excellent fishing experience for enthusiasts and anglers. Fishing boats play a crucial role in exploring the state's major fishing lakes and water bodies. Whether it's casting a line for walleye, northern pike, or perch, fishing boats are a popular choice for navigating the waters and finding the best fishing spots.
North Dakota is blessed with several major fishing lakes that attract anglers from near and far. Among the notable ones are Devils Lake, Lake Sakakawea, and Lake Oahe. These lakes are teeming with a variety of fish species, making them an angler's paradise. Fishing boats provide the mobility and versatility needed to cover larger areas of these expansive lakes and increase the chances of a successful catch.
Aluminum boats are a common sight in North Dakota's fishing scene. Their lightweight and durable construction make them suitable for navigating shallow waters and accessing remote fishing spots. Additionally, bass boats, known for their speed and agility, are popular among bass fishing enthusiasts, allowing them to reach the best bass fishing locations with ease.
Walleye fishing is a beloved pastime in North Dakota, and specialized walleye boats are designed to enhance the angler's experience. These boats are equipped with features like livewells and fish finders, making it easier to locate and store the prized walleye catches.
For those visiting North Dakota and looking to experience the joy of fishing without owning a boat, fishing boat rental services are readily available. Rental options provide access to well-maintained boats, enabling visitors to explore the lakes and rivers at their own pace and create memorable fishing experiences.
North Dakota's fishing scene is enriched by a variety of fishing boats, each tailored to cater to different angler preferences. Whether it's an aluminum boat for versatility, a bass boat for speed, or a specialized walleye boat, fishing boats play a vital role in making fishing adventures in North Dakota truly unforgettable. Additionally, the state's major fishing lakes and fishing boat rental services make it a welcoming destination for both local anglers and tourists seeking a remarkable fishing experience in the heart of the Great Plains.
Fishing boat dealers are located throughout North Dakota with many of the larger dealers nearby major metropolitan areas like Beach, Bowman, Dixon, Medora, Riverdale, Bismark, Carrington, Fargo, Jamestown, Wahpeton, Garrison, Minot, New Town, Watford City, Williston, Bisbee, Devils Lake, Fort Totten, Granville and Minnewauken. Other fishing boat dealers can also be found near lakes and along rivers throughout rural North Dakota.
New & Used Bass & Fishing Boat Dealers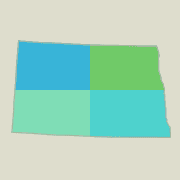 ND Resources
Fargo
Checkmate Performance Power Boats of Fargo
330 40th Street South
Fargo, ND 58103
701 277-9612
Universal Boatmotor Salvage
650 9th Street Northwest
West Fargo, ND 58078
701 282-3997
Most fishing boat dealers offer a variety of new and used boats. Look for a basic jon boat, an aluminum fishing boat, a combination fish and ski boat, a sophisticated bass boat or coastal fishing boats with help from these local dealers.
Fishing boat types for North Dakota waters
Manufacturers of boats and boating products in North Dakota include Sugar Sand Boat Builders and others. Support these local manufacturers as they help improve the local economy.
If you like to fish in ND, many of these fishing boat dealers also carry an excellent selection of fishing tackle. You are apt to find a good selection of rods, reels, line, lures, and an assortment of fishing-related boat accessories. Some also offer live bait.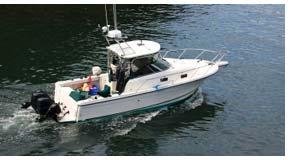 North Dakota fishing boat and bass boat dealers are often a resource for information on local fishing events. They are likely to have schedules and contact information for fishing tournament organizations, as well as event results. Staff members at these fishing boat stores often have a keen interest in fishing. As a result, they are quite often aware of local fishing conditions at fisheries in the area. Some also participate in fishing tournaments. Before heading out on your next fishing trip, stop by and get valuable information about how the fish are being caught on the water you plan to fish.
Many of these fishing boat dealers also offer fishing licenses for sale. You can also acquire a fishing licence for North Dakota at many of these dealers or by visiting the North Dakota fishing licensing website.
Fishing boats in North Dakota
There are many places in North Dakota to to go fishing. Some of the larger lakes and rivers include Devils Lake, Little Muddy River, White Earth River, Dry Lake, Lake Alice, Forest River, Morrison Lake, Stump Lake, Lake Audubon, Tongue River, Cedar River, Lake Darling, Lake Metigoshe, Lake Sakakawea, Powers Lake, Arrowwood Lake, Jamestown Reservoir, Lake Ashtabula, Pipestem Lake, Rice Lake, Bowman-Haley Lake, Cedar Lake, Heart River, Maple River, Lake Tschida, Wild Rice River, Patterson Lake and White Lake. Most of these rivers and lakes provide excellent fishing opportunities.
Fishing Boat Companies & Manufacturers in North Dakota
Manufacturers of boats and boating products in North Dakota include Sugar Sand Boat Builders and others. Support these local manufacturers as they help improve the local economy.
Camp in North Dakota Near Fishing
Fishing and camping go hand in hand. Many of the fishing waters throughout North Dakota also offer camping opportunities. Here are just a few of the many camping facilities located at or nearby fishing waterways. Beulah Bay Recreation Area, Lewis & Clark State Park, Little Missouri State Park, Icelandic State Park, Grahams Island State Park, Lake Metigoshe State Park, Cross Ranch State Park, Ft Abraham Lincoln State Park, Pelican Point Landing, Beaver Lake State Park, Doyle Memorial Campground and Fort Ransom State Park are options to consider when planning your next fishing and camping excursion.
Fishing boats for sale in all states.