Delaware Fishing Boats
Bass boat and aluminum fishing boat dealers in DE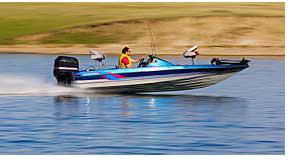 Delaware, although one of the smaller states in the U.S., offers fantastic fishing opportunities for both locals and visitors alike. Fishing boats are a common sight on the state's numerous lakes and waterways, attracting anglers eager to cast their lines and reel in a variety of fish species. From bass to catfish and everything in between, Delaware's fishing lakes are teeming with aquatic life, making it a paradise for fishing enthusiasts of all skill levels.
Several major fishing lakes dot the state, each with its own unique appeal and variety of fish. Places like Delaware Bay, Rehoboth Bay, and Indian River Bay are popular fishing destinations, boasting abundant marine life and a serene atmosphere for a peaceful day on the water.
When it comes to fishing boat types, Delawareans can choose from an array of options that cater to their specific needs and preferences. Aluminum boats are favored for their durability and versatility, perfect for navigating both shallow and deeper waters. Bass boats, with their specialized design and features, are ideal for anglers targeting largemouth and smallmouth bass.
For those who don't own a fishing boat, Delaware also offers fishing boat rental services. This convenient option allows individuals to explore different water bodies and try their hand at fishing without the need for boat ownership. Rental services provide a selection of well-maintained fishing boats, ensuring that everyone can have a memorable and enjoyable fishing experience in Delaware's beautiful waters. Whether it's a relaxing day of catch-and-release or a serious fishing expedition, Delaware's fishing boat rental services cater to various fishing styles and preferences.
Fishing boat dealers are located throughout Delaware with many of the larger dealers nearby major metropolitan areas like Felton, Greenwood, Harrington, Laurel, Seaford, Fenwick Island, Georgetown, Lewes, Millsboro, Selbyville, Dover, Glasgow, Middletown, Newark and Wilmington. Other fishing boat dealers can also be found near lakes and along rivers throughout rural Delaware.
New & Used Bass & Fishing Boat Dealers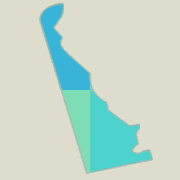 Delaware Resources
Newark
Links Outboard
4 Albe Dr
Newark, DE 19702
302 368-2860
Tristate Power Boats Inc
4 Albe Dr
Newark, DE 19702
302 368-2628
Link's Outboard
16 Brookhill Drive
Newark, DE 19702
302 368-2860
Wilmington
Tony's Outboard Repair
2036 Telegraph Road
Wilmington, DE 19808
302 998-1262
Laurel
Mid Shore Boat Sales LLC
11432 Trussum Pond Rd
Laurel, DE 19956
302 875-7958
Seaford
Sturgis Marine Sales Service Inc
20676 Sussex Hwy
Seaford, DE 19973
302 629-3581
Lewes
Boatel Boat Storage
209 East Savannah Road
Lewes, DE 19958
302 645-8904
Most fishing boat dealers offer a variety of new and used boats. Look for a basic jon boat, an aluminum fishing boat, a combination fish and ski boat, a sophisticated bass boat or coastal fishing boats with help from these local dealers.
If you like to fish in DE, many of these fishing boat dealers also carry an excellent selection of fishing tackle. You are apt to find a good selection of rods, reels, line, lures, and an assortment of fishing-related boat accessories. Some also offer live bait.
Fishing boat types for Delaware waters
Fishing boats come in a variety of configurations including family fishing boats, pontoon boats, center console boats, bay boats, skiff boats, aluminum fishing boats, bass boats, inflatables, jon boats, canoes, kayaks, car toppers, electric boats and fish-and-ski models. Find yours at a fishing boat dealer near you.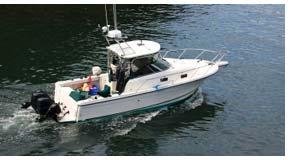 Delaware fishing boat and bass boat dealers are often a resource for information on local fishing events. They are likely to have schedules and contact information for fishing tournament organizations, as well as event results. Staff members at these fishing boat stores often have a keen interest in fishing. As a result, they are quite often aware of local fishing conditions at fisheries in the area. Some also participate in fishing tournaments. Before heading out on your next fishing trip, stop by and get valuable information about how the fish are being caught on the water you plan to fish.
Many of these fishing boat dealers also offer fishing licenses for sale. You can also acquire a fishing licence for Delaware at many of these dealers or by visiting the Delaware fishing licensing website.
Places To Go Fishing In DE
There are many places in Delaware to to go fishing. Some of the larger lakes and rivers include Christina River, Smyrna River, Becks Pond, Murderkill River, Hoopes Reservoir, Lums Pond, Silver Lake, Smalleys Pond, Chipman Pond, Gordon Pond, Haven Lake, Millsboro Pond, Red Mill Pond, Collins Pond, Hearns Pond, Nanticoke River, Mispillion River, Horsey Pond, St Jones River, Killens Pond and McGinnis Pond. Most of these rivers and lakes provide excellent fishing opportunities.
Fishing Boat Companies & Manufacturers in Delaware
Manufacturers of boats and boating products in Delaware include Tristate Power Boats and others. Support these local manufacturers as they help improve the local economy.
Camp in Delaware Near Fishing
Fishing and camping go hand in hand. Many of the fishing waters throughout Delaware also offer camping opportunities. Here are just a few of the many camping facilities located at or nearby fishing waterways. Driftstone Campground, G & R Recreation Area & Campground, Lums Pond State Park, Killens Pond State Park, Pine Ridge RV Park, Trap Pond State Park, Cape Henlopen State Park, Delaware Seashore State Park and Holly Lake Camp Sites are options to consider when planning your next fishing and camping excursion.
Fishing boats for sale in all states.

Boats & Boating