Georgia Fishing Boats
Bass boat and aluminum fishing boat dealers in GA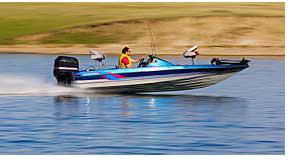 Georgia, known for its diverse and abundant fishing opportunities, offers fishing enthusiasts a chance to explore its lakes and waterways with various fishing boats. The state boasts several major fishing lakes, including Lake Lanier, Lake Oconee, and Lake Seminole, among others. These lakes are teeming with a wide range of fish species, making them popular destinations for anglers seeking a fruitful catch.
When it comes to fishing boats, Georgia provides a variety of options to suit different fishing styles and preferences. Aluminum boats are a popular choice among anglers for their durability, versatility, and affordability. These lightweight boats are easy to maneuver and can navigate through shallow waters, making them suitable for fishing in a variety of locations.
For anglers who specifically target bass, bass boats are the go-to choice. These specialized fishing boats are designed for speed and maneuverability, equipped with powerful outboard motors to swiftly reach prime fishing spots. Bass boats are equipped with fish finders and other advanced technologies to assist anglers in locating and catching bass.
For those who wish to enjoy a day of fishing without owning a boat, fishing boat rentals are readily available across various lakes and fishing destinations in Georgia. Fishing boat rental services offer a convenient way for visitors to explore the waters and try their luck at catching fish. Whether it's a relaxing day of fishing with family and friends or an adventurous solo fishing trip, fishing boat rentals allow anglers to make the most of their fishing experience in the beautiful state of Georgia.
Fishing boat dealers are located throughout Georgia with many of the larger dealers nearby major metropolitan areas like Albany, Bainbridge, Columbus, Thomasville, Valdosta, Brunswick, Darien, Kingsland, Savannah, Tybee Island, Atlanta, Cartersville, Chatsworth, Palmetto, Macon, Augusta, Bishop, Elberton, Evans and Greensboro. Other fishing boat dealers can also be found near lakes and along rivers throughout rural Georgia.
New & Used Bass & Fishing Boat Dealers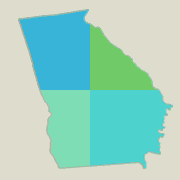 GA Resources
Atlanta
Bass Professional Shops
5900 Sugarloaf Parkway
Atlanta, GA 30303
678 847-5500
Elaine Stewart Yacht Charters
3883 Andrews Crsg Northeast
Atlanta, GA 30303
770 641-9640
Boat US Marine Center
6245 Peachtree Industrial
Atlanta, GA 30360
770 936-8611
Cartersville
Park Marina Boat Sales & Rentals
651 Marina Road Southeast
Cartersville, GA 30121
770 974-2628
Macon
Boatworks
4280 Interstate Dr
Macon, GA 31210
478 471-6321
Augusta
Starline Trailers Inc
4067 Belair Road
Augusta, GA 30909
706 860-4651
Elberton
Marine Sales
3336 Calhoun Falls Hwy
Elberton, GA 30635
706 213-8233
Evans
The Boat Center
4751 Washington Rd
Evans, GA 30809
706 855-8698
Albany
Huggins Outboard Marina
922 Radium Springs Rd
Albany, GA 31705
229 432-6831
Flint River Marine Boats Boats
1605 E Broad Ave
Albany, GA 31705
229 435-2813
Lennys Boats
811 21st Ave
Albany, GA 31701
229 435-1159
Bainbridge
Decatur Outboard Repair
902 Colquitt Highway
Bainbridge, GA 39817
229 248-0787
Airboats Unlimited / Seminole Airboats
778 Woodhull Road
Bainbridge, GA 31717
912 246-5760
Columbus
Larry's Trailer Sales LLC
3205 2nd Avenue
Columbus, GA 31904
706 596-1199
Thomasville
Bellamys Boat Shop
1224 E Jackson St
Thomasville, GA 31792
229 226-3267
Valdosta
Chaparral Boats
601 Gil Harbin Industrial Blvd
Valdosta, GA 31601
229 241-8116
A Boat Store
3640 Val Tech Rd
Valdosta, GA 31602
229 253-0528
Bass Hunter Boats-Inc
1617 James P Rogers Drive
Valdosta, GA 31601
800 345-4689
Brunswick
Alpha Motor Sales Inc
4579 New Jesup Hwy
Brunswick, GA 31520
912 267-0835
Alpha Motor Sales Inc
3663 Community Rd
Brunswick, GA 31520
912 264-0150
Harris Boat Works
2814 Norwich Street Ln
Brunswick, GA 31520
912 267-9653
Two Way Boat Yard
245 Ricefield Way
Brunswick, GA 31525
912 265-6944
Dominey Machine And Propeller Shop
6005 Habersham St
Brunswick, GA 31520
912 264-2942
Boater's World
147 Altama Connector
Brunswick, GA 31525
912 261-9790
Darien
Outboard Rejuvenations
Po Box 148
Darien, GA 31305
912 437-5126
Savannah
Thunderbolt Yacht Sales
123 Goette Trl
Savannah, GA 31410
912 356-3857
Bass Professional Shops Outdoor World
14045 Abercorn Street Suite 7
Savannah, GA 31419
912 961-4200
Donnelly Yacht Sales LLC
2812 River Drive
Savannah, GA 31404
912 353-9050
Captain Covington's Boat Sales & Brokerage Inc
8522 Ferguson Avenue
Savannah, GA 31406
912 692-1214
Most fishing boat dealers offer a variety of new and used boats. Look for a basic jon boat, an aluminum fishing boat, a combination fish and ski boat, a sophisticated bass boat or coastal fishing boats with help from these local dealers.
If you like to fish in GA, many of these fishing boat dealers also carry an excellent selection of fishing tackle. You are apt to find a good selection of rods, reels, line, lures, and an assortment of fishing-related boat accessories. Some also offer live bait.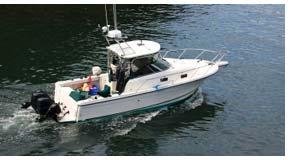 Georgia fishing boat and bass boat dealers are often a resource for information on local fishing events. They are likely to have schedules and contact information for fishing tournament organizations, as well as event results. Staff members at these fishing boat stores often have a keen interest in fishing. As a result, they are quite often aware of local fishing conditions at fisheries in the area. Some also participate in fishing tournaments. Before heading out on your next fishing trip, stop by and get valuable information about how the fish are being caught on the water you plan to fish.
Fishing boats in Georgia
Many of these fishing boat dealers also offer fishing licenses for sale. You can also acquire a fishing licence for Georgia at many of these dealers or by visiting the Georgia fishing licensing website.
Places To Go Fishing In GA
There are many places in Georgia to to go fishing. Some of the larger lakes and rivers include Blue Ridge Lake, Chatahoochee River, Etowah River, Clarks Hill Lake, Hartwell Lake, Broad River, Oconee Lake, Richard B Russell Lake, Chatuge Lake, Oconee River, Flint River, Hartwell Lake, Lake Allatoona, Lake Jackson, Lake Sidney Lanier, Banks Lake, Big Pond, Lake Harding, Lake Martin, Lake Tholocco, Giddons Pond, Lake Blackshear, Ochlockonee River, Altamaha River, Lake Seminole, Choppee River, Walter F. George Reservoir and West Point Lake. Most of these rivers and lakes provide excellent fishing opportunities. Motorhome dealers can show you how to save on accommodations by towing your boat with a motorhome.
Fishing and camping go hand in hand. Many of the fishing waters throughout Georgia also offer camping opportunities. Here are just a few of the many camping facilities located at or nearby fishing waterways. Indian Springs State Park, James H Floyd State Park, Red Top Mountain State Park, Elijah Clark State Park, Mistletoe State Park, Tugaloo State Park, Florence Marina State Park, George T. Bagby State Park, Seminole State Park, Fort McAllister Historic Park, Laura S. Walker State Park and Magnolia Springs State Park are options to consider when planning your next fishing and camping excursion.
Fishing boats for sale in all states.