Georgia Boat Repair
Boat service, maintenance and repair in GA.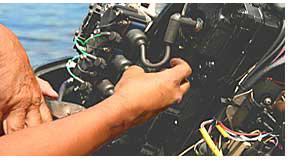 Select the ideal boat repair service to care for your dream boat. Many qualified boat repair specialists are located throughout Georgia. We list GA boat repair centers by their proximity to major cities including Cartersville, Palmetto, Augusta, Elberton, Greensboro, Bainbridge, Thomasville, Brunswick, Kingsland, Tybee Island, Atlanta, Chatsworth, Macon, Bishop, Evans, Albany, Columbus, Valdosta, Darien and Savannah.
Marinas in Georgia
Marinas often provide boat repair services as well as boat storage and boat launching. These services often vary with the season so it is important to contact marinas directly to define the level of boat repair services offered. Some of the major marinas in Georgia include Carter's Lake Marina & Resort, Flagship Marina, Fieldstone Marina, Lanier Harbor Marina, Highland Marina Resort, Lake Blackshear Marina, Brunswick Landing Marina and Bull River Marina.
GA boat repair map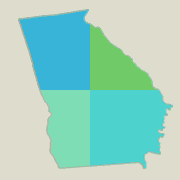 GA Resources
Atlanta
Oscar's Upholstery
5891 New Peachtree Road Suite 101
Atlanta, GA 30340
770 452-8100
Boat US Marine Center
6245 Peachtree Industrial
Atlanta, GA 30360
770 936-8611
Cartersville
Park Marina Boat Sales & Rentals
651 Marina Road Southeast
Cartersville, GA 30121
770 974-2628
Macon
Bibb Marine And Fiberglass Repair
7318 Hawkinsville Rd
Macon, GA 31216
478 784-1533
Boatworks
4280 Interstate Dr
Macon, GA 31210
478 471-6321
Augusta
Southeastern Prop Repair
207 Tuttle St
Augusta, GA 30904
706 733-7609
Broadway Tackle Rod & Reel Repair
1730 Broad Street
Augusta, GA 30904
706 738-8848
Evans
The Boat Center
4751 Washington Rd
Evans, GA 30809
706 855-8698
Albany
Lokeys Custom Golf And Repair
3813 Sylvester Rd
Albany, GA 31705
229 434-0041
Flint River Marine Boats Boats
1605 E Broad Ave
Albany, GA 31705
229 435-2813
Lennys Boats
811 21st Ave
Albany, GA 31701
229 435-1159
Bainbridge
Cutright's Lake Seminole Service
116 Willow Rd
Bainbridge, GA 39819
229 246-4359
Decatur Outboard Repair
902 Colquitt Highway
Bainbridge, GA 39817
229 248-0787
Airboats Unlimited / Seminole Airboats
778 Woodhull Road
Bainbridge, GA 31717
912 246-5760
Columbus
Quality Upholstery
2116 Warm Springs Rd
Columbus, GA 31904
706 221-0187
Thomasville
Bellamys Boat Shop
1224 E Jackson St
Thomasville, GA 31792
229 226-3267
Valdosta
Martin Marine Repair
2685 Old Clyattville Rd
Valdosta, GA 31601
229 247-4497
Chaparral Boats
601 Gil Harbin Industrial Blvd
Valdosta, GA 31601
229 241-8116
A Boat Store
3640 Val Tech Rd
Valdosta, GA 31602
229 253-0528
Bass Hunter Boats-Inc
1617 James P Rogers Drive
Valdosta, GA 31601
800 345-4689
Brunswick
Modern Upholstery And Trim Shop
504 Knight Rd
Brunswick, GA 31525
912 265-3941
Dominey Hydraulic Service
6005 Habersham St
Brunswick, GA 31520
912 264-2942
Harris Boat Works
2814 Norwich Street Ln
Brunswick, GA 31520
912 267-9653
American Interiors Custom Upholstery
901 Q Street
Brunswick, GA 31520
912 265-9422
Modern Upholstery and Trim Shop
2108 Norwich Street
Brunswick, GA 31520
912 265-3941
Reitz Marine Service
225 Ricefield Way
Brunswick, GA 31525
912 267-6052
Savannah
Sailors Nautical Service
108 S Nicholson Cir
Savannah, GA 31419
912 927-6594
Coastal Boating Center
10 Quacco Rd, Ste G
Savannah, GA 31419
912 961-5601
Boat Center
49 Douglas St
Savannah, GA 31406
912 355-0025
A & B Fabrication & Repair Inc
4250 Ogeechee Road
Savannah, GA 31405
912 232-1343
Captain Covington's Boat Sales & Brokerage Inc
8522 Ferguson Avenue
Savannah, GA 31406
912 692-1214
While some repair centers specialize in specific types of boats or motors, most can offer basic services on virtually all types of boats. If you have complex repair or diagnostic requirements, you may need to locate a dealer offering those specific services. Some of these centers specialize only in the brand of boats and motors they offer for sale, while other facilities may offer maintenance and service to a wide variety of popular boat and motor brands. Repair to hulls, trailers and boat interiors are often offered by service providers which are not brand specific.
Cities are listed in the boat dealer and fishing boat dealer listings, by region of the state for your convenience.
Boat repair services in Georgia are performed by a wide range of specialists. Hull and structure repairs are handled by experts in fiberglass, aluminum and other boat materials.
GA Boat Repair
Boat motor repair, service and maintenance is provided by trained mechanical technicians, many of whom are certified by boat motor manufacturers. Some specialize in inboard motors and outdrives while others specialize in outboard motors. Others offer repair services for both.
Service and repair for all types of boats.
Georgia boat repair services are offered for sailboats, pleasure boats, family boats, yachts, pontoon boats, fishing boats, bass boats, speedboats, inflatables, jon boats, cruisers, cuddy cabin boats, canoes, car toppers, ski & wake board boats, deck boats, aluminum boats, electric boats, jet skis, personal watercraft and fish-and-ski combos. Contact local repair centers regarding specific repair services you may require.
Boat repair in other states.