Pennsylvania Boat Repair
Boat service, maintenance and repair in PA.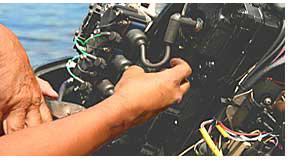 Select the ideal boat repair service to care for your dream boat. Many qualified boat repair specialists are located throughout Pennsylvania. We list PA boat repair centers by their proximity to major cities including Erie, Lock Haven, Bloomsburg, Scranton, Williamsport, Johnstown, Penn Hills, Allentown, Philadelphia, York, Bradford, Kane, St Marys, Hazleton, Wilkes-Barre, Altoona, McKeesport, Pittsburgh, Harrisburg and Reading.
Marinas in Pennsylvania
Marinas often provide boat repair services as well as boat storage and boat launching. These services often vary with the season so it is important to contact marinas directly to define the level of boat repair services offered. Some of the major marinas in Pennsylvania include Espyville Marina and Boat Delivery, Kinzua Wolf Run Marina, Johnny's Corner Marina, Lakeside Marina, Aspinwall Marina, Engle's Holiday Harbor, Morrow's Marina and Philadelphia Marine Center.
PA boat repair map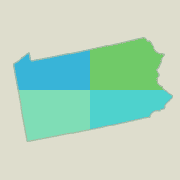 PA Resources
Erie
Bayshore Marine Services
26 W Front St
Erie, PA 16507
814 455-1588
Lund Boat Works Inc
12 E Dobbins Lndg
Erie, PA 16507
814 455-1782
Bay Harbor Marina Service
726 West Bayfront Parkway
Erie, PA 16507
814 459-7144
Williamsport
C & C Auto Repair
924 Funston Ave
Williamsport, PA 17701
570 323-1294
Weaver's Auto Upholstery
2766 Lycoming Creek Rd
Williamsport, PA 17701
570 494-1967
Johnstown
Richland Marine Sales And Service
1321 Eisenhower Blvd
Johnstown, PA 15904
814 266-6633
Pittsburgh
Pittsburgh Propeller Service
1518 Brownsville Rd
Pittsburgh, PA 15210
412 882-6649
Harmar Marina Boat Sales Service
2526 Wenzel Dr
Pittsburgh, PA 15238
412 828-9684
Park's Upholstery
5202 Butler Street
Pittsburgh, PA 15201
412 784-0950
Fox Chapel Marine Sales & Service
1366 Old Freeport Road
Pittsburgh, PA 15238
412 967-1500
Pittsburgh Boat Show
2250 Roswell Drive
Pittsburgh, PA 15205
412 921-8200
Allentown
Peters Marine Service Inc - Service Department
1402 Union Boulevard
Allentown, PA 18109
610 821-0118
Wakeboard & Skiboats of PA
6420 Chapmans Rd # A
Allentown, PA 18106
610 398-8552
Peters Marine Service Inc - Boat Sales
1402 Union Boulevard
Allentown, PA 18109
610 433-1606
Wakeboard & Ski Boats of Pennsylvania
5803 Snowy Orchid Ln
Allentown, PA 18104
484 223-1067
Philadelphia
Skis Services
1841 N 2nd St
Philadelphia, PA 19122
215 425-0940
State Glass & Upholstery
9240 State Road
Philadelphia, PA 19114
215 281-9990
Anthony Vlasov Upholstery
6027 Torresdale Avenue
Philadelphia, PA 19135
215 533-5443
Philadelphia Boat
8900 State Road
Philadelphia, PA 19136
215 332-5117
Boaters World
12123 Knights Road
Philadelphia, PA 19102
215 637-3735
Reading
Walt Sons Automotive Marine Repairs
5451 Stoudts Ferry Bridge Rd
Reading, PA 19605
610 926-9518
Reading Boat Works Inc
1084 Cedar Hill Drive
Reading, PA 19605
610 926-4739
York
B & J Marine Service & Repower Center
3192 Days Mill Rd
York, PA 17403
717 792-4940
While some repair centers specialize in specific types of boats or motors, most can offer basic services on virtually all types of boats. If you have complex repair or diagnostic requirements, you may need to locate a dealer offering those specific services. Some of these centers specialize only in the brand of boats and motors they offer for sale, while other facilities may offer maintenance and service to a wide variety of popular boat and motor brands. Repair to hulls, trailers and boat interiors are often offered by service providers which are not brand specific.
Cities are listed in the boat dealer and fishing boat dealer listings, by region of the state for your convenience.
PA Boat Repair
Boat repair services in Pennsylvania are performed by a wide range of specialists. Hull and structure repairs are handled by experts in fiberglass, aluminum and other boat materials.
Boat motor repair, service and maintenance is provided by trained mechanical technicians, many of whom are certified by boat motor manufacturers. Some specialize in inboard motors and outdrives while others specialize in outboard motors. Others offer repair services for both.
Repair for all types of boats.
Pennsylvania boat repair services are offered for sailboats, pleasure boats, family boats, yachts, pontoon boats, fishing boats, bass boats, speedboats, inflatables, jon boats, cruisers, cuddy cabin boats, canoes, car toppers, ski & wake board boats, deck boats, aluminum boats, electric boats, jet skis, personal watercraft and fish-and-ski combos. Contact local repair centers regarding specific repair services you may require.
Boat repair in other states.