New Jersey Boat Repair
Boat service, maintenance and repair in NJ.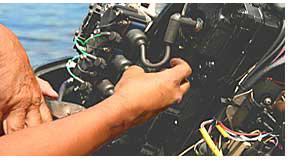 New Jersey offers a comprehensive range of boat repair and maintenance services to keep boats in top-notch condition. Boat owners in the state can rely on skilled boat mechanics and technicians who specialize in various types of boats and engines. From routine maintenance to major repairs, these professionals ensure that boats operate efficiently and safely on the water.
Boat repair services in New Jersey encompass a wide array of tasks, including engine repairs, electrical system diagnostics, hull repairs, and cosmetic enhancements. Whether it's a minor fix or a major overhaul, boat owners can find skilled technicians at marinas and repair facilities across the state to address their specific needs.
Marinas in New Jersey play a vital role in providing boat repair services. Many marinas have on-site repair and maintenance facilities, making it convenient for boat owners to access necessary services right where their boats are docked. These marinas often employ certified mechanics who are well-versed in the intricacies of different boat models and engines, ensuring reliable and professional repair work.
For boat owners who prefer convenience and flexibility, mobile boat repair services are also available in some areas of New Jersey. Mobile boat mechanics offer on-site repairs at the boat owner's location, whether the vessel is docked at a marina or stored at a private property. This service is especially useful for minor repairs or emergency situations, as it eliminates the need to transport the boat to a physical repair shop.
Boat motor repairs are an essential aspect of boat maintenance, and New Jersey boasts several specialized motor repair facilities. These expert technicians can diagnose and fix motor issues, such as engine misfires, cooling system problems, or propeller damage, ensuring that boats perform optimally on the water.
New Jersey's boat repair and maintenance services, including marinas and mobile options, offer a comprehensive and reliable support network for boat owners. These services play a crucial role in preserving the longevity and performance of boats, ensuring that boating enthusiasts can continue enjoying their water adventures throughout the seasons.
Select the ideal boat repair service to care for your dream boat. Many qualified boat repair specialists are located throughout New Jersey. We list NJ boat repair centers by their proximity to major cities including Franklin, Newton, Bloomfield, Jersey City, Paterson, Cherry Hill, Wilmington, Lakewood, Mystic Island, Toms River, Clinton, Hopatcong, Trenton, East orange, Newark, Camden, Vineland, Woodbury, Mays Landing and Ocean City.
Marinas in New Jersey
Marinas often provide boat repair services as well as boat storage and boat launching. These services often vary with the season so it is important to contact marinas directly to define the level of boat repair services offered. Some of the major marinas in New Jersey include Bridge Marina, Spruce Run Boat Rental, Seaview Harbor Marina, Tide's End Marina, Barber's Basin Marina, B & E Marina, South Jersey Marina and Sun Harbor Marina.
NJ Boat Repair Map
NJ Resources
Hopatcong
Prospect Point Boat Yard
24 Lorettacong Dr
Lake Hopatcong, NJ 07849
973 663-0167
North Jersey Marine Sales & Service
9 Howard Boulevard
Lake Hopatcong, NJ 07849
973 770-0400
Northwood Boat Works Inc
Lakeside Avenue
Hopatcong, NJ 07843
973 663-3214
Sunset Sailboat CO
335 Espanong Road
Lake Hopatcong, NJ 07849
973 663-1242
Prospect Point Boat Yard
New Jersey Avenue
Lake Hopatcong, NJ 07849
973 663-0167
Jersey City
M Herrera Boat Repair Inc
186 Kellogg St
Jersey City, NJ 07305
201 333-8477
D And R Boats
80 Audrey Zapp Dr
Jersey City, NJ 07305
201 209-1564
Cherry Hill
Boat-U S Marine Center
Ellisburg Shopping Centre
Cherry Hill, NJ 08034
856 795-9191
Vineland
Boat Docktor
712 S West Blvd
Vineland, NJ 08360
856 691-9498
Walt's Custom Upholstery
525 East Elmer Street
Vineland, NJ 08360
856 692-7378
Woodbury
Domico Upholstery Company
1337 Delsea Drive
Woodbury, NJ 08096
856 853-8181
Ocean City
Hanks Outboard Marine Services
1242 Bay Ave
Ocean City, NJ 08226
609 398-4332
Abbott Sailboats
200 West Ave
Ocean City, NJ 08226
609 399-2424
Matt Ward Upholstery
36 Highland Avenue
Ocean City, NJ 08223
609 399-6500
Toms River
D R Boats Inc
301 Route 37 E
Toms River, NJ 08753
732 793-8767
Best Canvas & Upholstery
649 Atlantic City Blvd
Toms River, NJ 08757
732 244-9388
Angel's Upholstery
1012 Cox Cro Road
Toms River, NJ 08755
732 914-0900
Bay Boat Haulers
1877 Greenwood Road
Toms River, NJ 08753
732 255-2121
Barnegat Bay Boat Sales
State Highway 37 North
Toms River, NJ 08753
732 929-1700
While some repair centers specialize in specific types of boats or motors, most can offer basic services on virtually all types of boats. If you have complex repair or diagnostic requirements, you may need to locate a dealer offering those specific services. Some of these centers specialize only in the brand of boats and motors they offer for sale, while other facilities may offer maintenance and service to a wide variety of popular boat and motor brands. Repair to hulls, trailers and boat interiors are often offered by service providers which are not brand specific.
Cities are listed in the boat dealer and fishing boat dealer listings, by region of the state for your convenience.
NJ Boat Repair
Boat repair services in New Jersey are performed by a wide range of specialists. Hull and structure repairs are handled by experts in fiberglass, aluminum and other boat materials.
Boat motor repair, service and maintenance is provided by trained mechanical technicians, many of whom are certified by boat motor manufacturers. Some specialize in inboard motors and outdrives while others specialize in outboard motors. Others offer repair services for both.
Repair for all types of boats.
New Jersey boat repair services are offered for sailboats, pleasure boats, family boats, yachts, pontoon boats, fishing boats, bass boats, speedboats, inflatables, jon boats, cruisers, cuddy cabin boats, canoes, car toppers, ski & wake board boats, deck boats, aluminum boats, electric boats, jet skis, personal watercraft and fish-and-ski combos. Contact local repair centers regarding specific repair services you may require.
Boat repair in other states.