Kentucky Boat Repair
Boat service, maintenance and repair in KY.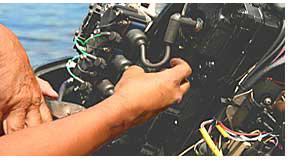 Select the ideal boat repair service to care for your dream boat. Many qualified boat repair specialists are located throughout Kentucky. We list KY boat repair centers by their proximity to major cities including Louisville, Owensboro, Berea, Fayette, Morehead, Eddyville, Murray, Corbin, Middlesborough, Somerset, Henderson, Madisonville, Sturgis, Burlington, Lexington, Bowling Green, Mayfield, Princeton, Manchester and Monticello.
Marinas in Kentucky
Marinas often provide boat repair services as well as boat storage and boat launching. These services often vary with the season so it is important to contact marinas directly to define the level of boat repair services offered. Some of the major marinas in Kentucky include Bills Marina, Rough River Lake Marina, Cave Run Lake Marina, Paintsville Lake Marina, Kentucky Dam Marina, Moors Resort & Marina, Green River Marina and Holmes Bend Marina Resort.
KY boat repair map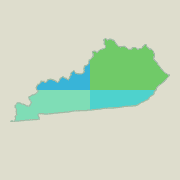 Kentucky Resources
Louisville
Bluegrass Canvas Upholstery
13301 Data Vault Dr
Louisville, KY 40223
502 261-1994
Barts Marine Services LLC
5506 Camp Ground Rd
Louisville, KY 40216
502 447-7100
Professional Marine Service Inc
4801 Poplar Level Rd
Louisville, KY 40213
502 966-0046
J And R Outboard Sales And Services
9201 Blue Lick Rd
Louisville, KY 40229
502 968-7955
Bluegrass Canvas & Upholstery
2700 Holloway Road
Louisville, KY 40299
502 261-1994
Smokey's Marine Service
1430 South Highway 1793
Louisville, KY 40202
502 228-8986
Owensboro
Boatman Marine
3900 W Parrish Ave
Owensboro, KY 42301
270 683-0161
Lexington
Lexington Boats LLC
3157 Chatham Dr
Lexington, KY 40503
859 626-7955
Bowling Green
Jims Auto Upholstery
247 Willoughby Ln
Bowling Green, KY 42101
270 745-7131
Jim's Auto Upholstery
247 Willoughby Lane
Bowling Green, KY 42101
270 745-7131
Eddyville
Hoopers Marine Repair
509 Sycamore Ave
Eddyville, KY 42038
270 388-2628
Wells Brothers Boat Motor Repair
100 Cecil Rd
Eddyville, KY 42038
270 388-7388
A and Ds Boat RV And Mini Storage
31 Business Row Rd
Eddyville, KY 42038
270 388-0953
Wells Brothers Boat Motor Repair
Friendship Church Road
Eddyville, KY 42038
270 388-7388
Corbin
Nu Legend Boat Co
6633 S Us Highway 25
Corbin, KY 40701
606 523-2593
Monticello
Sunstar Houseboats Inc
East Highway 90
Monticello, KY 42633
606 348-6648
Somerset
Store A Boat Inc
36 Fairlawn Ave
Somerset, KY 42503
606 561-6540
Reflections Houseboats LLC
1342 Old Mount Vernon Rd
Somerset, KY 42503
606 274-1039
Howard's Upholstery
130 Enterprise Drive
Somerset, KY 42501
606 679-1733
Countryside Upholstery
1133 Hacker Road
Somerset, KY 42503
606 679-1455
Somerset Houseboats
200 Sumerset Boulevard
Somerset, KY 42501
606 679-9393
While some repair centers specialize in specific types of boats or motors, most can offer basic services on virtually all types of boats. If you have complex repair or diagnostic requirements, you may need to locate a dealer offering those specific services. Some of these centers specialize only in the brand of boats and motors they offer for sale, while other facilities may offer maintenance and service to a wide variety of popular boat and motor brands. Repair to hulls, trailers and boat interiors are often offered by service providers which are not brand specific.
Cities are listed in the boat dealer and fishing boat dealer listings, by region of the state for your convenience.
Boat repair services in Kentucky are performed by a wide range of specialists. Hull and structure repairs are handled by experts in fiberglass, aluminum and other boat materials.
Boat motor repair, service and maintenance is provided by trained mechanical technicians, many of whom are certified by boat motor manufacturers. Some specialize in inboard motors and outdrives while others specialize in outboard motors. Others offer repair services for both.
Repair for all types of boats.
Kentucky boat repair services are offered for sailboats, pleasure boats, family boats, yachts, pontoon boats, fishing boats, bass boats, speedboats, inflatables, jon boats, cruisers, cuddy cabin boats, canoes, car toppers, ski & wake board boats, deck boats, aluminum boats, electric boats, jet skis, personal watercraft and fish-and-ski combos. Contact local repair centers regarding specific repair services you may require.
Boat repair in other states.