Alabama Boat Repair
Boat service, maintenance and repair in AL.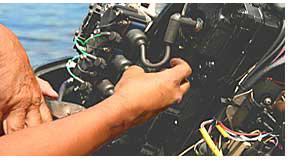 Select the ideal boat repair service to care for your dream boat. Many qualified boat repair specialists are located throughout Alabama. We list AL boat repair centers by their proximity to major cities including Burmingham, Decatur, Cedar Bluff, Guntersville, Woodville, Grand Bay, Selma, Auburn, Greenville, Ozark, Athens, Cherokee, Northport, Gadsden, Huntsville, Camden, Mobile, Thomasville, Dothan and Montgomery.
Marinas in Alabama
Marinas often provide boat repair services as well as boat storage and boat launching. These services often vary with the season so it is important to contact marinas directly to define the level of boat repair services offered. Some of the major marinas in Alabama include Bay Hill Marina, Eagle Cove Marina, Browns Creek Sailing Marina, Ditto Landing Marina, Chewalla Marina, Fairhope Yacht Club, Anchor Bay Marina and Blue Creek Marina.
Cities are listed in the boat dealer and fishing boat dealer listings, by region of the state for your convenience.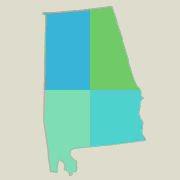 AL boat repair map
While some repair centers specialize in specific types of boats or motors, most can offer basic services on virtually all types of boats. If you have complex repair or diagnostic requirements, you may need to locate a dealer offering those specific services. Some of these centers specialize only in the brand of boats and motors they offer for sale, while other facilities may offer maintenance and service to a wide variety of popular boat and motor brands. Repair to hulls, trailers and boat interiors are often offered by service providers which are not brand specific.
Find boat repair by city throughout Alabama.
Athens
Boat House
901 S Jefferson St
Athens, AL 35611
256 232-4428
The Boat House
901 North Jefferson Street
Athens, AL 35611
256 232-4428
Decatur
Bladows Fiberglass Repair
3309 Sexton Rd Se
Decatur, AL 35603
256 355-6869
Valley Upholstery & Auto Trim
4915 USHighway 31 South
Decatur, AL 35603
256 355-4710
Decatur Propeller and Trolling Motor Service
1030 5th Avenue Southeast Suite D
Decatur, AL 35601
256 353-9200
Anderson Boats
6th Avenue
Decatur, AL 35601
256 355-9012
Dothan
Williams Boat Repair
2153 Johnny Murphy Rd
Dothan, AL 36301
334 677-5003
Williams Boat Country
7860 Eddins Rd
Dothan, AL 36301
334 677-3295
Mike's Motor Repair
3520 Hodgesville Road
Dothan, AL 36301
334 677-7157
Williams Boat Country
7702 County Road 203
Dothan, AL 36301
334 677-3295
Gadsden
CDS Upholstery Shoppe
1028 Bellevue Dr
Gadsden, AL 35904
256 547-0099
Billy's Boat Repair
6401 Highway 77
Gadsden, AL 35907
256 442-9849
Guntersville
Jerrys Boat Repair
5300 Al Highway 79 S
Guntersville, AL 35976
256 505-6929
Lake City Boat Jet Ski Repair
5316 Al Highway 79 S
Guntersville, AL 35976
256 582-3177
Guntersville Boat Mart Inc
3374 Al Highway 69
Guntersville, AL 35976
256 582-2038
D & N Marine Service & Supply
3619 Al Highway 69
Guntersville, AL 35976
256 571-9399
Huntsville
Johns Marine Repair And Supply
1188 Old Gurley Rd Ne
Huntsville, AL 35811
256 852-9400
Avis's Upholstery
4020 Pulaski Pike 103
Huntsville, AL 35810
256 851-6277
Propeller Repair Service of Huntsville Inc
11707 Memorial Parkway Southwest Lot 12
Huntsville, AL 35803
256 881-8151
Boat Wrench
11565 Memorial Parkway Southwest
Huntsville, AL 35803
256 880-0621
Mobile
Offshore Inland Services
2735 Middle Rd
Mobile, AL 36605
251 443-5550
Ideal Marine Service
401 S Royal St
Mobile, AL 36603
251 432-8962
Diversified Marine Services Inc
4610 Dauphin Island Pkwy
Mobile, AL 36605
251 473-7080
Bills Marine Service
5772 Three Notch Rd
Mobile, AL 36619
251 661-5275
Melech-Craft Fiberglass Repair
2704 Old Shell Rd
Mobile, AL 36607
251 473-1636
Outboard Repair and Salvage
2397 Wolf Ridge Road
Mobile, AL 36618
251 341-0384
Montgomery
Select Custom Upholstery
354 N Capitol Pkwy
Montgomery, AL 36107
334 262-4154
Dane's Boat Repair
558 Oliver Road
Montgomery, AL 36117
334 272-6625
Selma
Taylors Marine Repair
122 County Road 46
Selma, AL 36701
334 874-7473
Boat repair services in Alabama are performed by a wide range of specialists. Hull and structure repairs are handled by experts in fiberglass, aluminum and other boat materials.
Boat motor repair, service and maintenance is provided by trained mechanical technicians, many of whom are certified by boat motor manufacturers. Some specialize in inboard motors and outdrives while others specialize in outboard motors. Others offer repair services for both.
Service and repair for all types of boats.
Alabama boat repair services are offered for sailboats, pleasure boats, family boats, yachts, pontoon boats, fishing boats, bass boats, speedboats, inflatables, jon boats, cruisers, cuddy cabin boats, canoes, car toppers, ski & wake board boats, deck boats, aluminum boats, electric boats, jet skis, personal watercraft and fish-and-ski combos. Contact local repair centers regarding specific repair services you may require.
Boat repair in other states.