Alaska Boat Repair
Boat service, maintenance and repair in AK.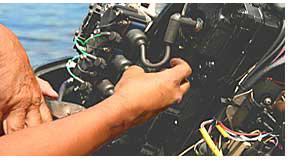 Select the ideal boat repair service to care for your dream boat. Many qualified boat repair specialists are located throughout Alaska. We list AK boat repair centers by their proximity to major cities including Juneau, Petersburg, Chicken, Fairbanks, North Pole, Hooper Bay, Togiak, Anchorage, Glennallen, Juneau, Barrow, Ninilchik, Soldotna, Delta Junction, Kaktovik, Bethel, Naknek, Quinhagak, Butte and Haines.
Cities are listed in the boat dealer and fishing boat dealer listings, by region of the state for your convenience.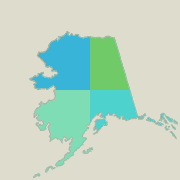 AK boat repair map
While some repair centers specialize in specific types of boats or motors, most can offer basic services on virtually all types of boats. If you have complex repair or diagnostic requirements, you may need to locate a dealer offering those specific services. Some of these centers specialize only in the brand of boats and motors they offer for sale, while other facilities may offer maintenance and service to a wide variety of popular boat and motor brands. Repair to hulls, trailers and boat interiors are often offered by service providers which are not brand specific.
Marinas in Alaska
Marinas often provide boat repair services as well as boat storage and boat launching. These services often vary with the season so it is important to contact marinas directly to define the level of boat repair services offered. Some of the major marinas in Alaska include Hideaway Lodge, Safety Sound, Burkeshore Marina, Chena Marina, Fuller Boatyard, Seward Marina, De Hart's Marina and Doyon's Landing.
Find boat repair by city throughout Alaska.
Anchorage
Alaska Vessel & Vehicle Repair
141 E 54th Ave
Anchorage, AK 99518
907 561-8580
Lugos Upholstery
5735 B St
Anchorage, AK 99518
907 562-5846
J Kimberly Service
6601 Arctic Blvd
Anchorage, AK 99518
907 349-1894
Alaska Vessel & Vehicle Repair
107 East 54th Avenue
Anchorage, AK 99518
907 563-8178
Spenard Upholstery
1107 West 36th Avenue
Anchorage, AK 99503
907 561-5463
A-1 Propeller & Impeller Repair
1220 East 68th Avenue Suite 103
Anchorage, AK 99518
907 344-7767
Fairbanks
Persinger Ken Repair Service
512 Trainor Gate Rd
Fairbanks, AK 99701
907 452-4519
Boat Shop Inc
1050 Chena Pump Rd
Fairbanks, AK 99709
907 452-4032
Boat Shop Inc
210 Wendell Ave
Fairbanks, AK 99701
907 478-2518
Roger's Auto Repair
4640 Dale Road
Fairbanks, AK 99709
907 479-6665
Juneau
Juneau Marine Services Inc
1423 Harbor Way
Juneau, AK 99801
907 463-5250
Nordic Tug Boats
Po Box 20006
Juneau, AK 99802
907 586-2844
Betts Boat Repair
9447 La Perouse Ave, Ste 5
Juneau, AK 99801
907 790-2388
Alaska Boat & Marine
76 Egan Drive
Juneau, AK 99801
907 463-5559
Ninilchik
Marine Services
Deep Creek Road
Ninilchik, AK 99639
907 567-3526
North Pole
Arctic Marine And Repair
2002 Badger Rd
North Pole, AK 99705
907 488-5242
Soldotna
Aleckson Fabrication
38735 South Ruby Circle
Soldotna, AK 99669
907 262-9654
Boat repair services in Alaska are performed by a wide range of specialists. Hull and structure repairs are handled by experts in fiberglass, aluminum and other boat materials.
Boat motor repair, service and maintenance is provided by trained mechanical technicians, many of whom are certified by boat motor manufacturers. Some specialize in inboard motors and outdrives while others specialize in outboard motors. Others offer repair services for both.
Repair for all types of boats.
Alaska boat repair services are offered for sailboats, pleasure boats, family boats, yachts, pontoon boats, fishing boats, bass boats, speedboats, inflatables, jon boats, cruisers, cuddy cabin boats, canoes, car toppers, ski & wake board boats, deck boats, aluminum boats, electric boats, jet skis, personal watercraft and fish-and-ski combos. Contact local repair centers regarding specific repair services you may require.
Boat repair in other states.